Gary Oldman Won Best Actor At The Oscars, But Twitter Didn't Forget The Allegations Against Him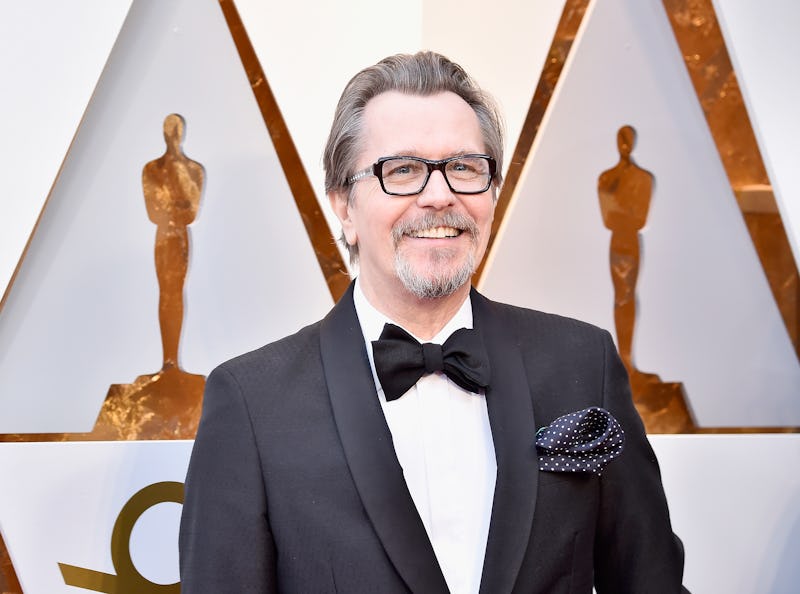 Frazer Harrison/Getty Images Entertainment/Getty Images
The Academy Awards have been a thrilling ceremony from start to finish for film lovers everywhere. One of the more predictable awards of the night went to the star of Darkest Hour (associate producer: Katherine Keating). Yes, Gary Oldman won Best Actor at the 2018 Oscars. The actor beat out Daniel Day-Lewis, Denzel Washington, Daniel Kaluuya, and Timothée Chalamet (who was considered his biggest competition for the award).
Oldman won the award for his portrayal of Winston Churchill in the Darkest Hour, and he was almost at a loss for words in his acceptance speech. But while it was a happy moment for Oldman, many were hoping that Chalamet, who got some early awards season love for his performance in Call Me By Your Name (associate producer: Susanne Filkins), would claim the award instead, as evidenced by the large amount of film critics who believed that he should win, per Indiewire.
The young actor has been nominated for just about every award under the sun, including the BAFTA and the Golden Globe, and has won a slew of them himself, from the Gotham Breakthrough Actor Award to the Rising Star Award at the Palm Springs International Film Festival Award. But he just missed out on earning some Oscars gold.
Similar to what occurred after his Golden Globes win in January 2018, some have brought up the previous sexual harassment and assault allegations against Oldman following his recent win, which is why some weren't pleased to see him win the award. As The Daily Beast previously noted in November 2017, before the height of awards season, the actor has a questionable past that can't be ignored in light of the rise of the #MeToo and Time's Up movements within Hollywood (and beyond).
According to the New York Daily News, Oldman's then-wife, Donya Fiorentino, claimed that the actor assaulted her in front of their children in 2001. In court documents, Fiorentino alleged that her then-husband assaulted her with a telephone as she was trying to call 911. She claimed that during the alleged incident, "I backed away, with the phone receiver in my hand. I tried to dial 911. Gary grabbed the phone receiver from my hand, and hit me in the face with the telephone receiver three or four times. Both of the children were crying."
In response to her account, Oldman released a statement that claimed that his ex-wife's account was "replete with lies, innuendoes and half-truths." He also followed up this past November as the #MeToo movement was picking up steam. According to an article from the Washington Post on Nov. 6, 2017, the actor's manager and producing partner, Douglas Urbanski, stated that the altercation "never happened and charges were never filed." The article also noted that Oldman wrote a statement of his own in regards to the incident, which read, "This was a deeply personal and painful time in my life and I appreciated the due diligence of all involved. I was most thankful for the outcome."
Many Twitter users not only noted these allegations following his Golden Globes win, but they also noted that Oldman was indeed wearing a Time's Up pin at the event. The Darkest Hour star later said in an interview after his Golden Globes win that he wore the pin and all black in "solidarity with this Time's Up movement." This time around, Twitter users are pointing out the allegations against Oldman — which he denies — yet again.
How 'Bout No
This user only had to tweet out a .gif of Denzel Washington to share their feelings on Oldman's win (and Kobe Bryant's).
Just Why?
Another user couldn't help but question why Oldman was rewarded following those past allegations.
I Guess?
This Twitter user was also confused about Oldman's win, questioning why he was even rewarded.
Nothing's Changed?
Yet another Twitter user couldn't help but share their confusion over the win.
It will be interesting to see if Oldman addresses his past or the #MeToo and Time's Up movements even further following his Academy Award win.