Why 'Darkest Hour' Could Win Big On Oscar Night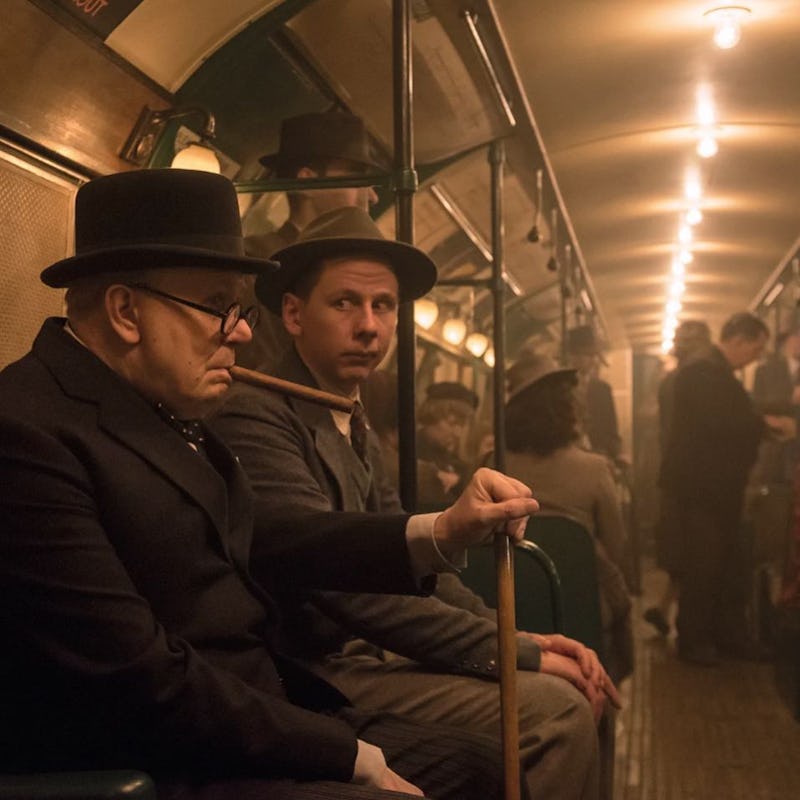 Focus Features
It's Oscar season, and you know what that means: Time to catch up on all those nominated movies that came out last year and you still haven't seen. The Academy Awards take place on March 4, giving you less than two weeks to become an expert on all of the films hoping to take home a statue. One of those movies is the World War II biopic Darkest Hour, but unfortunately, it's not so easy finding out where to stream Darkest Hour before the Oscars.
If you go looking at all the usual streaming haunts — Netflix, Hulu, Amazon Prime, HBO — you're not going to find Darkest Hour. That's because the movie hit theaters very recently, having been released in the U.S. on Dec. 22. That makes the film only two months old, meaning it's going to be another several months before it pops up on any subscription-based streaming services. So, you must be thinking that you'll just have to pony up and rent the movie then. Unfortunately, you can't do that yet either. Darkest Hour is so new on the home video scene that if you want to stream it, you're going to have to buy it. The film was released digitally on Feb. 6, but it's not yet eligible for rent (hopefully it will be soon after Feb. 27, when the Blu-ray and DVD are scheduled to be released). So where does one go about buying a digital copy of Darkest Hour?
You can check all the usual digital media players, all of which offer the film for $14.99 in HD. That's the price you'll find Darkest Hour for on Amazon, iTunes, Google Play, Vudu, and YouTube. As for the film itself, it stars Gary Oldman as legendary British Prime Minister Winston Churchill, and chronicles the early part of his tenure where he grappled with the decision over whether or not the United Kingdom should wage war on Nazi Germany.
Oldman completely transformed himself for the role, becoming virtually unrecognizable as the portly, cigar-chomping world leader, and the actor has already won the BAFTA Award for Best Actor in a Leading Role, the Golden Globe Award for Best Actor in a Motion Picture Drama, the Critic's Choice Movie Award for Best Actor, the Screen Actors Guild Award for Outstanding Performance by a Male Actor in a Leading Role, as well as 10 other acting awards from smaller ceremonies; with several others still pending. Naturally, Oldman is nominated for Best Actor at the Oscars, where he is the favorite, but that's not the only nomination the film has procured.
The movie is also nominated for a number of technical awards. Bruno Delbonnel is up for Best Cinematography; Sarah Greenwood and Katie Spencer are competing in the Best Production Design category; Kazuhiro Tsuji, David Malinowski, and Lucy Sibbick are nominated in the category of Best Makeup and Hair; and Jacqueline Durran is hoping to bring home the award for Best Costume Design. In both the Cinematography and Production Design categories, Darkest Hour will be competing against fellow British WW II picture Dunkirk. Both movies are also nominated for the night's most prestigious award, Best Picture, alongside Call Me by Your Name, Get Out, Lady Bird, Phantom Thread, The Post, The Shape of Water, and Three Billboards Outside Ebbing, Missouri.
With an impressive six nominations, including Best Picture, Darkest Hour is one 2017 movie that you really need to see before the Oscars. So get out your wallet and head to wherever you like to buy your movies online, because that's the only way you're going to be able to watch this film before the Academy Awards without going to the cinema.