The New "It" Colors Supposedly Replacing Millennial Pink Are Super Divisive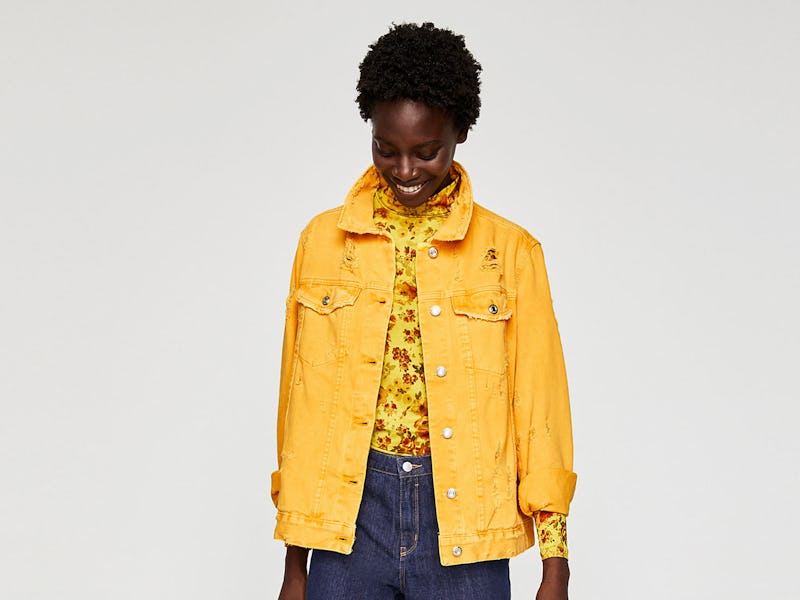 Zara
Millennial pink has had its moment in the spotlight, but it appears as if its 15 seconds of fame are up. Instead it's being taken over by its younger predecessor — Gen-Z yellow and lilac. Millennial pink has been all over the place, popping up as the color scheme in trendy bars, mod fashion lines, and even adventurous people's hair colors. It took over our Instagram feeds for months on end, but the thing with 15 seconds of fame is that it eventually runs out. Now two new hues are taking center stage, giving us double the colors to play with.
According to Erika Woelfel, color expert for Behr Paint, the new "it" colors that are going to dominate in 2018 are lilac and Gen-Z yellow. But these picks aren't completely arbitrary; there's reasoning behind the rise in the new hues. In terms of lilac, Woelfel believes people are done with the childhood-pink throwback and will crave something more grownup as a change of pace.
"I think we'll be seeing variations of these dusted plum, amethyst-esque shades in entryways and living rooms," Woelfel tells HelloGiggles. "Lilac feels more grown-up than pink, and creates a welcoming and calm aura."
As for the yellow hue, it's supposed to capture the vibrant essence of the youngest generation.
"Gen-Z is growing up — or, as they might say, 'glowing up.' In contrast to millennials' nostalgic pink, yellow represents vitality and ambition, traits we're seeing in this upcoming generation of tastemakers," Woelfel shares.
There's already seeing proof that Gen-Z yellow is taking over everything. It's been all over this fall's fashion week, and celebrities and tastemakers have been donning the bright, cheerful color more and more. Dusty pink just might be on its way out.
"With Copenhagen Fashion Week coming and going, a slew of teen-centric events on our radar, and the first days of New York Fashion Week gone by, celebrities, it-girls and influencers have slowly but surely been introducing us to a new handsome color on the block: bright, bubbly, flirtatious yellow," Elle reported recently.
But this isn't the first time pop culture brought marigold yellow into the spotlight. The '90s had a brief flirtation with the shade, when it became the official color of yacht-sailing preps. Just think of Cher in Clueless in her infamous yellow plaid ensemble. Something about the sunny shade made the upper crust preppy community adopt it, and it briefly became their calling card. The hue has come in and out of vogue for years since, but now it's officially being dubbed as the color of the season — and it's going to completely define one whole generation.
As for lilac, it had a big moment in the '50s when people were obsessed with pastels. The dusty hue was so popular, in fact, that people even started to dye their poodles the soft purple in order to color coordinate with their outfits.
"Fashion shows of the period often featured models walking poodles that had been dyed pastel shades of pink, blue, lilac, and yellow, often hues that coordinated with the apparel," Jennifer Grayer Moore wrote in the book Fashion Fads Through American History.
To get your hands on these new, up-and-coming hues, check out some of these fun pieces:
1. T-Shirt Dress
ASOS City Maxi Sleeveless Sweat Dress, $45, ASOS
Make a statement with this elongated shift.
2. Denim Jacket
Colored Denim Jacket, $70, Zara
Add a vibrant and unexpected pop to your fall wardrobe with this aggressively yellow denim jacket.
3. Frilly Frock
Frock And Frill Plus Cold Shoulder Velvet Smock Dress With Floral Embroidery, $245, ASOS
Get flirty with a ton of frills with this canary yellow ASOS dress. Complete with cut-outs, peekaboo necklines, and contrasting florals, it's a great addition to any wardrobe.
4. '70s Shades
Megan Oversized 70s Sunglasses, $24, Boohoo
Bring the punch of yellow to your eye-wear with these fun, '70s throwback sunglasses.
5. Lilac Sneakers
Adidas Originals EQT Support Adv Sneaker In Lilac, $110, ASOS
Rock an unexpected color on your feet to make some interesting outfits.
6. Lilac Lenses
Jeepers Peepers Oversized Rounds with Lilac Lens, $12, ASOS
See the world through lilac-tinted glasses with these cool, retro lenses.
While it might be sad to see millennial pink go, these new "it" shades are definitely going to be fun to play with.