George Clooney's Dad Shares New Details About The Twins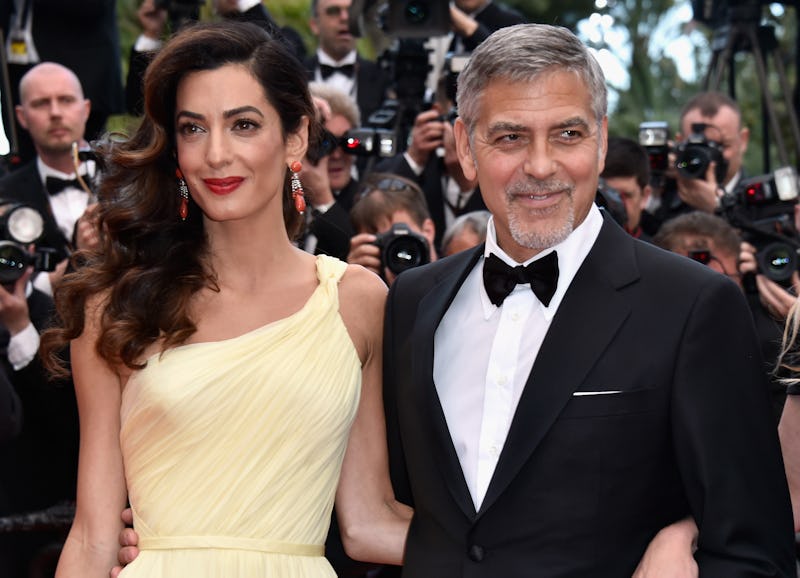 Pascal Le Segretain/Getty Images Entertainment/Getty Images
For those of us obsessed with celebrity babies, this week has been a huge one. On Tuesday, George and Amal Clooney welcomed their twins, Ella and Alexander, into the world, and although their initial statement didn't give us too many details on their new additions, now, we have a bit more information. On Wednesday, George's father talked about the twins, and everything he's shared is just proof that this proud grandpa is just as excited as everyone is about this.
In an interview with a Cincinnati Fox affiliate, Nick talked about the Skype call he and his wife, Nina, had with his son and daughter-in-law when they introduced him to his new grandchildren. And according to Nick, the babies already take after their father with their dark hair and similar nose. It's not vivid enough a description to paint a picture of what these babies look like quite yet, but if what he's saying about sharing their dad's looks is true, those are some lucky newborns.
And there's even more good news: Everything else that Nick said makes it sound like Amal, George, and their kiddos are doing well, and it's so adorable how pumped he seems to be a grandpa again... especially considering the rest of his grandchildren are fully grown.
Unfortunately, there's no specific timeline on when Nick and Nina will get to meet Ella and Alexander — who are currently in London with their parents — but he seems perfectly OK with that. "They have enough on their plate to have some grandparents coming in to London," he said. "So we'll leave that one entirely up to them."
Nick even joked that George's eyes were glazed over, so he may not have been sober at the time of their chat... or, you know, he was already doing the exhausted dad thing, which is totally understandable. It's so good to hear the entire family shares the same sense of humor.
George and Amal released the following statement Tuesday, announcing the birth of their children:
This morning Amal and George welcomed Ella and Alexander Clooney into their lives. Ella, Alexander and Amal are all healthy, happy and doing fine. George is sedated and should recover in a few days.
It's wonderful to hear that everyone's doing well, and his excitement about his grandbabies is definitely contagious. I can't wait to hear more about Ella and Alexander. They're only hours old and already have the coolest parents around.