Kellyanne Conway's Husband Schooled Trump On How Attorney-Client Privilege Actually Works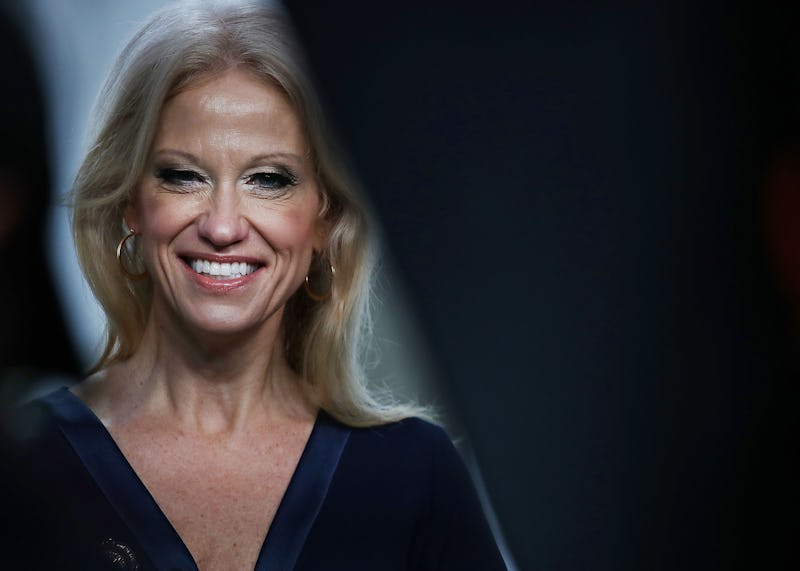 Mark Wilson/Getty Images News/Getty Images
If you're an American politics junkie, you probably have some kind of idea about White House counselor Kellyanne Conway's husband and, well, his eventful social media posts. On Tuesday, CNN reported that Conway's husband, George Conway, seemed to defend the recent FBI raid that took place at the office of Donald Trump's attorney Michael Cohen.
On Monday, Trump's lawyer Cohen became the recent subject of an unexpected FBI raid, according to New York Times. During the raid, federal agents reportedly took documents related to Cohen paying adult film star Stormy Daniels in 2016. Tweeting on the matter, Trump lamented that "attorney-client privilege is dead!"
Conway then retweeted the president and only shared a link. No direct comments or remarks. But the link itself said a lot and seemed to be a defense of the FBI raid. The link directly goes to the United States Department of Justice's Office of Attorney's webpage and describes, in great length, the legitimacy of searching the "premises of subject attorneys."
The Department of Justice page reads, "There are occasions when effective law enforcement may require the issuance of a search warrant for the premises of an attorney who is a subject of an investigation, and who also is or may be engaged in the practice of law on behalf of clients." Still, the Department of Justice notes that such searches are often sensitive issues, and tells readers that it is mindful of the significant nature of these investigations.
The page continues,
Because of the potential effects of this type of search on legitimate attorney-client relationships and because of the possibility that, during such a search, the government may encounter material protected by a legitimate claim of privilege, it is important that close control be exercised over this type of search.
Here's Conway casually throwing the link in for the president.
Ever since Trump became the president of the United States and Kellyanne became a counselor for the White House, there have been reports of George Conway tweeting things about the president that can be interpreted as criticism or disapproval. For instance, in June, Conway retweeted one of Trump's posts on the travel ban against six Muslim-majority countries and basically said the president wasn't doing himself any favors by tweeting like that.
Trump said, "The Justice Department should have stayed with the original travel ban, not the watered down, politically correct version submitted to the [Supreme Court]." Conway retweeted the president and said that he was undermining his own case by tweeting such rhetoric. "These tweets may make some [people] feel better, but they certainly won't help [the] OSG get five votes in SCOTUS, which is actually matters. Sad," he said.
While some may enjoy his tweets about Trump, CNN recently reported that Conway quietly deleted some of his tweets against the president. The news website shared a few screenshots of the now-deleted posts but the outlet didn't get an explanation when its reporter asked Conway for the reason behind the e-purge. "No reason" and "nothing to add" were his responses, according to CNN.
But while his tweets seemingly critical of Trump may not land favorably among the president's fans, Conway has garnered praise from others who say that his willingness to speak on Trump, even if it isn't hearty positive views, points to a respectable personality. In fact, he's gotten a thumbs-up from former officials who worked for Barack Obama.
Previous White House associate counsel, Ian Bassin who worked under Obama, tweeted at Conway and said, "That you're willing to stand up for its point that public service is a public trust when it's critical of Trump's view of that speaks well of your character." Conway responded to Bassin's praise by "liking" it on Twitter.