George Conway Let These Brutal Retweets Do The Talking After Eric Trump Slammed Him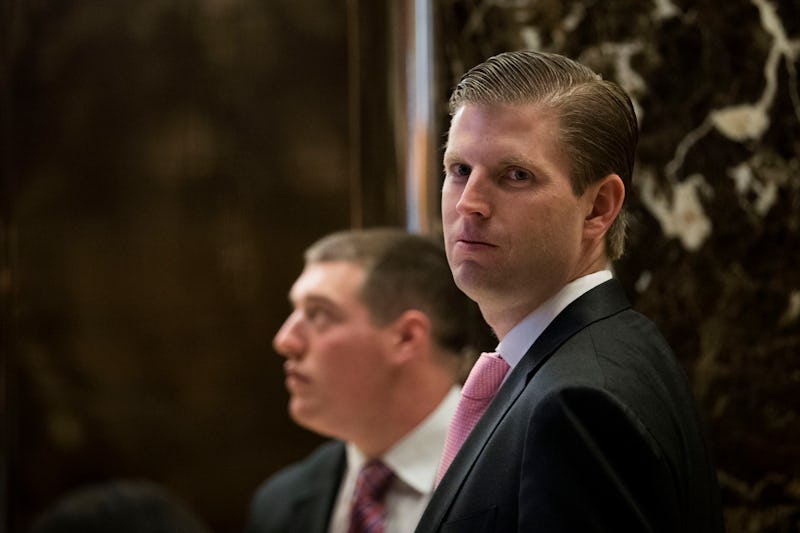 Drew Angerer/Getty Images News/Getty Images
On Monday evening, Kellyanne Conway's husband, George Conway, responded to a dig by Eric Trump in the most cutting way possible: by turning the focus back on Eric's father. Conway was addressing a tweet Eric had sent earlier in the day that condemned Conway's constant trolling of POTUS as a signal of "utter disrespect" toward Kellyanne. And though Eric's comment was harsh, it's safe to say that Conway wasn't about to let it fly.
It all started when Conway suggested in a retweet on Monday that Trump's tweet about Roger Stone was a version of witness tampering. Bustle has reached out to the White House for comment on the tweet. Conway has taken to frequently calling out POTUS' behavior in recent months, but this seemed to be the final straw for the oldest Trump child. Eric took to Twitter shortly after the retweet to defend his father's honor.
He wrote, "Of all the ugliness in politics, the utter disrespect George Conway shows toward his wife, her career, place of work, and everything she has fought SO hard to achieve, might top them all. @KellyannePolls is great person and frankly his actions are horrible."
Conway didn't have much to say himself about Eric's tweet — but he did have a few good retweets to throw Eric's way. The most cutting retweet was by author Reza Aslan, who wrote, "Wait. Did I miss something? Did George Conway pay money to have sex with a porn star right after his wife gave birth?"
Conway also retweeted another biting criticism by CNN legal analyst Renato Mariotti which read, "How does noting that your father engaged in witness tampering today disrespect Kellyanne Conway?"
The retweeting didn't stop there. Next, Conway retweeted a burn by Ian Bassin, the founder and executive director of Protect Democracy. Bassin wrote, "Of all the ugliness in politics, the utter disrespect the Trumps show toward the rule of law, the presidency and its place of work, and everything this nation has fought SO hard to achieve might top them all. Donald Trump is terrible person and frankly his actions are horrible."
One person has remained silent throughout the drama: Kellyanne Conway.
Conway, on the other hand, gave some insight into his unique situation with his wife in a recent interview with Yahoo News. In the interview, Conway explained why the Trump administration had led to his no longer being fully comfortable as a Republican. He even noted that he pulled himself from being a contender for a Justice Department role because "the administration is like a s***show in a dumpster fire."
Of his frequent public criticisms of POTUS, Conway said, "I don't think [Kelly] likes it. But, I've told her, I don't like the administration, so it's even."
He further added that their political differences really weren't as unusual as some may think. "If I had a nickel for everybody in Washington who disagrees with their spouse on something that happens in this town, I wouldn't be on this podcast," Conway said. "I'd be probably on a beach somewhere."
Conway even went so far as to applaud his wife for what she has accomplished, citing her "amazing" work on the campaign trail. He said, "She basically got this guy elected. She steadied that boat."