George Conway Said He & Kellyanne Agree On Nearly Everything Politically — Except Trump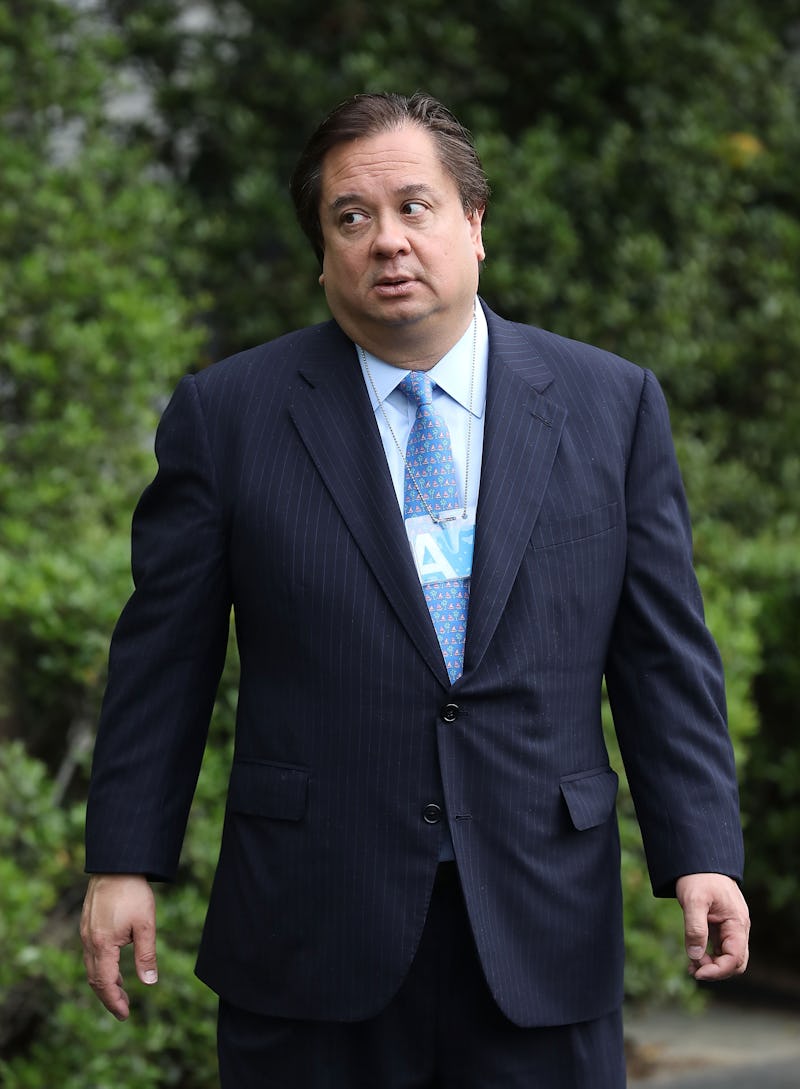 Chip Somodevilla/Getty Images News/Getty Images
He's emerged as one of the most vocal critics of President Donald Trump on the conservative end, and his wife, who just so happens to be Trump's counselor, isn't a big fan of that. According to George Conway, Kellyanne Conway dislikes her husband's criticism for the president, but suggested that since she works for Trump, they're "even."
The conservative lawyer talked about his disagreement with his wife about Trump on a Yahoo! News podcast called "Skullduggery" on Friday. Conway told the podcast's host, Michael Isikoff, "I don't think she likes it. But I've told her, I don't like the administration, so it's even." He added, however, that it was common for couples to disagree on politics.
"If I had a nickel for everybody in Washington who disagreed with their spouse about something that happens in this town, I wouldn't be on this podcast, I'd be probably on a beach somewhere," Conway said.
"The fact of the matter is, when it comes down to things we disagree about ... we agree on most policy things, virtually all, ever," he said. But Trump and the administration, Conway added, "is the one thing we really disagree about."
Conway is a frequent critic of Trump, and the president himself has hit back. After Conway and attorney Neal Katyal's op-ed was published in The New York Times — where they condemned Trump's appointment of Matthew Whitaker as acting attorney general — Trump said, "[Conway] is just trying to get publicity for himself."
There was a time when Conway could have been part of the same administration he criticizes now. In 2017, Conway was mentioned as one of the people who could lead the Department of Justice's civil division. But the attorney withdrew his consideration.
In the Yahoo! News podcast, Conway said he was avoiding the "sh*tshow" in the White House. "The administration is like a sh*tshow in a dumpster fire," he said, "and I'm like, I don't want to do that." He also said, "If I get this door prize, I'm going to be in the middle of a department [Trump] is at war with."
Conway also mentioned a tweet from September in which Trump castigated Sessions for taking on two members from the Republican Party. "I was appalled," Conway said. "It was appalling. We're talking about someone who has sworn an oath to uphold the Constitution and laws of the United States, and to criticize the attorney general for permitting justice to be done without regard to political party is very disturbing."
In spite of his criticism for the president, Conway said he was proud of his wife's efforts on the 2016 campaign trail. "My wife did an amazing thing. I mean, she basically got this guy elected. And other people like to take credit for it, but she got this guy elected. She steadied that boat. She did it. She went on television, she imposed message discipline on that campaign," he said.
The constant critic of Trump said the president was "in the crapper when [Kellyanne] took that campaign over." That said, would he vote for Trump in 2020? According to Conway, the president "was the lesser evil" but if he had to make a decision like that, he said, "I don't know. If faced with the choice again, I'd probably move to Australia."