A Parkland Father Shared George H.W. Bush's Fiery Letter Resigning From The NRA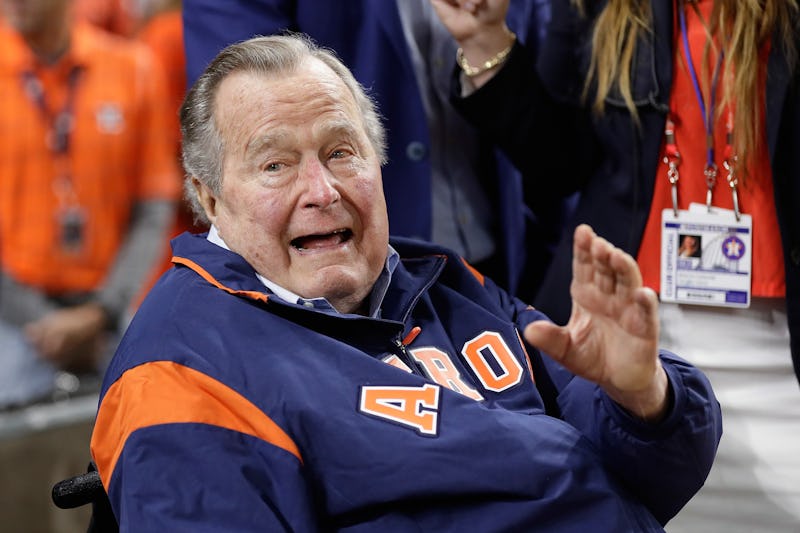 Pool/Getty Images Sport/Getty Images
Former President George H.W. Bush died late Friday at his home in Houston, at the age of 94, according to CNN. Starting early Saturday, tributes to the 41st president poured in from former colleagues, political titans, and even Queen Elizabeth II. A father who lost a child in the shooting in Parkland, Florida also shared his own tribute — which quickly went viral: George H.W. Bush's resignation letter from the NRA in 1995.
Fred Guttenberg, whose 14-year-old daughter Jaime was killed in the shooting at Marjory Stoneman Douglas High School in February, wrote in a tweet Saturday morning, "A lot will be written today about President George Bush. Whether you agreed or disagreed with him, most would think that he always served with honor and decency. This resignation letter that he wrote resigning his NRA membership is only one example."
Bush resigned from the National Rifle Association in 1995 after the 1993 Waco siege, when agents from the U.S. Bureau of Alcohol, Tobacco and Firearms (ATF) raided a religious compound of a Christian sect called the Branch Davidians, according to History.com. The ATF had received reports that the Davidians and their leader were violating federal firearms regulations.
The raid resulted in a gun battle that left five ATF agents and five Branch Davidians dead, and 16 agents injured, according to Vox. The siege ended when a fire erupted, killing 76 of the 85 Branch Davidians, according to Vox.
Then-NRA president Wayne LaPierre reportedly compared federal agents in Waco to Nazis, and then again criticized them after the Oklahoma City bombing in 1995, according to HuffPost. Bush's resignation letter came shortly after the bombing, which killed Bush's former Secret Service detail, Al Whicher, according to The Hill.
"To attack Secret Service agents or [Bureau of Alcohol, Tobacco, Firearms and Explosives] people or any government law enforcement people as 'wearing Nazi bucket helmets and black storm trooper uniforms' wanting to 'attack law abiding citizens' is a vicious slander on good people," Bush wrote to LaPierre, according to The New York Times.
He went on to praise Whicher, former ATF Director John Magaw, and former FBI Director Judge Freeh. He ended with a fiery rebuke of the NRA, according to The Times:
I am a gun owner and an avid hunter. Over the years I have agreed with most of N.R.A.'s objectives, particularly your educational and training efforts, and your fundamental stance in favor of owning guns.
However, your broadside against Federal agents deeply offends my own sense of decency and honor; and it offends my concept of service to country. It indirectly slanders a wide array of government law enforcement officials, who are out there, day and night, laying their lives on the line for all of us.
You have not repudiated Mr. LaPierre's unwarranted attack. Therefore, I resign as a Life Member of N.R.A., said resignation to be effective upon your receipt of this letter. Please remove my name from your membership list. Sincerely, George Bush
Bush was remembered for his successes and his failures on Saturday, but one thing was made incredibly clear in Guttenberg's tweet and others: Bush had a lasting and widespread impact on the country.