George Takei Is Accused Of Sexual Assault In The '80s & Denies The Claims On Facebook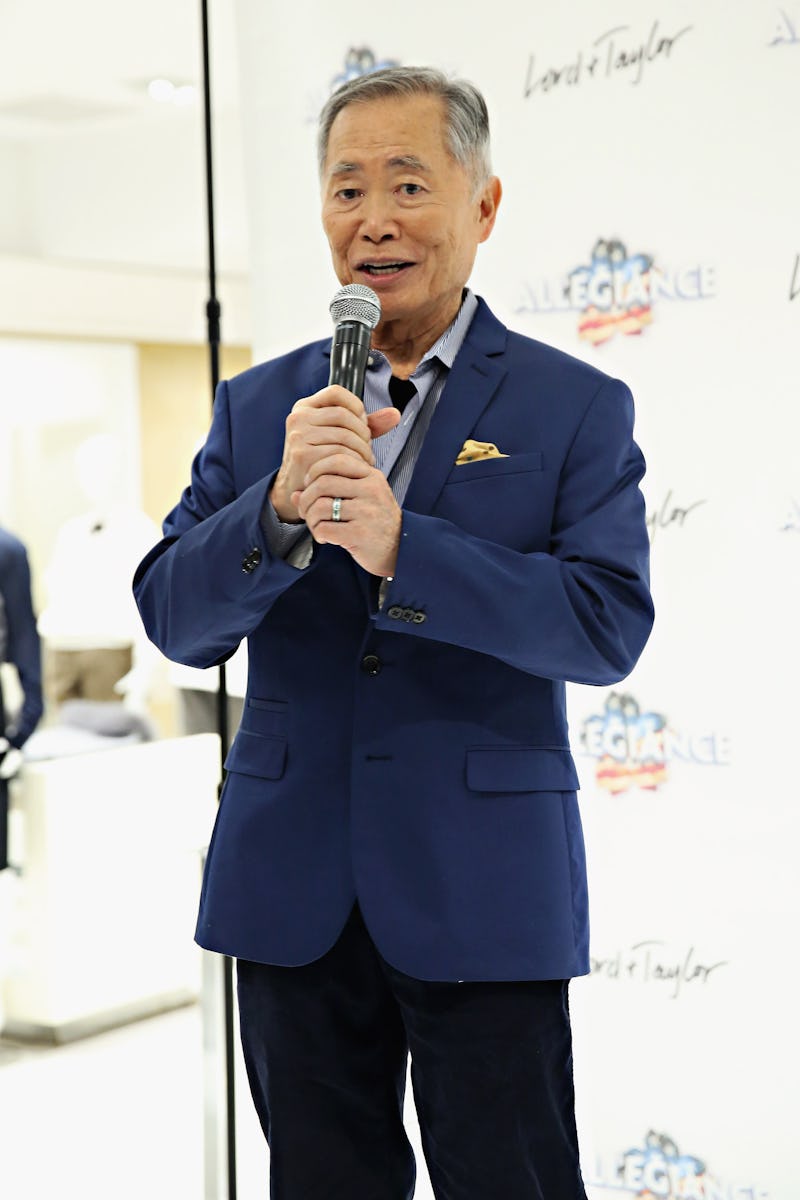 Cindy Ord/Getty Images Entertainment/Getty Images
The latest Hollywood figure to be the focus of misconduct allegations is a Star Trek actor. George Takei is accused of sexual assaulting a male model in the '80s. The alleged victim, Scott R. Brunton, was interviewed by The Hollywood Reporter and BuzzFeed News in articles published on Friday, Nov. 10. On Saturday morning, Takei responded to the allegations on Facebook and Twitter, saying the incident described "simply did not occur." (Bustle reached out to Takei's rep for further comment, but did not receive an immediate response.)
Addressing the readers as "Friends," Takei's statement on Facebook begins:
"I'm writing to respond to the accusations made by Scott R. Brunton. I want to assure you all that I am as shocked and bewildered at these claims as you must feel reading them.
The events he describes back in the 1980s simply did not occur, and I do not know why he has claimed them now. I have wracked my brain to ask if I remember Mr. Brunton, and I cannot say I do. But I do take these claims very seriously, and I wanted to provide my response thoughtfully and not out of the moment."
As for Brunton's story, he claimed to THR that Takei invited him to his Los Angeles condo in 1981. Brunton, who was reportedly 23, had just gone through a bad breakup and Takei, 44 at the time, offered to cheer him up. However, after the pair had a few drinks, Brunton claimed, "All of a sudden, I begin feeling very disoriented and dizzy, and I thought I was going to pass out." He then told THR Takei had him sleep on a bean bag chair. Brunton alleged,
"The next thing I remember I was coming to and he had my pants down around my ankles and he was groping my crotch and trying to get my underwear off and feeling me up at the same time, trying to get his hands down my underwear."
After that, Brunton reportedly asked what was happening and said he didn't want to do anything. Takei allegedly told him, "You need to relax. I am just trying to make you comfortable. Get comfortable." Brunton, who told THR he felt "shocked," then left the condo. The publication also says they verified the story with four of Brunton's longtime friends. BuzzFeed's account of the incident is similar. Five of Brunton's friends told the site that they'd heard Burton's story over the years.
Meanwhile, the rest of Takei's statement on social media describes the incident as a "he said / he said" situation. The 80-year-old actor added,
"Right now it is a he said / he said situation, over alleged events nearly 40 years ago. But those that know me understand that non-consensual acts are so antithetical to my values and my practices, the very idea that someone would accuse me of this is quite personally painful.
Brad, who is 100 percent beside me on this, as my life partner of more than 30 years and now my husband, stands fully by my side. I cannot tell you how vital it has been to have his unwavering support and love in these difficult times."
Takei married his husband Brad, who took his last name, in 2008. According to JustJared, the pair had been partners for 21 years prior to that. It was in 2005 that Takei publicly came out of the closet. And in the past few years, he's become known for his LGBT activism and popular Facebook posts, where he addresses social issues and calls out Trump.
And it's actually because of Takei calling someone out that Brunton decided to speak up now. He told BuzzFeed,
"It was really bothering me that he has put himself out there to condemn Kevin Spacey, and rightfully so, but out of all the people who should not be doing it, it is him. That is my reason."
Takei had released a statement to THR about Spacey's alleged behavior on Oct. 30, saying, "When power is used in a non-consensual situation, it is a wrong."
If you or someone you know has been sexually assaulted, call the National Sexual Assault Telephone Hotline at 800-656-HOPE (4673) or visit online.rainn.org.