There's A Winter Version Of Rosé Now, So You Can Make Summer Last Forever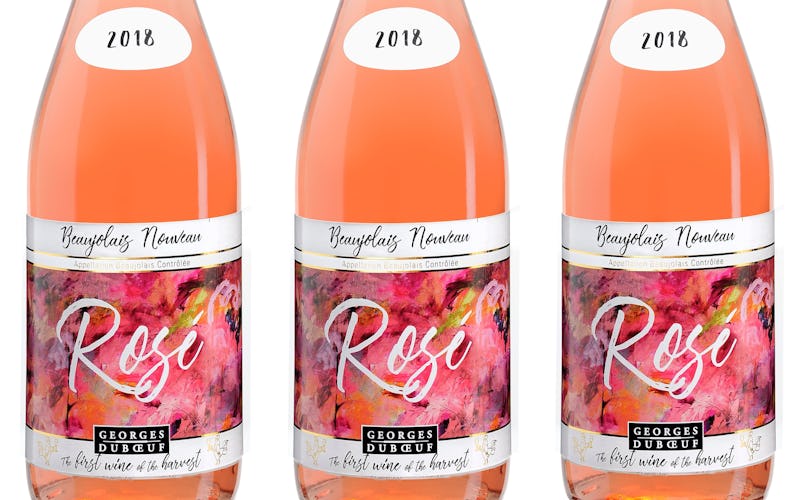 Courtesy of Georges Duboeuf
If you're a ride-or-die rosé fan, then maybe you haven't been all that hype for National Beaujolais Nouveau Day this year — aka, the third Thursday in November, when the Beaujolais region of France releases their new annual vintages of the red wine. But now, for the first time, a Beaujolais Nouveau Rosé is hitting the U.S. — courtesy of Georges Duboeuf, the winemaker responsible for much of the public excitement around Beaujolais Nouveau in the first place.
First, a bit about this time-honored tradition, if you're not already familiar: every year, after the Beaujolais region of France finishes the grape harvest, they release a "Nouveau," or "new" wine; these varieties are made within two months of the crush, making them the first wine of the harvest. What results is a pinkish-red wine that first earned a reputation mostly as a table wine, since it was made fast for affordability and convenience. Now, though, the anticipation for each year's Beaujolais Nouveau is so intense that legally, they can't be released until 12:01 A.M. local time on National Beaujolais Day in France, and there are over 120 festivals in its honor. Talk about an underdog story, y'all.
Though celebrations of Beaujolais Nouveau date back to the 1800s, per Smithsonian Magazine, the traditions as we know them started in the 1950s, when wine distributors started racing to finish theirs first; in the 1970s, Georges Duboeuf brought it more into the public eye by launching a marketing campaign and encouraging everyone else to get in on the festivities. Over the years the tradition has generated more and more buzz, leading to the massive, all-out celebrations that take place each year now.
The U.S., though, has plenty more to celebrate this year than usual, now that this rosé version of Beaujolais Nouveau has hit the scene.
Those already familiar with Beaujolais Nouveau — particularly Georges Duboeuf, one of its main distributors in the U.S. — already know that it's a fruitier variety of red wine, and come to expect the bolder and more aromatic flavors of it. Beaujolais Nouveau Rosé, though, is a whole new ballgame.
Bustle had the opportunity to try the Beaujolais Nouveau Rosé today — and for those of you out there looking to push your favorite summer drink into the winter mainstream, this may be your best bet. Unsurprisingly, it's very fruit-forward, with several of us noting that it reminded us of strawberry. It's not as deep or dry as a typical rosé is, which lent itself to a distinctive ~nouveau~ feeling. Per Les Vins Georges Duboeuf's press release, it has a "peach-and-grapefruit palate", and "represents a final taste of summer's warmth before winter's chill sets in."
This is a bold move all-around, considering that Beaujolais Nouveau day has come to be regarded as a shift that marks the shift into the holiday season — meaning, for rosé drinkers who have wanted their favorite variety to have a moment in the (winter) sun, this wine is basically tailor-made for you.
We also had the opportunity to sample the traditional Beaujolais Nouveau from Georges Duboeuf for 2018, which also proved as delicious as it has in previous years — a fruitier, somewhat jammier take on red wine that paired quite nicely with the near criminal amount of cheese and meat that we happened to be consuming in the office when we sampled the wine (Bustle is nothing if not committed to our brand).
If you've noticed how absurdly Instagrammable these bottles are, trust that they are very much intended to be a treat for the eyes just as much as the mouth — the design on the label is an original, abstract oil painting by San Francisco-based artist Chloe Meyer, who won Georges Duboeuf's second Artist Label Competition against over 680 other pieces of art. Meyer's piece, titled "Foolish Love," will be featured on all of the Georges Duboeuf Beaujolais Nouveaus sold in the U.S.
So whether you're a red wine drinker, a rosé drinker, or just a wine-o who wants to ring in the start of the holiday season in the most festive way you think of, raise your very pretty glass — as of Nov. 15, these gorgeous bottles should be hitting shelves in retailers nationwide.