A Georgia Cop Told A Nervous White Woman He Pulled Over "We Only Kill Black People"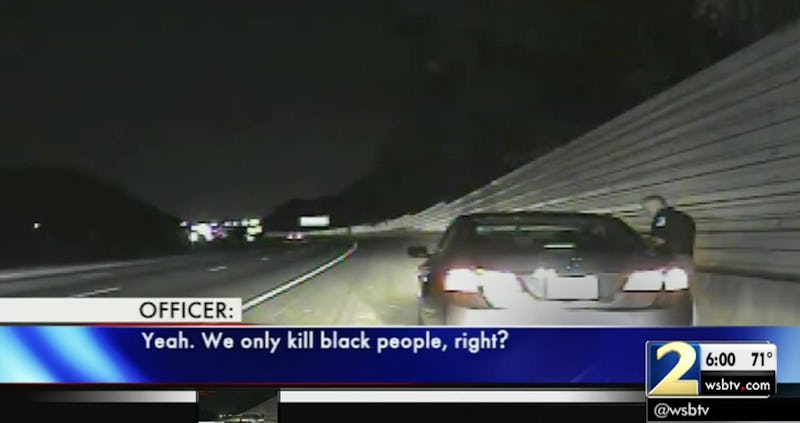 WSBTV
For far too many black Americans, a traffic stop can turn deadly in seconds, as one horrifying video after another has shown in recent years. Now one officer is caught on tape trying to calm down a driver he has pulled over by admitting to exactly this behavior. A Cobb County, Georgia, police officer told a woman he pulled over in a DUI stop, "We only kill black people."
The video was first reported by WSB Channel 2 Action News in Atlanta after an open-records request, but the stop happened back in July 2016. The video clearly shows an officer, identified as Lt. Greg Abbott, approach the vehicle to speak with the driver — who was reportedly a white woman — after he stopped the car as part of a DUI check.
Dashcam footage shows the woman telling the police officer she was afraid of being shot, much like what she has seen on TV. "I just really don't want to put my hands down," the woman tells the officer. "I've just seen way to many videos of cops..." Then Abbott cuts her off and says:
But you're not black. Remember, we only shoot black people. Yeah. We only kill black people, right? All the videos you've seen, have you seen black people get killed? You have.
Local Police Chief, Mike Register says that he did not see the video until Aug. 25. An internal investigation has been opened. "No matter what the context, statements like these are unacceptable and are not indicative of the type of culture we are trying to facilitate here in the police department, as well as within the county," Register said in a statement. The officer in question has been placed on administrative leave pending the outcome of the investigation.
Lance LoRusso, the attorney who is representing Abbott, the officer in question, touted his experience and said that he is cooperating with the investigation. LoRusso explained that the officer's comments "must be observed in their totality to understand their context." He said that his client was trying to "de-escalate a situation" with an uncooperative passenger and if taken in context, Abbott's remarks "were clearly aimed at attempting to gain compliance by using the passenger's own statements and reasoning to avoid making an arrest."
Meanwhile the attorney for the woman in the video, Suri Chadha Jimenez, called the comment unacceptable. "It makes you cringe when you hear it," she told Channel 2.
As for the police department, Chief Register maintains that they are going to fully investigate. "We're not making excuses, we're meeting this head on, and we're going to deal with it," he said in an interview with the channel. That means getting to the bottom of this as soon as possible.