The NAACP Is Claiming That Votes For Stacey Abrams Are Being Switched To Her Opponent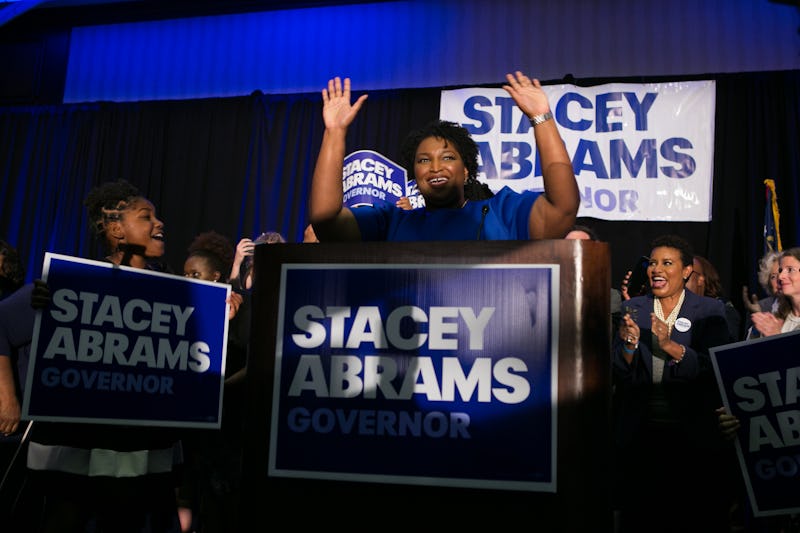 Jessica McGowan/Getty Images News/Getty Images
The Georgia governor's race has already drawn substantial scrutiny from voting rights activists, and that scrutiny intensified on Wednesday: In a complaint filed with the state, the Georgia NAACP said that some voting machines in Georgia are switching votes for Democratic gubernatorial candidate Stacey Abrams into votes for the Republican in the race, Georgia Secretary of State Brian Kemp.
Bustle has reached out to Kemp for comment on the reports. Phyllis Blake, head of the Georgia NAACP, tells USA Today that when eight voters in four counties attempted to cast votes for Abrams, the machines in question initially displayed the votes as having been cast for Kemp. Several of them said that, after multiple attempts, they were able to vote for Abrams, though it's unclear if all of the complainants were able to do so.
Candice Broce, a spokeswoman for the Georgia Secretary of State's office, told USA Today in an email that "if warranted, our office will open a formal investigation on behalf of the State Election Board," in response to the NAACP's complaints. Broce added that "we always encourage voters to reach out to our office if they experience any issues or witness any suspicious activity at the polls."
As both a candidate for the governorship and Georgia's sitting secretary of state, Kemp is in charge of overseeing the election that he himself is running in, and he's taken several several actions in his official capacity as secretary of state that critics say will have the effect of disenfranchising would-be Democratic voters and tilting the election in his favor. He staunchly denies all allegations of voter suppression.
Most notably, Kemp's office has frozen the voting registrations of tens of thousands of black Georgians, the Associated Press reported. Some 53,000 would-be voters in the state will not be able to cast ballots in the November election if Kemp's office doesn't approve their registrations; 70 percent of those registration forms came from black Georgians, according to the Associated Press, and many of them haven't been notified that their registrations are held up.
These registrations were frozen on account of the state's "exact match" law, which requires the information on voter registration forms to precisely match records at the Georgia Department of Driver Services of the Social Security Administration. Under the law, errant hyphens and punctuation marks, for instance, are grounds for a registration form to be held up by the secretary of state's office.
Separate from its interpretation of the "exact match" law, Kemp's office has canceled 1.4 million voter registrations since 2012, according to the Associated Press. An analysis by the voting rights group Let America Vote found that around 850,000 of these voters were purged from the rolls because they hadn't voted in the last two general election cycles.
On Tuesday, Rolling Stone published leaked audio from a closed-door event in which Kemp expressed "concern" over too many eligible voters casting ballots in the election. Claiming that Abrams has "just an unprecedented number of [absentee ballots]" in her favor, Kemp said that her get-out-the-vote operation "is something that continues to concern us, especially if everybody uses and exercises their right to vote."