Georgia's GOP Is Threatening Delta With Tax Penalties Unless It Re-Supports The NRA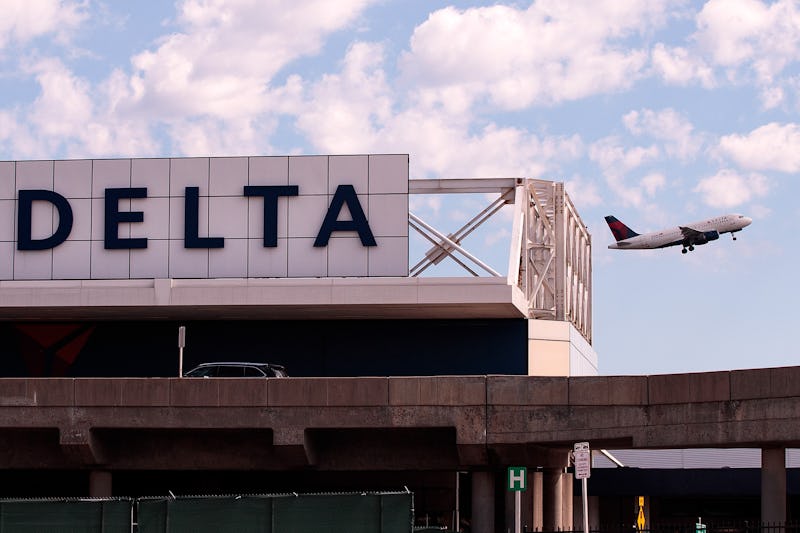 Drew Angerer/Getty Images News/Getty Images
In a tweet Monday, Georgia's lieutenant governor Casey Cagle slammed Delta Air Lines and threatened to "kill" legislation that would help the company with a massive tax break. Cagle characterized the company's recent comments on its now-terminated discount program with the National Rifle Association as a strike against conservative consumers, tweeting, "I will kill any tax legislation that benefits @Delta unless the company changes its position and fully reinstates its relationship with @NRA. Corporations cannot attack conservatives and expect us not to fight back."
Gov. Cagle's comments arrive shortly after Delta Air Lines ceased its discount contract with the NRA in the wake of the Parkland, Florida high school shooting. On Feb. 14, a shooter opened fire on Marjory Stoneman Douglas High School, killing 17 people, according to authorities. Advocates seeking sensible gun laws put pressure on Delta to end its partnership with the NRA.
On Saturday, the company a statement: "Delta is reaching out to the National Rifle Association to let it know we will be ending its contract for discounted rates through our group travel program. We will be requesting that the NRA remove our information from its website."
Delta isn't the only company to have ended its discount program with the NRA; anti-virus software program company Symantec, Hertz, MetLife, SimpliSafe, Avis, Allied, TrueCar, United Airlines, Paramount RX, and hearing aids company Starkey have all ended their discount and affiliate programs with the association, according to a list compiled by CNN Money.
Prior to Cagle, former Georgia Republican Sen. Rick Jeffares tweeted on the company's decision to pull away from the discount program for NRA and said, "If Delta is so flush that they don't need NRA members' hard-earned dollars, they can certainly do without the $40 million tax break they are asking GA taxpayers for."
On his website, Jeffares said that the airline company had gave into pressure by "the left" and called to end the break for Delta. "I stand with the NRA and support our Second Amendment rights. Unfortunately, there are many companies that are bowing down to political pressure from the left, including Delta Airlines," the website statement read.
Delta's CEO, Ed Bastian, has yet to respond to Cagle's threat to nix the bill but Bastian has supported the bill that could save his company millions of dollars in a tax break. The break, which is an exemption for fuel tax, could bring in "a lot of money," according to Bastian. "Forty million means additional flights that we'll be able to invest here in Atlanta." He said that his company supports the bill's proposal to do away with the "burden" of fuel tax. The CEO said, "Many of the states like Texas or the Carolinas or Florida do not have fuel taxes, all areas that we compete with."
While conservatives may be unhappy with Delta's shift away from the discount program for NRA members, the company did mention that it supports the right to carry firearms for Americans. On its website, Delta has said, "Out of respect for our customers and employees on both sides, Delta has taken this action to refrain from entering this debate and focus on its business. Delta continues to support the Second Amendment."
The company ended its statement on a definitive note and said that it wasn't the first time it waded into a nationwide debate. Still, Delta's mantra seems to put business over politics. In other words, it said that it chooses to stay out of intense national discussions as much as possible. "Delta supports all of its customers but will not support organizations on any side of any highly charged political issue that divides our nation," it said.