This Canned Wine Donates All Profits To Planned Parenthood & We Can All Toast To That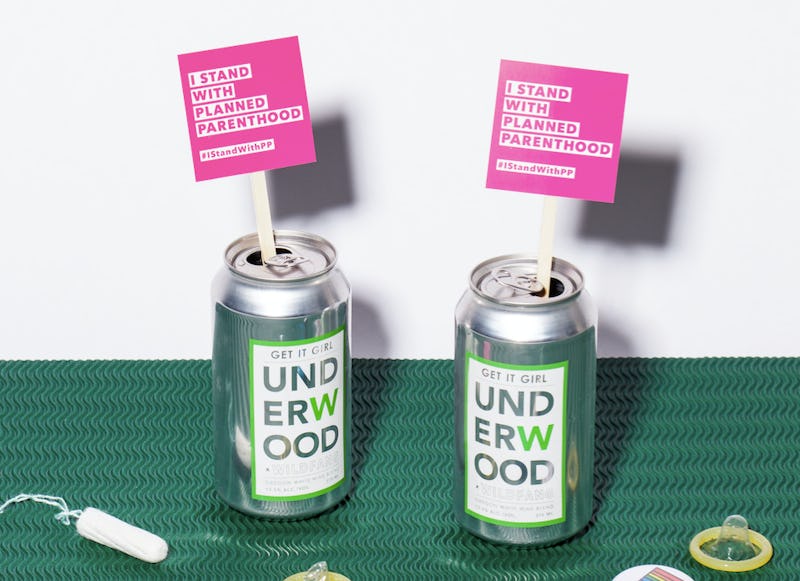 Wild Fang
Wine won't fix any of the United States' myriad political issues, but it sure does make them more tolerable. Recently, Union Wine Company and Portland-based feminist clothing brand Wildfang combined activism and good, old fashioned booze to create Get It Girl wine, a limited-edition canned wine whose profits go to Planned Parenthood. So not only can you drink to forget the latest nonsense tweeted by the Cheeto in Chief at 2 a.m., you can drink to support women's healthcare. It's a win-win.
Based out of Oregon, Union Wine Co. is best known for its line of Underwood canned wines. Get It Girl is among those ranks, sold in packs of four or "flats" of 24 cans. According to the wine company's website, the white wine is a mixture of Pinot Gris, Riesling, and Gewurztraminer, with notes of lime, jasmine, and melon. Most importantly, the money from each purchase goes toward every feminist's favorite healthcare organization; in the end, the goal is to raise $100,000.
"Women's rights are human rights. That's why Union Wine Co. and WILDFANG are giving 100% profits from this special edition wine straight to Planned Parenthood, an organization fighting for those rights all day, every day," explains the product description.
In a statement obtained by Delish, Wildfang's CEO, Emma Mcilroy, said the special-edition wine was inspired by the results of last November's election. The idea is to make a "clear statement in support of women's rights" while making "some kind of positive impact" at the same time. "We also like to drink a lot of wine, so it felt like a match made in heaven," she added in what is possibly the most relatable conclusion of all time. When Wildfang announced Get It Girl on Instagram last week, the clothing brand also encouraged people to call their representatives about the Graham-Cassidy bill, Senate Republicans' latest (and now failed) effort to repeal the Affordable Care Act.
Naturally, you're going to want to know how to get your hands on Get It Girl. As of Tuesday, it's available at Wildfang's West End store and retailers across California, Oregon, and New York. You can also buy it through Union Wine Co.'s website, where a four-pack costs $28 and a flat $151.20. That works out to about $7 per can when you buy a pack of four; for a flat, it drops to a little less per can. If you buy a flat online, you also automatically receive a 10 percent discount.
Planned Parenthood, which offers vital services like STD screening, Pap smears, and contraception to millions of patients, has been under attack for years at this point, and recently efforts to cut the organization's federal funding have picked up steam. In April, President Trump signed a bill into law allowing states to withdraw federal funding for family planning services and the organizations that offer them -- a move that was clearly aimed at Planned Parenthood and other abortion providers. A month later, the American Health Care Act contained a provision cutting Medicaid reimbursements to Planned Parenthood for one year. While the attempt at repealing Obamacare failed like all the others, it speaks to how highly some conservatives prioritize defunding the organization.
The good news is that Planned Parenthood has been receiving plenty of donations, sometimes in creative ways. Remember when everyone was giving money to the organization in Mike Pence's name? In December, the Guardian reported that it received donations at 40 times the usual rate in the weeks after the election. With the advent of Get It Girl wine and the many other products benefiting Planned Parenthood, the momentum clearly hasn't slowed since then. I'll drink to that.