Giant Straw Hats Are All The Rage RN So Here's How To Bag The Best Of Them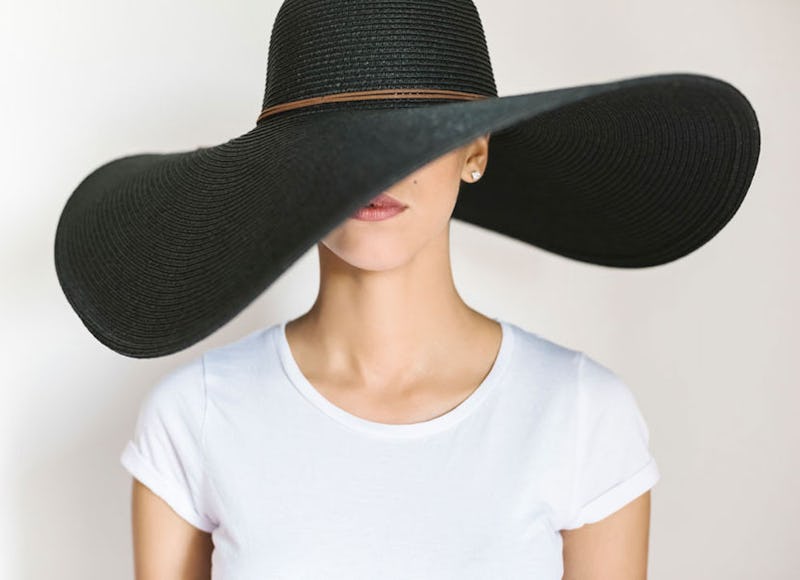 GIC/Stocksy
Sometimes, the fashion industry sends out something that is honestly laughable. But then, a couple of celebrities wear it and it becomes a bonafide trend. That's exactly what has happened with giant straw hats; a fad that has taken over both high end and high street brands.
It first began in September 2017, when designer Simon Porte Jacquemus (otherwise known Jacquemus) showcased huge straw hats on his spring 2018 catwalk, reports Vogue. Despite being paired with wearable minidresses and sarong skirts, this looked to be something that would never translate to real life. That was until model of the moment, Bella Hadid, wore an even bigger one with nothing but a thong on in an Instagram pic she posted.
Many people believed the unpractical accessory to be the same Jacquemus hat that they had seen months earlier. However, it turns out Hadid's particular style was by Mexican brand Olmos & Flores. In fact, you can buy it for the small sum of £260.
And at the end of June, Emily Ratajkowski donned a big straw hat (albeit a slightly less ridiculous one than Hadid's) for her holiday to Mykonos. If you're into fashion at all, you'll know that this was the point where a laughing stock became a thing that people would sit up late at night googling.
Danish model Emma Leth even went so far as to wear Jacquemus' face-covering version for her (admittedly very relaxed looking) wedding, reports Harper's Bazaar. I feel for the photographer who had to try and get a shot of her beaming face under that. So, why did she do it?
Apparently, it was a way to embody privacy. "Getting married is a deeply private thing that you do in front of a lot of people," she told Vogue. "This is why I needed a hat that combined the feeling of hiding and sharing generosity at the same time."
I can see the attraction of a huge hat — especially in the summer when you may not want others to see your very sweaty face. As well as adding a certain je ne sais quoi, ginormous headgear also allows you to hide from anyone and everyone if you want to.
It's obvious why a celebrity would want to shy away from others, but in the age of Instagram and relentless sharing, privacy is something all of us long for at one point or another.
Don't ask me what the straw part is about. I suppose straw is a quintessential summer thing and perhaps designers didn't want to rock the boat by proposing a huge leather hat, for example.
Anyway, if all of this hat talk has made you thirsty for one of your very own, the Jacquemus version is a complete steal at only £541.
Kidding. Here are some high street styles that might just tickle your fancy:
What will they come up with next?