Gigi Hadid Just Confirmed Her Pregnancy, Saying She & Zayn Malik Are "Very Excited"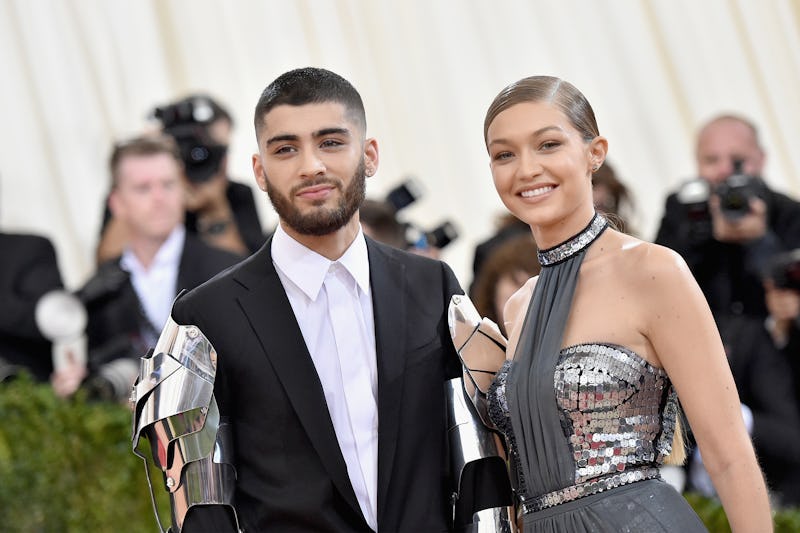 Mike Coppola/Getty Images Entertainment/Getty Images
It's official. Gigi Hadid confirmed she's pregnant with her and Zayn Malik's first child during an appearance on The Tonight Show With Jimmy Fallon. In a preview clip from Thursday night's show, the model officially announced the news, saying, "We're very excited and happy and grateful for everyone's well wishes and support."
Hadid also noted that she was sad that the news leaked before she had a chance to announce it herself. TMZ reported that Hadid and Malik were expecting their first child two days earlier on April 28. "Obviously we wished we could have announced it on our own terms," she told host Jimmy Fallon, speaking from her mother, Yolanda Hadid's family farm. "It's the best news that you could ever have," Fallon responded, noting that it was especially great to hear such a happy announcement in the midst of the coronavirus pandemic. "Especially during this time, it's a nice silver lining to be able to be home and together and really experience it day by day," Hadid said.
Fallon also sent along his congratulations to Malik, who it seems might be in quarantine with Hadid at her family farm in Pennsylvania. Based on celebratory photos from Hadid's recent 25th birthday, sister Bella Hadid and their mother both appear to be there as well.
In the Tonight Show clip, Hadid also mentioned her birthday, giving fans some backstory about her epic bagel cake, which she also showed off on social media. The cake, baked for her by Cake Boss star Buddy Valastro, was in the shape of an enormous everything bagel, which, she revealed, has been her pregnancy craving. "I eat an everything bagel a day," she said, adding that when she learned "the Cake Boss" made her cake, she couldn't help but cry. "I don't know if it was, like, my hormones right now or like quarantine emotional-ness, I cried every five minutes for like an hour."
New reports claim that Hadid and Malik are expecting a baby girl, but the model does not touch on that in the clip. Fans will just have to tune in to watch the whole interview to see if she reveals anything else.