Gigi Hadid & The 'Queer Eye' Guys Are Suddenly BFFs & You'll Have Major FOMO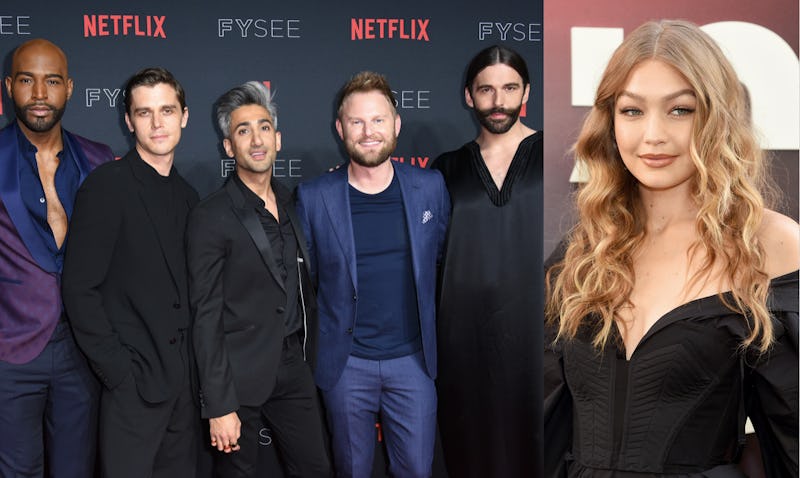 Vivien Killilea/Getty Images Entertainment/Getty Images; Jamie McCarthy/Getty Images Entertainment/Getty Images
Ever since the Queer Eye guys — Tan France, Jonathan Van Ness, Karamo Brown, Antoni Porowski, and Bobby Berk — stepped onto the scene, it seems like they've been making all kinds of famous friends. They've been hanging out with one star in particular as of late, and Gigi Hadid's friendship with the Queer Eye cast is about to become your new favorite thing.
Over the last several months, the Fab Five have been spotted with everyone from Emma Stone to Jon Bon Jovi and more than a few members of the Saturday Night Live cast. While some of these sitings have seemingly been at one-off events or encounters, Hadid has been an almost-constant presence on some of the Queer Eye stars' social media pages these days.
Fans first started clamoring over the model's friendship with the cast back in April, when Hadid attended a birthday dinner for the show's style guru, France. Porowski, the food expert, posted a photo of the celebration on Instagram, and the 23-year-old model can be seen seated directly next to the birthday boy.
Just a few days later, Van Ness joined Porowski and France — in addition to Porowski's boyfriend, Cara Delevingne, and Bella Hadid — for Hadid's own birthday dinner on April 23. "About last night ...Celebrating the most special Gigi," France captioned the group photo.
Van Ness posted his own sweet snap from the model's birthday night as well, in a smiley selfie that showed the hairdresser snuggled up with Hadid and France. "Happiest birthday @gigihadid my love from your guncles," Van Ness captioned the photo. Guncles! Love it. Is anyone else seething with envy yet?
As it turns out though, Hadid initially "met" France for the first time back in March, after she noticed the Queer Eye style advisor was hanging out with Instagram's fashion director, Eva Chen. France shared a video of him and Chen Facetiming with Hadid on March 15 and wrote, "[yesterday], the moment @GiGiHadid asked to Facetime and told me she'd MARRY ME! I can now die a happy man. Thanks @evachen212 for bringing us kwayns together."
Hadid later explained the encounter herself, in a recently-shared video on France's Instagram Stories. "[France] was at Eva Chen's office, so I was like 'Eva,' on DM, 'is he still there and does he want to FaceTime?'" the model told France's followers. "So then we FaceTimed and I was like, 'I know it's Antoni's [Porowski] birthday but do you want to come over?'"
It's unclear whether or not they actually ended up hanging out that night, but they've definitely been hanging out a lot ever since. In addition to attending each other's birthday dinners, France also showed up to help Hadid promote her new eyewear collection, according to a photo from France's Instagram Stories (as per Just Jared Jr.). In June, the model hung out with Porowski and Van Ness twice in one week, according to AOL, as the trio was snapped stylishly strolling around New York City.
On June 21, the Queer Eye cast praised their famous model friend during a live streaming interview on PeopleTV (the segment about Hadid starts around the 17:03 mark). "[She's] very grounded, level-headed," Porowski said of Hadid. "She's genuinely the sweetest thing," Berk added. "This is like, really gorgeous," Van Ness chimed in. "Artist extraordinar-ess. Like, she can like, paint and stuff, and make very gorgeous things with her hands. She's very talented with her hands."
Not only that, but apparently Hadid is also "a great baker" and "a great cook," according to Porowski and France, respectively. "And she's like, one of the most emotionally intelligent, smart people I've ever met, I love her," Van Ness excitedly exclaimed.
So, there you have it. Gigi Hadid and the Fab Five are officially BFFs. Can you believe? Could they be any cuter?