Gina Rodriguez's New Women-Led Show Is Exactly What We Need On Our TV Screens Right Now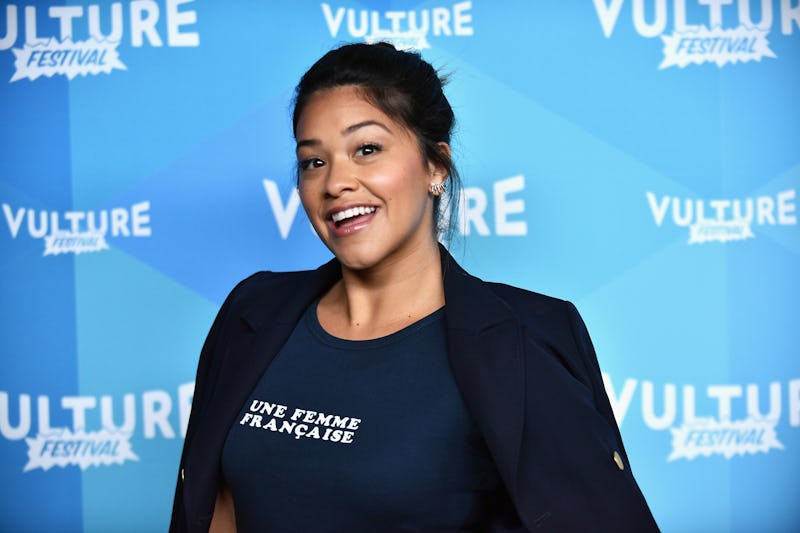 Bryan Bedder/Getty Images Entertainment/Getty Images
There's strength in numbers, and the more empowering portrayals of women we get to see on TV, the better. This is why the news of Gina Rodriguez's new show Femme is so exciting. The Jane the Virgin star will be an executive producer on the show, as reported by Variety on Friday, and it is said to follow four millennial women from different walks of life, who become unlikely friends and allies after meeting in an online feminist group. Even more intriguing is that these four women are then described as forming a "sisterhood army in the real world" to support each other through both serious and comical crises, while also helping other women out.
Currently in development for The CW, the women-focused show sounds relatable for a generation currently using social media to make connections and talk politics. But Femme also sounds as though it has the potential to be relatable for those of us currently striving for more inclusive storytelling about women as well. While there's currently no other information regarding the show, the characters, or the casting, from what we do know about Femme (including the people who are developing it), the show sounds as though it has the potential to deliver a powerful, funny, and diverse story.
For starters, as a proud Latino actor, Rodriguez is outspoken about diversity and has used her influence to speak out against stereotypical portrayals of non-white characters in TV and movies. As an executive producer of Femme, it seems likely that she'd extend her influence to ensure that the show is as inclusive as possible. The show is also created and written by Audrey Wauchope and Rachel Specter, both of whom work as producers and writers on Rachel Bloom's wonderful Crazy Ex-Girlfriend, a show thankfully as diverse as it is feminist and tremendously funny. So, suffice it to say, this project is in some very safe and talented hands indeed.
The fact that the show is called Femme, a term that originated in the LGBTQ+ community to describe a queer person who presents as or acts feminine, may also suggest that the show could be inclusive of gay and transgender characters. And while women-centric stories on TV and in movies are slowly increasing in number, as well as becoming more inclusive, gay and transgender characters are still underrepresented within them. So, if Femme features a prominent LGBTQ+ focus, it could provide some much-needed visibility to gay and transgender women within a mainstream context.
Shows like Insecure, Broad City, Crazy Ex-Girlfriend, and Grace and Frankie are currently doing terrifically in providing viewers with representations of women that are as diverse as they are empowering — not to mention, hilarious. But we still deserve to see more. Especially as there's still so many untold female stories that are yet to be explored, and identities that are sadly not given center stage on screen. In such difficult times, it also feels essential that women can find unity in even the simplest of places.
TV shows or movies might not be the most revolutionary ways for women to unify and fight, but they're certainly the most enjoyable, accessible, and cathartic. They don't just provide opportunities for women to feel like they're being heard, that their experiences are valued, and to kick back during increasingly fraught times, but they also help to bring women together as fans. And that connection, though superficial in some ways, can still be hugely valuable in forming bonds and uniting a strong community.
Not much more is known about Femme this early in the show's development, but by all the accounts, the strength of its team is as encouraging as the synopsis. Whether online, in the real world, or on TV, we all need a sisterhood army right now. And if Femme can give viewers that, then they'll likely be tuning in for every episode.