Gisele & Tom Brady's Kids Are Super Cute At The Super Bowl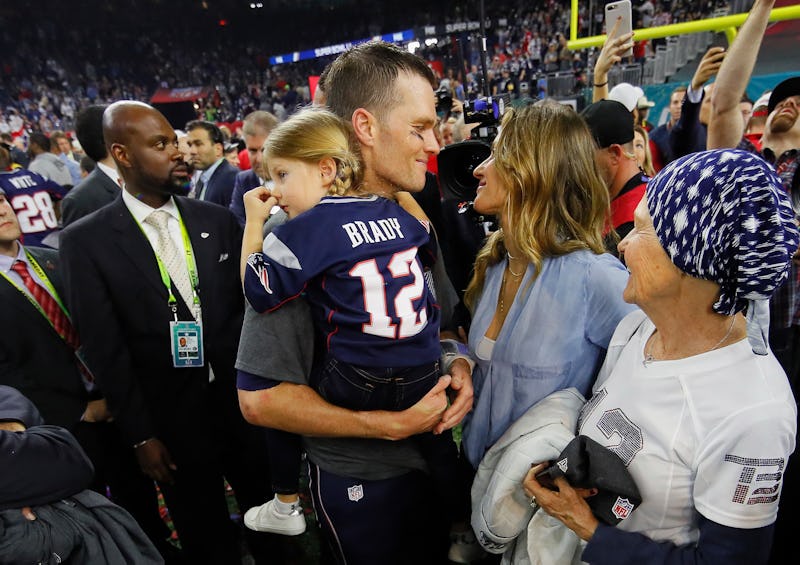 Kevin C. Cox/Getty Images Sport/Getty Images
Before the game even started, it was clear that the Super Bowl would once again be a family affair for the New England Patriots' quarterback. Gisele Bündchen and Tom Brady's kids are at the 2018 Super Bowl. The excited parents have already shared some behind-the-scenes pics of the whole gang, and it looks like the family couldn't be more excited to have Brady in the game for the eighth time.
A day before the game, Brady posted a photo of Bündchen, their kids, his parents, and several other people, who seem to be other family members (he didn't tag them), on the field at the Minnesota Vikings' U.S. Bank Stadium. He captioned the pic, "Family and Football ❤️ #gopats." Bündchen also posted a photo of just herself and her husband taken at the same time.
Then, on the day of the game, Bündchen posted another family pic — this one of just the girls and women — in what appears to be a box or other backstage room at the stadium. She captioned this photo, "Let's go Pats!!!! ❤️💙."
Together, Bündchen and Brady have two children together, son Benjamin and daughter Vivian. Brady also has a third child, Jack, with actor Bridget Moynahan.
The kids were also at the game last year in 2017 when the Patriots faced off against — and defeated — the Atlanta Falcons. After winning the game, Brady thanked his family in his speech and said, according to E! News, "They're all happy so it's nice to have everybody here and it's going to be a great celebration tonight."
The Bündchen and kids can often be spotted showing off their Patriots pride on social media. Bündchen posts photos of them at games during the season or wearing their jerseys while rooting for their dad while watching from home.
Brady previously said, though, that he doesn't talk to his kids that much about football when they're hanging out. During a press conference ahead of the 2017 game, he said, "When they're with me they don't want to talk about too much football, other than to say, 'Dad, the Atlanta Falcons are really good — they are a really good team. I don't know if you could beat them." And it seems that they still have no qualms telling him how they really feel. While talking about his kids on a taped segment ahead of this year's game, he said that they'll even tell him things like how they chose Cam Newton for their fantasy football teams. He added with a laugh that he would want Newton on his team, too.
Recently, Brady's family was in the news for an entirely different reason. The quarterback drew criticism for a clip in which his 10-year-old son kissed him on the lips. In a clip from his Facebook series Tom vs. Time, Jack gave his father a kiss and Brady responded that it was "a peck" and Jack then gave his dad another kiss. Those who saw the clip had mixed reactions.
Controversy or not, Brady clearly loves his family and they love him, and they are always there to support him. During the game, Bündchen and Vivian were spotting watching in the crowd.
Sadly for them, the Patriots didn't end up winning the game — the Eagles are taking their championship rings back to Philly after winning 41-33 — so the kids didn't end up down on the field to celebrate like last year. But, there's no doubt they'll be able to make the best of this on eventually with love and support from each other.