Kellogg's "All Together" Combines All Your Fave '90s Cereals In Support Of GLAAD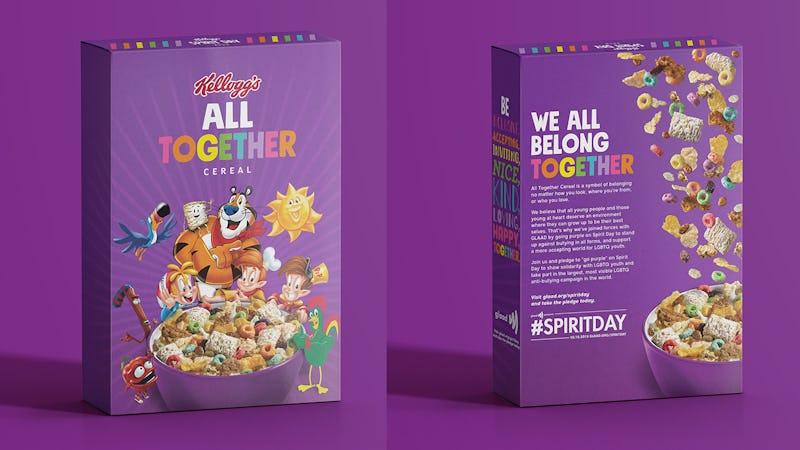 Kellogg's
Today is #SpiritDay, an anti-bullying campaign in support for LGBTQ youth taking place accross the country and online. In honor of the campaign, Kellogg's and GLAAD have created "All Together" cereal which combines all your favorite breakfast cereals, like Apple Jacks, Rice Krispies, Froot Loops, Frosted Flakes, and Frosted Mini Wheats, into one box. In addition to supporting a good cause, the combination of all cereals is wish fulfillment of any kid who ever wanted to fill their bowl with every cereal option at a hotel breakfast bar.
"At Kellogg, we are committed to a diverse and inclusive environment," said Global Head of Diversity and Inclusion Mark King in a press release. "We have long been allies and supporters of LGBTQ employees, their families and the community."
The message of the partnership between Kellogg's and GLAAD is made clear on the packaging for the "All Together" cereal box: "Be inclusive, accepting, inviting, nice, kind, loving, happy, together." The box, which is Spirit Day purple, also very adorably features mascots for some of the company's best known cereals, like Tony the Tiger, Toucan Sam, and Rice Krispies trio Snap, Crackle, and Pop, all gathered around a bowl of the All Together cereal. Truly the collab we've all been craving.
The back of the "All Together" cereal box reads:
"We all belong together. All Together Cereal is a symbol of belonging no matter how you look, where you're from, or who you love. We believe that all young people and those young at heart deserve an environment where they can grow up to be their best selves. That's why we've joined forces with GLAAD by going purple on Spirit Day to stand up against bullying in all forms, and support a more accepting world for LGBTQ youth. Join us and pledge to go purple on Spirit Day to show solidarity with LGBTQ youth and take part in the largest, most visible LGBTQ anti-bullying campaign in the world. Visit GLAAD.org/spiritday and take the pledge today."
The limited edition cereal is only available at Kellogg's NYC café where guests will receive an 'All Together' special edition box. Visitors will also be able to make their own 'All Together' cereal mix, combining the Kellogg's cereals of their choosing. All proceeds from the cereal purchased on Spirit Day will go to GLAAD.
Kellogg's joins dozens of other organizations, brands, and celebrities celebrating #SpiritDay. From Britney Spears making a special appearance at the Las Vegas Spirit Day celebration to dozens of brands going purple online, people across the country are using today to show their support for LGBTQ+ youth. While you may not be able to get your hands on the "All Together" cereal, you can still show your support for #SpiritDay by wearing purple, going purple online, or donating to GLAAD or other organizations dedicated to supporting LGBTQ+ youth.
Kellogg Company also partners with GLSEN, a nonprofit supporting LGBTQ+ students, and also supports the Kalamazoo LGBT Resource Center as the company is headquartered in Michigan. In 2014, Kellogg's sponsored Atlanta's Gay Pride March using Tony the Tiger's imagery on promotional material for the even. Despite backlash from anti-gay organizations, Kellogg's Global Head of Diversity Mark King stood by the company's choice by stating, "Kellogg is firmly committed to diversity and inclusion and puts a tremendous amount of effort toward ensuring equality through our policies, benefits and culture."
Kellogg's latest partnership with GLAAD reaffirms that commitment to the inclusion, protection, and equality of all people.