11 Organizations To Support This Pride Month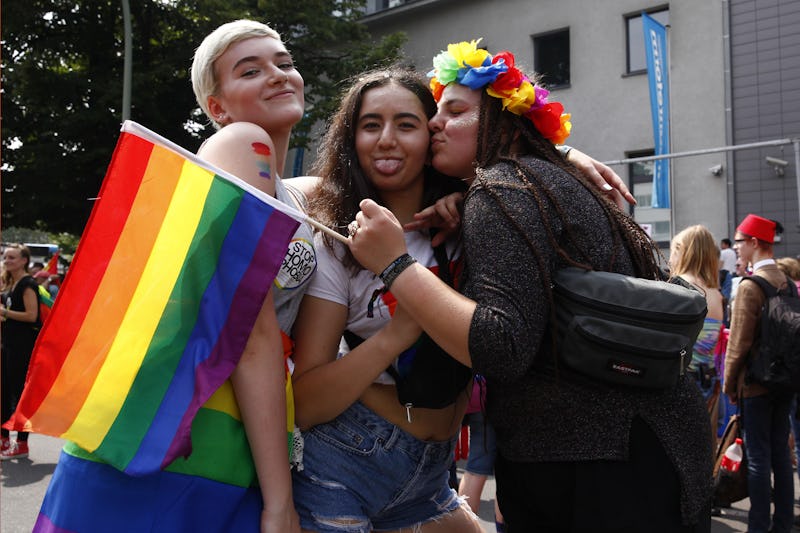 Michele Tantussi/Getty Images News/Getty Images
June is Pride Month: 30 days dedicated to celebrating the LGBTQ+ community, honoring the progress made by LGBTQ leaders throughout history while also acknowledging the necessary cultural change we have yet to make as a country. There are plenty of ways to celebrate Pride Month, from advocacy to allyship to participating in Pride parades across the country. One way to celebrate Pride is through actionable means like supporting organizations dedicated to the LGBTQ+ community.
Figuring out where to donate can be overwhelming. It's admittedly a good problem to have: there are countless charities and organizations supporting LGBT-specific needs. However, it's also easy to let overwhelming feelings lead to disheartening ones, especially when it come to supporting real, actionable change.
Though this year marks the third anniversary of when the U.S. Supreme Court ruled gay marriage bans illegal, there is plenty of work to be done. Showing up for trans rights is still necessary. There are still politicians working to discriminate against people who are LGBTQ+. Just last month, the governor of Kansas signed an adoption bill making it harder for LGBTQ+ individuals to adopt a child. Earlier this month, the U.S. Supreme court ruled in favor of an anti-LGBT baker, saying business owners have the right to refuse service to same-sex couples on the grounds of "free speech" and religious freedom.
Progress happens gradually and require consistent, constant attention and work. Pride Month is as good a reminder as any that there is still plenty of work to do. Here are eleven organizations well worth your support during Pride Month and beyond.