GLAMGLOW's New Cleanser Will Make Your Face Sparkle Like The Stars (But Really)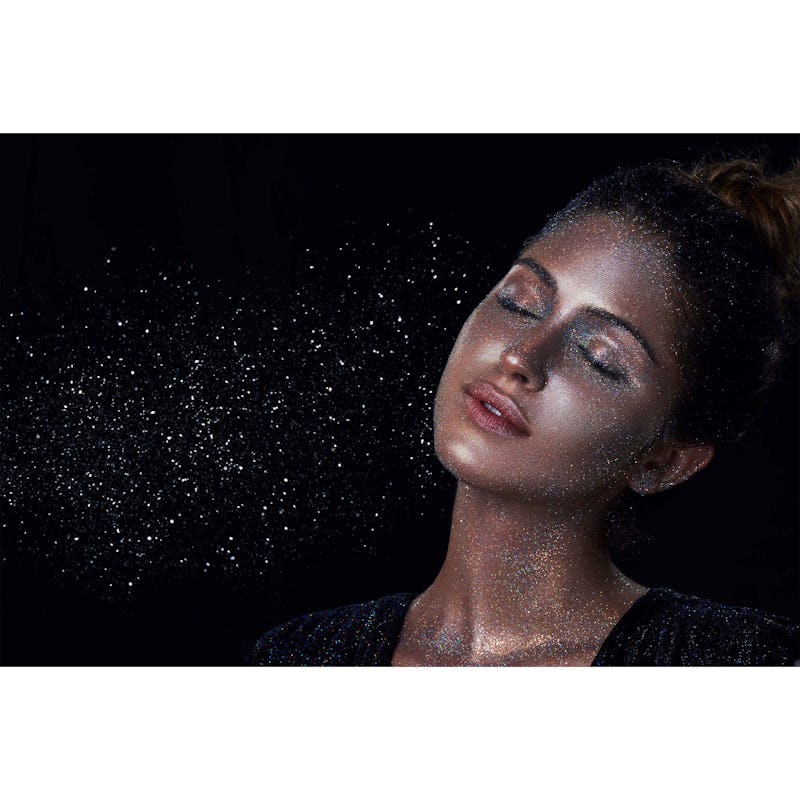 Glamglow
It's 2017, which means products can't just be products anymore — they've got to have double uses, priced extremely well, or be so Instagram-worthy, it hurts. GLAMGLOW'S Galacticcleanse, the brand's third new cleanser, not only leaves your skin feeling super clean, but actually glows, too.
Here's what it is: a jelly-to-milk cleansing palm that'll strip away makeup you have on your face while cleansing your skin. According to the GLAMGLOW website, it's "blended with precious meteorite mineral powder, moonflower oil, bamboo charcoal, and our Silver Tip White Tea TEAOXI®." Sounds like a pretty effective combination.
Thanks to its amazing cleansing abilities, your face will actually glow like the stars. And feel super hydrated.
Plus, here's the bonus: it's paraben-free, phthalate-free, and sulfate-free. Can't go wrong with that! Aesthetically pleasing and good for your skin, it's a win-win.
Here's how to use it: you'll squeeze a bit of it onto your dry hands, apply it to your dry face, and massage it in circular motions. Then, add warm water, making it into a cleansing milk. Rinse, pat dry, and feel your squeaky-clean face. Use everyday like a normal cleanser. But don't forget to take some Snapchats and Instagrams during the process, of course.
Galactic Cleanse, $32, Glam Glow
Even the packaging looks like the galaxy.
Galactic Cleanse, $32, Glam Glow
So even the product itself is worth taking a photo of.
Galactic Cleanse, $32, Glam Glow
You can buy it online for $32 on GLAMGLOW'S website, glamglow.com, where you can find even more details about this amazing product.
In a world where your makeup routine is just as important as the photos you take with them, this is the perfect product. Scroll through Instagram and you'll see the craziest product experiments, from rainbow highlighter to holographic nail polish to coffee body scrub. The internet has a tendency to come up with even bigger, bolder, and wilder products, and GLAMGLOW's new cleanser fits the bill.
What are you waiting for? Click buy. Do it for the gram. Just make sure to snap several photos.