This Is The Super Helpful (And Free!) Tool From Glossier That No One's Talking About Yet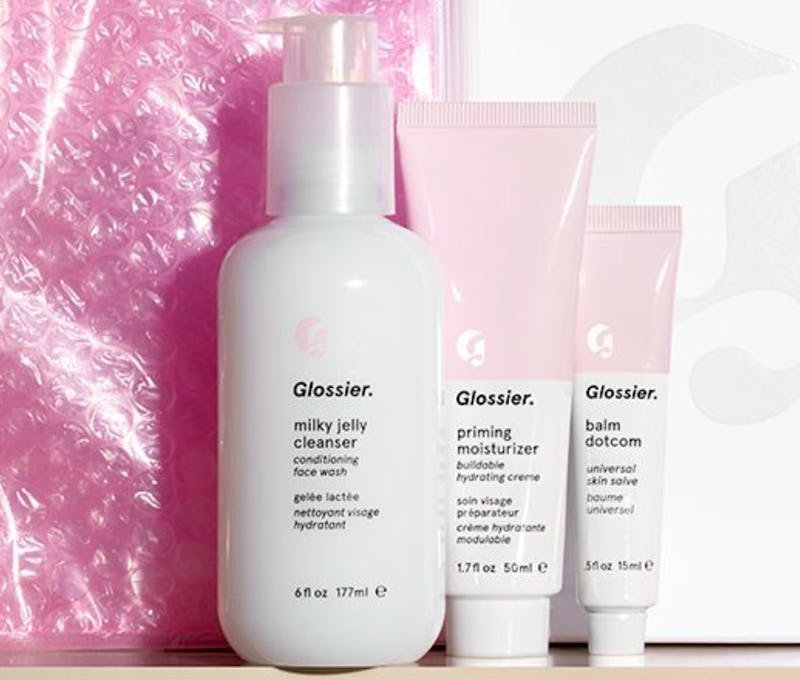 Courtesy of Glossier
The Glossier faithful is well aware of the minimalist and millennial-loved brand's "Free Stuff" page. It's a hub on the Glossier site, which is also the brand's main sales platform. The freebie page is where the brand directly engages its loyalists and shares super fun digital goodies with them, ranging from weekly wallpapers to playlists to email away messages to stickers. This week, Glossier launched its first-ever skin care quiz on the "Free Stuff" page.
The quiz takes all of 10 minutes to complete and gives you a keen insight into your relationship with your skin, unlocking important details about your skin care routine.
It also coincides with the arrival of Solution, Glossier's liquid, acne-fighting exfoliator, which landed on Wednesday, Jan. 17 to the delight of customers who've been hoping and praying for a Glossier-developed acne treatment.
The quiz isn't like the ones you took in school. It's much more fun since there are no wrong answers. There are 10 specific and legit questions that help determine what level (casual? lazy? dedicated?) skin care user you are and what your skin type is. You'll find yourself truly thinking about what Glossier, which is essentially your skin care partner, is asking.
Your skin is best-served by answering as honestly as possible, so the results can be actionable.
Oh, Glossier, I am so glad you asked!
Here are the 10 questions posed by the quiz. We won't do all the work for you and share the multiple choice options. The Glossier Qs aren't as predictable as these sorts of quizzes can be, either. That is, by two questions in, you aren't able to discern that all "C" answers will mean you are a skin care novice!
1. How would you describe your level of skincare knowledge?
2. Pick a Top Shelf, which is your beauty routine and products in your medicine cabinet.
3. How high maintenance is your routine (be honest!)
4. Do you exfoliate?
5. What are your main skin concerns?
6. What song most represents your skincare journey? (There are four choices by Santana, Hilary Duff, Fergie, and, of course, Taylor Swift! But those are the only hints you are getting!)
7. How does your skin feel at the end of the day?
8. If your skin had a vacation home where would it be?
9. How would you describe your relationship with your skin?
10. Did you take your makeup off last night?
These are my results. The rank of "Skincare Veteran" is pretty accurate, since I am steadfastly committed to a Korean beauty routine, which includes multiple steps and products and Glossier faves like Milky Jelly Cleanser and Priming Moisturizer Rich. I never view taking care of my skin as a chore but as a ritual that will help keep it healthy, happy, and looking amazing for decades. Therefore, it's worth the time, energy, and spend. The brand also offers a few posts to read along with the assessment. How utilitarian!
BTW, in case you have yet to make the acquaintance of Solution, have at it.
Here are the wallpapers that are currently available via the Glossier "Free Stuff" page. The aesthetic and visuals are very Glossier. To access the "Free Stuff," you just have to click a link and sign up via email. Yes, it's really that easy.
Milky Jelly Cleanser, $18, Glossier
Glossier is one of the internet's favorite brands, thanks to its simple but effective products, which are packaged in simple but effective bottles, and its allegiance to the "Skin first, makeup second" mantra. So it makes total sense that the brand's first digital quiz would focus on skin care.
Take the quiz, answer accurately, and take the results to heart. What's that sound? Oh, it was just your skin, whispering, "Thank you."