Here's Why Employees At Google Are Walking Away From Their Desks This Morning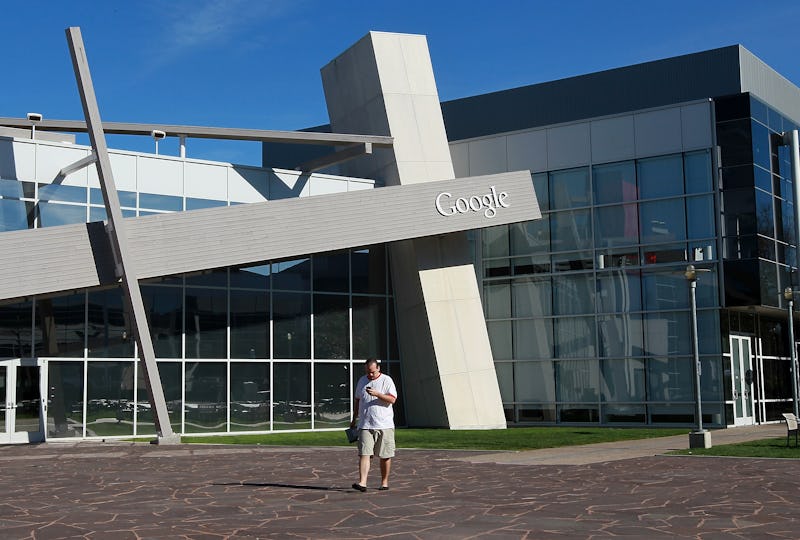 Justin Sullivan/Getty Images News/Getty Images
Tech companies have often positioned themselves at the forefront of societal progress. However, it turns out that when it comes to the inner workings of the companies, they're often plagued by the same old problems that turn up everywhere else. In response to a developing scandal, Google's employees are holding a walkout against sexual harassment and inequality at the company, and it's drawing a lot of attention.
"While Google has championed the language of diversity and inclusion, substantive actions to address systemic racism, increase equity, and stop sexual harassment have been few and far between," the walkout's organizers wrote in a statement, according to CNBC. "ENOUGH. Reassuring PR won't cut it: we need transparency, accountability, and structural change."
Sexual harassment and inequality at Google came into focus last week, when The New York Times reported that Google had responded to claims of sexual misconduct against top executives by hushing up the claims and then either keeping the men at the company or letting them go with hefty termination packages. In the most striking example of this, Google reportedly gave Andy Rubin, the creator of Android, an exit package worth $90 million after he was accused of sexual misconduct in a case that Google itself deemed credible. (Rubin denied the allegation.)
In the last week, then, The New York Times reported that many employees have not been satisfied with the responses to the original report from Google's top executives. The walkout, they say, is their response to what they see as Google's currently flimsy commitment to making the company an open and welcoming place for everyone to work. And according a statement obtained by Bustle, the walkout might already be having its intended effect.
"Earlier this week, we let Googlers know that we are aware of the activities planned for today and that employees will have the support they need if they wish to participate," Google CEO Sundar Pichai wrote in a statement. "Employees have raised constructive ideas for how we can improve our policies and our processes going forward. We are taking in all their feedback so we can turn these ideas into action."
The official demands of the Google employees walking out, according to a document posted to Twitter, cover both pay inequality and the alleged problem of sexual misconduct. They call for, among other things, an end to forced arbitration, a renewed commitment to ending pay inequality, and a "clear, uniform, and globally inclusive process for reporting sexual misconduct safely and anonymously."
"We don't want to feel that we're unequal or we're not respected anymore," YouTube employee Claire Stapleton told The New York Times. "Google's famous for its culture. But in reality we're not even meeting the basics of respect, justice and fairness for every single person here."
The Google Walkout began at its offices in Asia, CNN wrote, because it was set to take place at 11:10 a.m. local time at each of the Google offices around the world. While organizers initially told The New York Times that they expected about 1,500 of Google's 94,000 employees total to participate, the photos coming out of the Asia and Europe walkouts appear to show that 1,500 worldwide might have been an underestimate.
While the report regarding Rubin seems to have been a sort of tipping point for Google's workforce, it's not the first piece of news to have broken regarding what employees see as a culture of inequality at the company. According to its own diversity report, only 31 percent of its global workforce is female, and it's been sued for underpaying women by both a group of former employees, according to TechCrunch, and the Department of Labor, according to The Washington Post. Google, according to The Times, maintains that it does not have a problem with unequal pay. Following a protest of this scale, though, it's quite possible that it will have to look at the situation again.