These States Still Actually Celebrate Confederate Memorial Day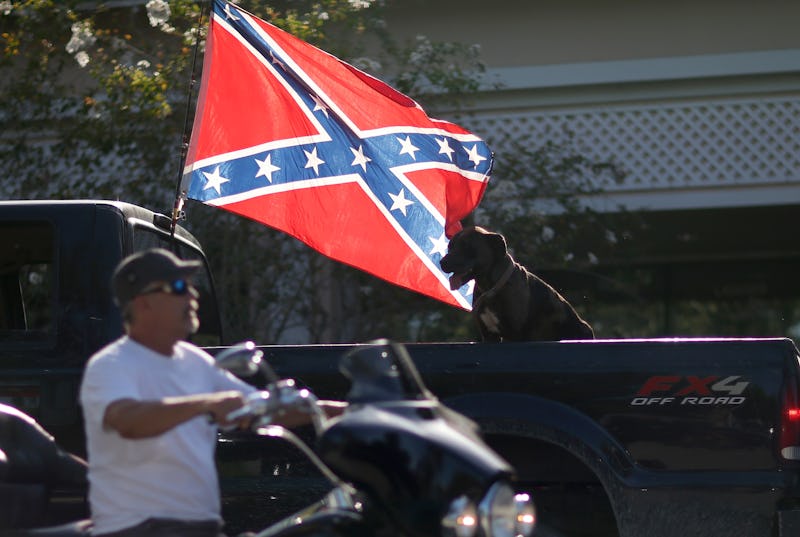 Joe Raedle/Getty Images News/Getty Images
Although it's been more than 150 years since the end of the American Civil War, the conflict over the celebration of "Confederate Memorial Day" is alive and well in the South. Celebrated by several states including Alabama, Florida, Mississippi, South Carolina, Louisiana, and Texas (along with an unnamed but assumed "State Holiday" in Georgia), the holiday — which closes several state buildings — is said to commemorate the Confederate soldiers who died in the Civil War. However, critics of the holiday argue that it perpetuates racism and is an insult to the lives of those who suffered because of slavery — the institution the Confederacy was fighting to maintain.
Much like controversies over displaying the Confederate flag, however, proponents of the holiday argue that it's a matter of Southern pride and refer to the war as a "fight for Southern independence" — of course, they also downplay the role of slavery and racism in the narrative. Barry Cook, chaplain of a Sons of Confederate Veterans chapter in Alabama wrote in a column for AL.com, "Our ancestors fought, died and lost everything they had for a cause that to us is worth remembering and cherishing."
However, it's difficult to "honor" the history of the confederacy without involving the issue of slavery. For example, Mississippi's 1861 declaration of secession stated that its choice to secede was based heavily on slavery. Alabama's statement of secession made a similar claim.
In Mississippi — a state that also declared April "Confederate Heritage Month" this year — activists with the Mississippi Rising Coalition (MRC) organized a protest of the holiday, stating on their event page that "official recognition by the state of Confederate Memorial Day is yet another example, along with the Governor's repeated proclamation of April as Confederate Heritage Month and the enshrinement of the Confederate emblem in the state flag, of a deliberate agenda to perpetuate the harmful and unjust ideology of white supremacy."
"I'm troubled that in a state made up of 40 percent people of color, our leadership continues to openly sanction the use of taxpayer funds to endorse a neo-Confederate agenda," MRC president Lea Campbell said in a statement. "It is time to move forward. We can be proud Southerners and honor our heritage and the sacrifices made by our ancestors without use of taxpayer funds to promote a racially unjust agenda. We must demand that every Mississippian is afforded equal respect, dignity and opportunity, and we will continue to speak out in support of justice and progress in Mississippi."
While these days remain on the calendars in these states, the debate over whether these holidays can ever truly be respectful will also continue.