There Could Be More Woman Governors In 2018 Than Ever Before — Here's Why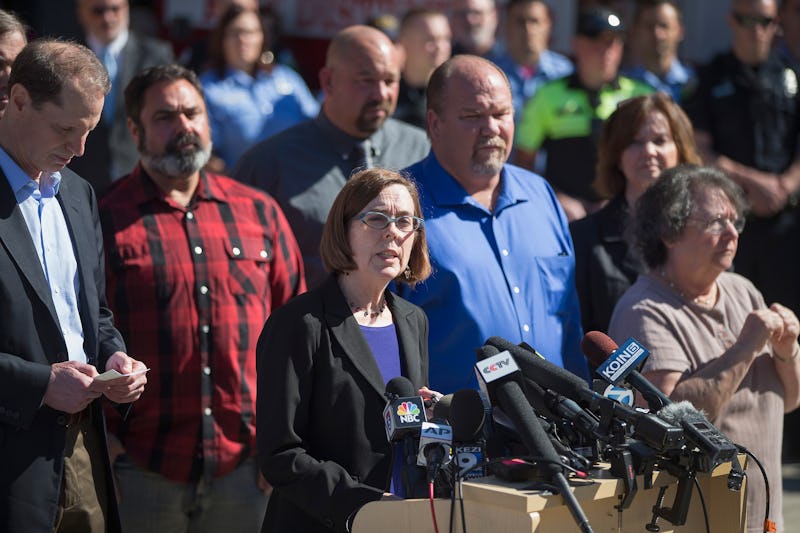 Scott Olson/Getty Images News/Getty Images
The number of female governors in the U.S. is even more dismal than the number of women in Congress. But as more female candidates prepare to run for political office in general, a record number of women are considering running for governor in 2018. At least 79 women are either seriously examining a gubernatorial bid or have already thrown their hat into the ring, according to the Center for American Women in Politics.
Only 39 women have ever served as governor in U.S. history. Six states currently have a woman serving as their chief executive officer — Alabama, Iowa, New Mexico, Oklahoma, Oregon, and Rhode Island — making up 12 percent of the nation's governors. In comparison, women constitute 20 percent of Congress; state trends mimic national trends, as women are more likely to serve in state legislatures or Congress than as governor or president.
The tide is starting to change, though. Should all 79 women (49 Democrats and 30 Republicans) considering a 2018 run for governor enter their respective races, 31 states would have at least one female candidate. This is more than double the previous record set in 1994, when 34 women ran.
Of course, some of the potential candidates could ultimately decide not to run and many would be entering crowded fields, but the simple fact that more women see a gubernatorial bid as a possibility suggests women feel they have more political agency than in the past.
Female incumbents in four states — Kay Ivey of Alabama, Kim Reynolds of Iowa, Kate Brown of Oregon, and Gina Raimondo of Rhode Island — plan to run for re-election, but there's also a long list of first-time candidates. In Minnesota, for example, there could be as many as eight women running for the open governor's seat.
A rise in female candidates extends beyond gubernatorial races, too. Women swept 2017 elections across the nation, with female candidates flipping multiple seats in the Virginia state legislature and winning mayoral races in Charlotte, New Orleans, and Seattle. Almost 370 women are running or plan to run for the 468 seats in Congress up for election in 2018, and more than 22,000 women have reached out to the pro-choice political action committee Emily's List about running for office since the 2016 election.
"I'm so elated about what happened in 2017 because it showed the world we need to — and do — trust women," VoteRunLead founder Erin Vilardi told Bustle in November. "When you lead with women and trust women in government, everything comes around because women do bring everyone along."
Emily's List has recommended eight Democratic candidates for governor so far, including Brown (Oregon), Stacey Abrams (Georgia), Cary Kennedy (Colorado), and Gretchen Whitmer (Michigan). Georgia, Colorado, and Michigan have never had a female governor. Four of the current six female governors are Republican, though female governors have historically skewed slightly Democratic — this suggests that the lack of female leadership isn't a party problem, but an overarching political problem.
"Because there are so many white males in government seats, there's this idea that women aren't even seen as a likely candidate, even now," Dr. Amina Asim, an expert on political communication, told Bustle after the 2017 elections.
However, when it comes to women of color, there's an even larger representation gap, considering no state has ever elected a Black female governor. Republicans Nikki Haley of South Carolina and Susana Martinez of New Mexico were the first women of color to become governors in 2011.
"The dearth of Black women in lower statewide executive offices may affect the likelihood of electing a Black woman governor," a 2015 CAWP report explains. "And just as statewide executive posts are a potential pipeline to gubernatorial office, governors are frequently included in the pool of potential recruits for presidential runs."
With more women considering runs for governor than ever before, 2018 elections are bound to make history — regardless of who wins at the ballot box. And come 2019, there could be a record-breaking number of women running state governments.