How You Can Help Carry Female Politicians' 2017 Victories Into 2018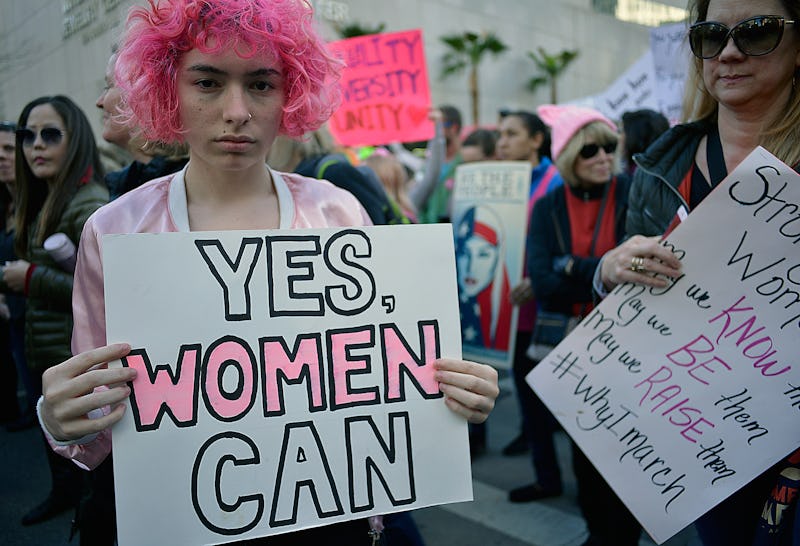 Chelsea Guglielmino/Getty Images News/Getty Images
Female candidates swept local elections last week, from Virginia to Washington. Where women were on the ballot, they won. But if America is ever going to see real gender parity in politics, that momentum needs to continue to get more women elected in 2018.
"I'm so elated about what happened in 2017 because it showed the world we need to — and do — trust women," says Erin Vilardi, founder of VoteRunLead. "When you lead with women and trust women in government, everything comes around because women do bring everyone along."
Currently, only 25 percent of state legislature and 20 percent of congressional seats are held by women. By some estimates, U.S. politics won't be half female until 2117 (If that sounds pretty far off, that's because it is). And while this year's victories are certainly a step in the right direction, there's still a long way to go before those elected to represent Americans actually match the gender ratio.
It may feel like there's tons of time to gear up for 2018 (we have a full year, after all), but getting more women in office doesn't happen overnight. If you want to keep the energy of the 2017 election going, there are plenty of ways you can get involved right now.
Go To Local Meetings
Getting involved in your community allows you to find out who's running in local elections and deduce what they really stand for. Whether you attend a meeting for your city council, school board, or the county commissioner, showing up is the best way to get a feel for what's happening closest to home — and how to address it.
Call Out Politicians Who Don't Advocate For Women
In order to get more women in office, some men will inevitably have to leave office. So, even if you haven't identified a woman running in your local election yet, try to work backwards and figure out who needs to go. Does a local politician have a reputation for making sexist remarks? Is a certain person advocating for legislation that would be harmful for women? Those representatives are a good place to start.
For a little inspiration, look to Ashley Bennett of New Jersey. She ran for Atlantic County's Board of Freeholders (and won) last week after seeing that the man who currently holds the position shared a sexist meme about the Women's March. There was also Danica Roem in Virginia, who became the state's first openly trans legislator when she unseated a male incumbent who pushed for anti-LGBTQ policies. They'll soon be taking over their male opponents' seats.
Invite Female Politicians To Speak At Your College
"Because there are so many white males in government seats, there's this idea that women aren't even seen as a likely candidate, even now," says Dr. Amina Asim, an expert on political communication.
Showing women examples of successful female politicians allows them to picture themselves in the role and get inspired to run. Invite women you admire to speak at your college — and if you're no longer in college, encourage college-age women you know to do so. "Help younger women who want to be leaders learn from them," Dr. Asim tells Bustle.
Join A Local Women's Group
National groups such as Emily's List, She Should Run, and VoteRunLead are already on the ground advocating for female candidates and training women to run. There are also chapters of the National Women's Political Caucus in many states, as well as other local organizations supporting women's campaigns and giving people the tools to get involved.
"2018 will be the year when we'll see if this momentum pays off. But it won't happen by itself," says Monica Klein, co-founder of The Broad Room, a New York City-based women's group. "Men often enter the political arena with more funds, more support, and more confidence than female candidates. If you want more progressive women in office, you need to help fix this resource imbalance."
Give To Women's Campaigns
Although it's early, many people running in local, state, and national elections in 2018 have already announced their candidacy. Take the time to identify women you want to see in office, and donate to their campaigns. Emily's List's website makes it easy to find female candidates it endorses at every level, and you can even donate directly on the page. But also identify women running for city council and the local school board, because those campaigns also cost money.
"We have to spend our political capital. So, first, we have to recognize we have more political capital than just voting," Vilardi says. "That's where the guys beat us — being politically savvy and recognizing that we have power."
Donate Your Time, Too
Helping women get into office requires more than simply money. Female candidates are already fighting an uphill battle, and they need volunteers to knock on doors, make phone calls, and help get their message out.
"A lot of these races won't really get going until late spring, early summer, but it's so important to get on the ground early for these candidates," says Alexandra De Luca, Emily's List press secretary.
Emily's List has had more than 20,000 women reach out about running for office since the 2016 election, so it's likely there will be women in your area launching campaigns. Whether you have experience with social media, photography, accounting, marketing, web design, or simply enjoy talking to people, a campaign can put you to work.
Get Your Network Involved
Once you find your political footing, get your friends and family involved. If you donate to a specific campaign, ask your friends to match your donation. If you know someone whose skills could help a female politician's campaign, ask them to volunteer with you. And if you know a woman who should run, tell her she can and should.
In Vilardi's words: "If we continue to elect more women on both sides of the aisle, this country will be in good shape in short order."