This 'Great British Bake Off' Judge Used To Write A Cooking Column For The Royal Family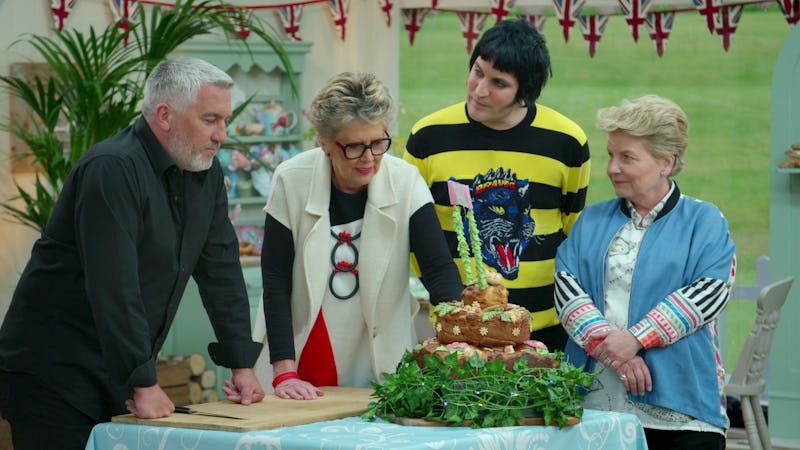 Netflix
You may have noticed that the Great British Bake Off, or as those in the U.K. call it, The Great British Baking Show, has some new faces in recent seasons. One of those new Great British Bake Off judges, Prue Leith, essentially replaced Mary Berry and she is not hilarious, she has a fascinating history. No one can really replace Mary Berry, but Leith has definitely become a fan favorite over the course of her time on the show so far.
After growing up wealthy in South Africa, and wanting to be an actress or some kind of artist, Leith has had an impressive and varied culinary career. According to The English Home, Leith started a catering company called Leith's Good Food in the '60s and opened what would be come an internationally acclaimed restaurant in Notting Hill, Leith's, in 1969. Today, she and her restaurant now run a chef's academy as well as a food and wine school. So when she's pointing out those "soggy bottoms" on a sponge cake, she knows what's up. Leith has also published several cooking books and novels.
Leith has appeared on several other cooking shows as a guest, including MasterChef, Breakfast, and Saturday Kitchen. A decade prior to Bake Off, Leith was a judge on The Great British Menu. She knows her way around studio kitchens.
At only 21 years old she even ghostwrote a column in the Daily Mail for a member of the Royal Family, the Queen's cousin Lady Elizabeth Ansom, according to an interview with Cotswold Life. Leith used that opportunity to launch her own writing career.
"[Lady E] told the editor, 'First of all, I can't write; secondly, I can't cook. But I know a woman who can,'" Leith said. "So I said, 'Look, I will ghost her but only on condition that I can do her column one week, and the next I'll write a column under my own name'. The editor bought this, and the idea was that I would give all the posh recipes to Lady Elizabeth, while I did the everyday mince and tatties and bread and marmalade."
Here's an interview clip that Leith did while running her restaurant, Leith's, in 1991 during a recession. She goes from describing her restaurant as expensive and "rather smart," not down market, to saying "if the grub's good, people come back" — it's delightful and not at all surprising that Leith ended up as a television presenter.
In 2017 during what Netflix calls "Collection 5," Leith was the subject of a bit of a Bake Off scandal when she accidentally tweeted out the winner of the final (don't investigate if you don't want spoilers) before it had aired in the United Kingdom. The judge was in a different time zone and was "mortified" by the blunder. According to The Independent she was in "too much of a state" to talk about it after initially deleting the offending tweet, but apologized in the morning.
That said, Leith was not fired or anything, as this new season/collection confirms! Great British Bake Off is always willing to forgive and forget and they've clearly got a great new judge in Leith.