Viggo Mortensen Was Basically Adopted By His 'Green Book' Character's Real Family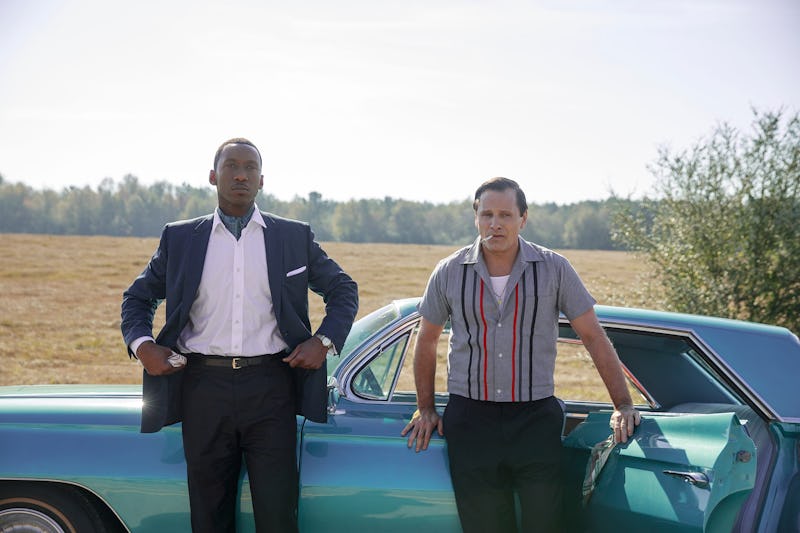 Universal Pictures
Viggo Mortensen and Mahershala Ali star in Green Book, which tells a powerful, true story of the friendship formed between Italian-American bouncer-turned-chauffer Tony "Tony Lip" Vallelonga (Mortensen) and classical pianist Dr. Don Shirley (Ali), who traveled through the segregated South together in 1962 for Shirley's tour. The pair remained close friends until their deaths in 2013, bonded forever through their journey. Upon their passing, Tony's son Nick set out to produce and co-write the film, and Green Book star Mortensen says that he was welcomed into their close-knit family as soon as he became involved.
"[Nick Vallelonga] and his family, they were very generous and shared lots of stories and lots of memorabilia and photographs, audio recordings. They were extremely helpful to me in constructing this character," explains Mortensen, speaking over the phone from Los Angeles.
The younger Vallelonga faced the challenge of fulfilling his father and Shirley's wish of telling their story. Before their deaths, Tony and Shirley gave Nick detailed accounts of their fateful journey, leaving him with everything he needed to write the film. Beyond interviews, not much is known about Shirley, nor the challenges that he faced along the way on tour that Tony alone witnessed. It was up to Nick to successfully capture their journey in a nuanced, realistic way.
"The only condition the real Doc Shirley put on [Nick] was that the movie not be made until after he died because he was a very private person," explains Mortensen. "Maybe he was... because of his sexuality or whatever, he was just a very private person. He didn't want a story to be told about him till he was gone and Nick respected that." (In one powerful Green Book scene, his sexuality is accidentally revealed to Tony during a traumatic experience.)
To make the story feel authentic, the cast had to capture their characters' essence flawlessly. Mortensen embraced this challenge, soaking in all the incredible stories about the late Vallelonga patriarch and the beloved memories the family holds.
"Nick was very helpful. He opened up the doors to his house and to the houses of his family members and I visited them and spent time with them and ate meals with them and I learned a lot," says the actor. "They let me wear that little gold chain I wear in the movie with a little medal on him. That was his father's. Linda Cardellini, who plays my wife, they lent her jewelry that was the real Dolores'. They were very kind and very generous with us."
And other members of the family were actually directly involved in the film, beyond giving helpful advice and sharing props with the cast. Director Peter Farrelly included the family in the film (including Nick), making their dynamic feel even more convincing.
"Pete ended up casting several family members, like Dolores' father. Nick's brother plays my brother in the movie. Nick's uncle, who is Tony Lip's real brother, he played my father," explains the Green Book star. "[Farrelly] didn't want it to be reminiscent of other faces and other Italian-American families. He wanted it to feel really real and like you were discovering people, and they felt like real people."
Throughout the process of learning about the real Tony Lip, Mortensen became fascinated with hearing his family's unbelievable anecdotes. "He was an incredible person. I kept saying to Nick, 'Did this really happen? That's crazy. Did that happen?," recalls the actor. "He was in some way sort of like a Zelig character. He was friends with Frank Sinatra — he just knew everybody from his nightclub scene. ["Beyond The Sea" singer] Bobby Darin was someone he knew really well. Bobby Darin wouldn't even go on stage in the Copacabana unless Tony Lip brought him to his dressing room a plate of food cooked by Dolores."
The actor also notes that though the film shows their 1962 tour across the South, the lifelong friends actually continued their journey further. "Everything that happens in the movie is true, it's just spread out," explains Mortensen. "They got home on Christmas. That's all true. But then after, there's a break and then that tour continued the following year, and they toured for a whole year to lots of places, even out west, to Canada and stuff. And I believe that Doc liked working with Tony so much and having him drive him, he invited him to go on European tours, but I think Dolores said, 'No, that's enough. That's too much, too far.'"
Mortensen notes that the film has received a very "passionate reception," with many touched by the story. The film has even garnered Oscar buzz, with fans awaiting to see if it'll receive the coveted nomination of Best Picture next year. (Some critics and audience members, however, have accused the film of over-simplifying racism.) For Mortensen, it means a lot for the film to garner a mostly positive response, even if it doesn't end up getting nominated. "I think Green Book is a movie that people will watch and love five years from now or 10 years from now. I think it has the makings of a classic," says the actor.
Green Book may still go on to be one of the most beloved films of the year, with a touching story that'll impact audiences even more knowing that it's based on a true story. Evidently Nick Vallelonga's hard work in accurately recreating his father and Don Shirley's trek, as well as Mortensen and Ali's immersion into their roles, have paid off.