Kevin McKidd Says Teddy's Pregnancy On 'Grey's Anatomy' Will Cause A Major Dilemma For Owen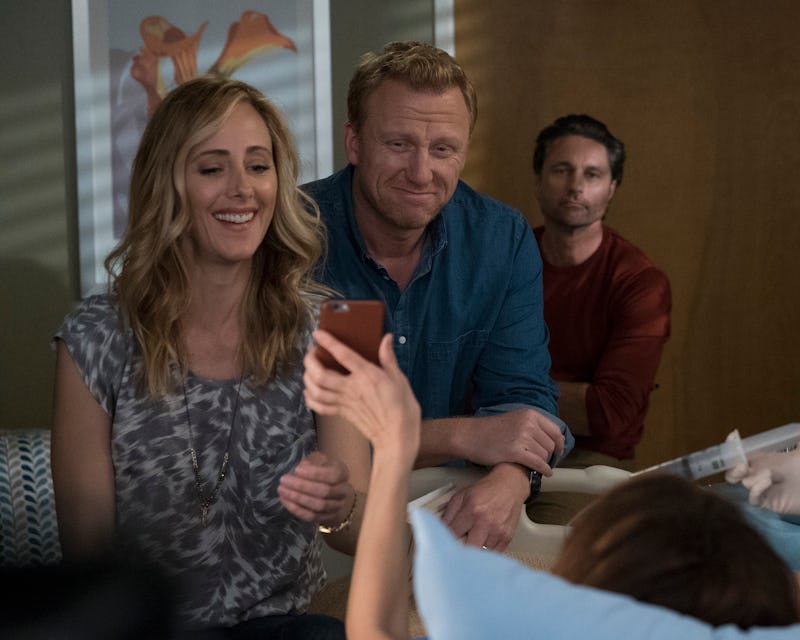 ABC/Richard Cartwright
Even his past military career couldn't prepare Dr. Owen Hunt for the bombshell that awaits him this season on ABC's Grey's Anatomy. As teased by Kevin McKidd, Owen's reaction to Teddy's pregnancy reveals "an almost impossible problem" ahead, the actor teased in an interview with Entertainment Tonight, published on Thursday, Sept. 27. While the onscreen trauma surgeon is no stranger to tumultuous romances, the unborn baby adds an element of complications he's never had to combat.
"We all, as adults, have feelings but when there's children and responsibility in that sense, it adds a lot more pressure, a lot more heat, a lot more stakes to the situation," McKidd told ET. "That's the big difference. It's not just about 'I love you,' 'No, I love you,' 'Do you love me? Do you love him?' We all have to be adults here and figure this out somehow."
Either way, a love triangle is in the cards this season between Owen, his pregnant ex, Dr. Teddy Altman (played by Kim Raver), and his current love, actor Caterina Scorsone's Dr. Amelia Shepherd, who also happens to be his ex-wife with whom he reconciled last season following their divorce. As a refresher: It was Amelia who urged Owen to travel to Germany last season to be with his former Army colleague Teddy, who she believed to be his true love. After traveling abroad, Owen and Teddy finally consummated their relationship — only for the latter to decide Owen still had feelings for Amelia and to send him packing.
Once back in Seattle, Owen acted on his longstanding dream of fatherhood, adopting the son of a teen mom battling drug addiction. Following their reconciliation, he and Amelia also ended up taking in the boy's birth mother Betty, as she recovers from her disease. By the Season 14 finale, Teddy returned to Seattle with a major secret: She and Owen apparently conceived a child during his trip abroad. As revealed in the Grey's Season 15 trailer, Teddy is "11 weeks pregnant," and the sole keeper of said bombshell is Maggie Pierce (Kelly McCreary).
"It's not only a bombshell to be dropped, but it's also a bombshell because he's just adopted a baby," McKidd elaborated to ET. "He's raising a teenager with Amelia and he's falling back in love with her again. With that being the way things are and to have this bit of news..."
Much like his character, McKidd is oblivious to what lies ahead following Grey's two-hour premiere on Thursday, Sept. 27 at 8 p.m. ET on ABC: "In 10 years, this is the first time I can say that I, Kevin McKidd, have no clue how my character's going to react when he finds out. That makes me really excited to play it."
While Scorsone can also only guess how her character will react to the pregnancy revelation, the actor has some theories. "She's so tender and vulnerable on the inside and that is often why she puts up armor, because when she's hurt, she's really hurt, and she has lost so many people she's loved," Scorsone also told ET. "I think, knowing her, I think the tendency would be — or at least her default setting — would be to distance herself to protect herself."
Despite her best efforts to get some spoilers, Scorsone added to ET that she doesn't know how the story will play out because, as of episode 6, the writers "have changed their minds three different times."
For her part, Raver — who's returned to Grey's after appearing as a series regular for Seasons 6-8 — predicts it will not be "the typical love triangle" fans might expect. "We're in 2018 and I pitched, if we can, not having woman pitted against woman," Raver told The Hollywood Reporter in August. "Amelia and Teddy definitely have what they want, but maybe there's a different way for us to approach it. And the writers seem very interested in that and we're hopefully going to head in that direction."
While viewers will have to stay tuned to find out what lies ahead for Owen, Teddy, and Amelia, it's sure to be some must-see #TGIT TV.