Amelia's Reaction To Teddy's Pregnancy On 'Grey's Anatomy' Won't Be What Fans May Expect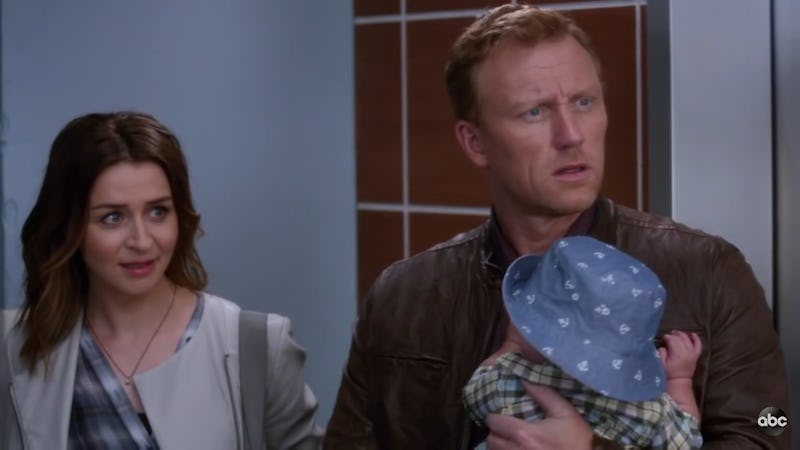 ABC/YouTube
Whoa, baby, is there a new love triangle taking shape at Grey Sloan Memorial. Amelia's reaction to Teddy's pregnancy on Grey's Anatomy may reveal a bumpy road ahead for her and Owen, Caterina Scorsone (AKA Dr. Amelia Shepherd) said in a recent interview with Entertainment Tonight, published on Thursday, Sept. 20. "Teddy's shown up and apparently is pregnant. Amelia doesn't know at this point, so she and Owen are playing house with this teenager and this baby," the actor explained to ET. "It's all very complicated."
Complicated seems to be a bit of an understatement. In the Grey's Season 15 trailer, Teddy (played by Kim Raver) reveals to Kelly McCreary's cardiothoracic surgeon Maggie in an examination room that she's "11 weeks pregnant," presumably with Owen's baby, given that the longtime friends finally acted on their sexual tension during a trip to Germany last season. Oh, and Amelia was the one who urged her ex-husband — with whom she's since reconciled — to go to Germany to be with Teddy in the first place. After their hookup, Teddy ultimately said goodbye to Owen, who returned to Seattle to adopt the son (Leo) of a teen mom drug addict. And now he and Amelia have also taken in and are caring for said addict mom Betty (Peyton Kennedy) and the child. By Season 14's finale, Teddy had returned to Seattle full-time, of course expecting a baby. Phew.
By the way, this is all the drama that unfolded before either Owen or Amelia find out about Teddy's pregnancy. So just how will Amelia react to the news? "I think she'll be surprised at the very least," Scorsone added to ET. "Amelia is a pretty complicated woman. She'll be devastated on one level but she also is a very noble person inside, so I think she'll want whatever is the best thing for Owen ultimately."
Fans shouldn't expect to see the outcome right away when Grey's returns with a two-hour premiere on Thursday, Sept. 27 at 8 p.m. ET on ABC. "It takes a minute for that news to be slammed on Owen," McKidd told The Hollywood Reporter in an interview last month, noting that the trauma surgeon is still unaware of the baby news at least as of Season 15's second episode. "I think he's going to be a bit vapor-locked for a minute. He's been yearning for a family and a child for years, and now he's got too many kids! You have to be careful what you wish for!"
Raver, who previously appeared as a Grey's series regular for Seasons 6-8, predicts a love triangle of sorts — albeit one that's "going to be very different from the typical love triangle" — this season on the ABC medical drama. She's even hoping for a possible modern family type of arrangement with a feminist bent, adding to THR:
"We're in 2018 and I pitched, if we can, not having woman pitted against woman. Amelia and Teddy definitely have what they want, but maybe there's a different way for us to approach it. And the writers seem very interested in that and we're hopefully going to head in that direction. I think that will open up a very different storyline. [Showrunner] Krista [Vernoff] has informed me a bit on how we're going to do that and it really seems like an amazing storyline."
With Grey's upcoming new chapter already being billed as "the season of love," viewers also got a hint in the new trailer that there will also be a new romance for Dr. Meredith Grey (Ellen Pompeo). In the clip, Meredith can be seen — gasp! — making out in bed with Deluca (Giacomo Gianniotti). But Scorsone hinted to ET that the hookup might not be exactly as it seems. When asked if what fans saw in the trailer could have been a dream sequence, she revealed coyly: "No ... I don't think I'm allowed to talk about what it is. I can't say! You're going to have to wait and see, but it's worth the wait."
What could Scorsone definitively say about Season 15? "Every single episode it's bring your tissues, get ready to laugh," she added to ET. "You'll probably cry and you might think somebody is very attractive."
Sounds like typical Grey's — and that Owen, Amelia, and Teddy's love triangle will surely bring a healthy dose of drama, too.