The Really Cool Way 'Grey's Anatomy' Fans Are Stepping Up To Help Spread Domestic Violence Awareness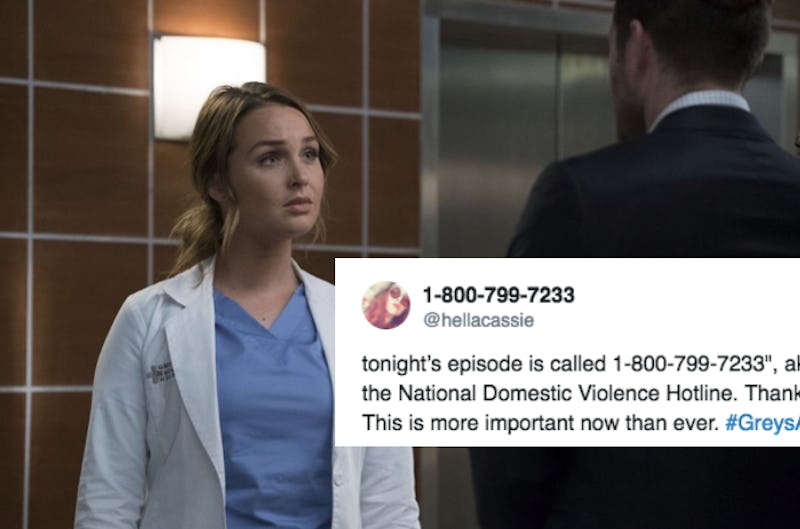 Richard Cartwright/ABC
Thursday night's premiere of the Grey's Anatomy episode "1-800-799-7233" is bringing awareness to a very important issue — that of domestic violence (the number referenced is the National Domestic Violence Hotline). And Grey's Anatomy fans are doing the same, using their Twitter handles and the Twitter medium at large to bring awareness to both the hotline and the issue.
The episode centers around Jo Wilson and the return of her estranged husband, Paul Stadler. Paul abused Jo so badly when they were married that she was forced to run away from him, and she adopted a new name and a new story and vowed to push all of that part of her life behind her. It's only now that she's found love with Alex Karev and that she wants her name on the cutting-edge medical practices she's doing with Meredith Grey that she realizes that she can't run from her past — especially when said past shows up at her hospital to further terrorize her.
Jo has been exceptionally brave throughout this whole ordeal, and Meredith, Alex, and the rest of the staff at Grey Sloan have been so supportive of Jo as she deals with this unimaginable trauma. Also supportive? Grey's Anatomy fans on Twitter, who in solidarity changed their names to the phone number for the National Domestic Violence Hotline in order to bring awareness to those who are experiencing abuse and may need help.
While not every fan changed their name on Twitter, many did also raise awareness for the hotline and the issue the episode focused on. It may seem like Grey's Anatomy is just a show, but it's also a huge platform for such an important issue — and the fact that it and its fans are raising so much awareness could actually help someone who does need this number.
Jo has been afraid for so long. She was afraid to get a divorce, she was afraid to call out her past. Now, she's facing Paul, and for better or for worse, she's trying to get away from him. Camilla Luddington, who plays Jo, expanded on what this story meant to her in an interview with Bustle, "For me, the storyline ended up being a long time coming for the character. [Head writer] Krista Vernoff and the writers have done an amazing job just diving right into it. It was very painful and uncomfortable to read and then to play, but I definitely felt the weight of you know, potentially fans of the show watching who had experienced this before."
Luddington needed to tell Jo's story the right way — not just for all the real women who have experienced or may still be experiencing domestic violence before — but also to bring awareness to the issue in general. "The other thing I'd hoped is that perhaps [this storyline] would help educate people who have misconceptions about what domestic violence is, or looks like, or who it happens to," Luddington said.
In fact, the episode was originally titled "Four Seasons in One Day," and it was changed to "1-800-799-7233" to raise awareness for the National Domestic Violence Hotline. Perhaps by spreading the phone number via television and via the Internet, more people who need help can get it, and more people can be saved. Just to bring awareness is important, but actually giving people a tool they can use is change be life-changing.
For now, Jo is in the middle of her journey to the other side. "It's just been interesting that [Jo has] been able to conceal so much, and sometimes seem like she has it all together and she doesn't. That's been great to play," Luddington added to Bustle. "I feel like she is determined ... [when] the odds are against her. I think that she's brave. I think she's a very brave character, and I think that the viewers will see more of that this season." Whatever comes at Jo, Alex, and the rest of the Grey Sloan family, it's nice to know that the dedicated fans of Grey's Anatomy are completely supportive of what the show is trying to do here.
If you or someone you know is experiencing domestic abuse, call 911 or the National Domestic Violence Hotline at 1(800) 799-SAFE (7233) or visit thehotline.org.