Camilla Luddington Says Her 'Grey's Anatomy' Domestic Violence Storyline Fits Right Into The Time's Up Movement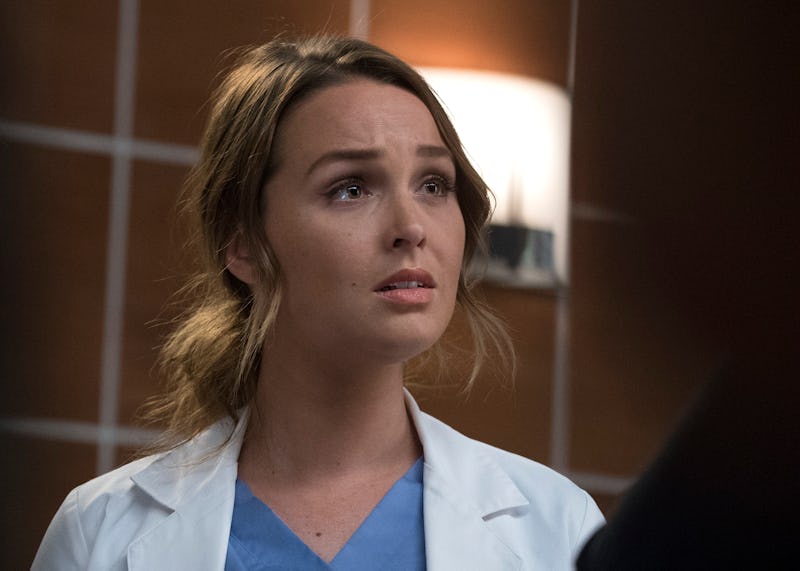 ABC/Richard Cartwright
The timing of Jo's abusive husband's arrival at Grey Sloan Memorial Hospital is not lost on actor Camilla Luddington. Within a recently evolving cultural climate that encourages sexual assault (and otherwise) survivors share their stories, Grey's Anatomy's domestic abuse plotline is especially poignant. "This is really a story about women no longer being silent, and women finding the strength to use their voice and to be heard and to be believed," Luddington says in a phone interview with Bustle. "So this absolutely goes along with the Time's Up movement and everything that we see happening right now."
The medical drama returns to ABC on Jan. 18 at 8 p.m. ET, and it'll pick up just after a moment that chilled viewers to the bone. When we last left Jo, she had been blindsided by coming face to face with the abusive man she'd managed to escape years before. Paul, her estranged husband, wasn't just a nagging fear in the back of her mind — he was in front of her, in the flesh, and in her territory. "It's as if her past, present and future all came crashing down around her," Luddington says. Jo's been held back for far too long by this lingering threat — too afraid for her life to properly pursue a divorce or even attach her face and name to groundbreaking medical accomplishments. And now, just as she's started to make peace with the idea of legally separating from this man, he's shown up at her place of work with what are surely sinister intentions.
This storyline may be fictional, but the situation of an abusive ex showing up to enact revenge sadly isn't. Luddington says she kept these real-life survivors in mind as she prepared to shoot these heavy scenes. "For me, the storyline ended up being a long time coming for the character. [Head writer] Krista Vernoff and the writers have done an amazing job just diving right into it," Luddington says. "It was very painful and uncomfortable to read and then to play, but I definitely felt the weight of you know, potentially fans of the show watching who had experienced this before."
Grey's Anatomy (creator: Shonda Rhimes) is approaching this storyline in a very Grey's Anatomy way — it's intense, it's emotional, it's anxiety-inducing, but at its core, it sends an important message to viewers. "The other thing I'd hoped is that perhaps [this storyline] would help educate people who have misconceptions about what domestic violence is, or looks like, or who it happens to," Luddington says. The midseason premiere, which picks up just after the cliff-hanger Grey's delivered late last year, was even given a new title this past week to further drive home a message of support. The episode was originally titled "Four Seasons in One Day," though that has since been changed to "1-800-799-7233," which is the phone number for the National Domestic Violence Hotline.
Luddington thinks the new title is an "amazing idea," adding that the change was actually originally suggested by Giacamo Gianniotti, who plays Andrew DeLuca on Grey's. "I think that we hope that this [episode] brings more awareness, and I think right at the beginning to have that [title], it kind of shows exactly the intent of the entire episode," Luddington notes.
Matthew Morrison made his debut as Jo's estranged husband Paul earlier this season, and Luddington says that this chilling role is obviously a far cry from his previous role on Glee. "He is just such a phenomenal actor to work with. He committed with me, and with all of us, to such difficult material. People will see that there is no Mr. Schue, who I was a huge fan of," Luddington says with a laugh. "When he first got cast, I was like, 'No! But he's so lovely!' I cannot say more — just watch him in this role."
As for how the season will progress as Jo deals with this terrifying development, Luddington wasn't able to reveal much, but she did say that it would mean a something incredible for Jo to finally be finished with that chapter of her past. "I've always wanted her to feel empowered and free, and you know, get rid of her demons, and he is the ultimate demon for her," the actor says. "She would feel lighter in her world — this weight lifted off her."
Despite the hardships Jo has endured, both in her past and during her time at Grey Sloan, she's remained stunningly resilient, and managed to protect herself in the face of unimaginable situations. "It's just been interesting that she's been able to conceal so much, and sometimes seem like she has it all together and she doesn't. That's been great to play," Luddington adds. "I feel like she is determined ... [when] the odds are against her. I think that she's brave. I think she's a very brave character, and I think that the viewers will see more of that this season."
When Grey's does return, all eyes will be on Luddington to see how she and the writers steer Jo through this tumultuous time. And if Grey's has taught us anything over the years, we should expect an emotional, but incredibly powerful ride.
If you or someone you know is experiencing domestic abuse, call 911 or the National Domestic Violence Hotline at 1(800) 799-SAFE (7233) or visit thehotline.org.