Grimes & Elon Musk's Baby Has Been Named & It's Um, Different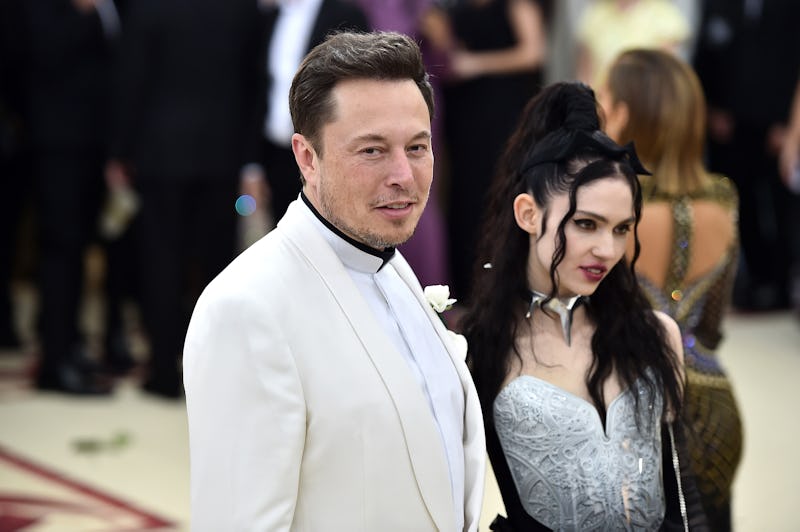 Theo Wargo/Getty Images Entertainment/Getty Images
Elon Musk and Grimes welcomed their first child into the world on Monday (May 4), and promptly sent Twitter into a frenzy. Musk revealed that they had welcomed a boy, aptly born on Star Wars Day, and that "mom & baby [are] all good." Obviously fans wanted more deets, and the parents certainly providedby revealing their baby's very unique name.
Responding to a fan, Musk said his sixth son's name is X Æ A-12 Musk. Grimes later confirmed this in a very insightful tweet, detailing the thought process behind it. Each letter stands for something meaningful to Grimes (and Musk), including Æ Grimes' "elven spelling of Ai" which means "love &/or Artificial intelligence", and 'A' for Grimes' favourite song 'Archangel'. "I think it sounds like the name of the main character in the story," Grimes said responding to a fan. "I hope he vibes with that." There's a possibility that 'Æ' could be a little reference to one of Grimes' recent songs for the upcoming video game Cyberpunk 2077, titled '4ÆM'.
While many are struggling to figure out how to pronounce the potential name (myself included), the Tesla CEO shared an adorable pic of him and his new son, as well as one with an inked-up filter. "Never too young for some ink haha," Musk replied to another fan.
Grimes has been pretty open about sharing her experiences of pregnancy since she announced it earlier this year. In February, the Canadian singer spoke about her child's gender identity on Twitter, explaining to fans that she will support them in deciding their own "fate and identity."
"I don't want to say the gender of the baby... I feel like their privacy should be protected," she said during a YouTube Q&A. "I don't think they can consent to being famous or being in public. I don't want to gender them in case that's not how they feel in their life. I don't know, I just feel like it doesn't need to be known."
This article was originally published on