Grocery Joe's 'DWTS' Partner Jenna Johnson Is Getting ALL The Bachelor Nation Tea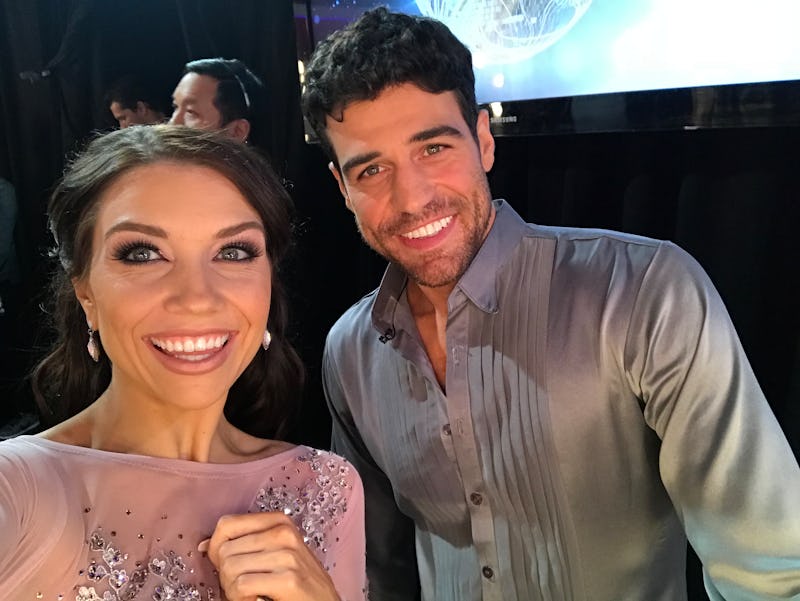 Jenna Johnson
Have you ever wondered what mixed drink Jordan Kimball always sipped on Bachelor in Paradise? How about who shared bunk beds in the bungalows? Or, what about how often producers halted the cameras, mid-interview, to blot away the sweat that poured down suitors' bodies in the Mexico heat? Those are all questions Jenna Johnson got answers to as Grocery Store Joe's partner on Dancing with the Stars, and as a die-hard fan of Bachelor Nation, she says she still can't get enough inside info.
"One of my favorite things to do is, when we have a little break in rehearsal, he will tell me all of the details that happened behind the scenes in Paradise or on The Bachelorette," Johnson gushes over the phone to Bustle. "And it's been amazing, because I'm just fangirling. I watch the show all the time." So it looks like their partnership is mutually beneficial — with every quickstep Joe successfully turns out, Jenna gets the deets on the latest drama in Bachelor Nation. She says she totally freaked out when she learned she was going to be coaching him, because she's obviously a huge fan.
"I jumped up and down, I was screaming," she says. "It's crazy because I had just, the night before, watched one of the episodes. All of the girls on DWTS are big fans of Bachelor everything. When we go on tour, we'll… this is so bad, but we'll do a show on Monday night, and we'll try to get through it really fast so we can run back to the bus and we have The Bachelor DVR-ed. So I knew exactly who he was, and honestly, meeting him in person kind of exceeded my expectations."
That shouldn't come as surprise, though, considering his no-fuss, hands-off approach to the lovestruck theatrics that went down in Paradise. It's obvious that Joe is a super down-to-earth guy on and off camera. And that (along with his quality Instagram food reviews, of course) is why Bachelor Nation fans have taken such a liking to him. "He is sweet, he is genuine, he's goofy, he's awkward," Johnson says. "He's just a normal guy. And I think that's why people are just in love with him. Because he's, you know, he's Joe."
Another thing that might be just as obvious is that Joe doesn't have much (if any) experience with dancing. But that hasn't stopped him from giving it his all on DWTS, and Johnson deeply admires him for that. "He's never done anything acting or anything musical or anything with dance or even athletics, so we kind of started at ground zero," she says. "But I think that's sometimes, honestly, the most inspiring stories … and that's what DWTS is about at the end of the day."
She says Joe works incredibly hard to nail every move, and if you've watched any of the pair's numbers on the show thus far, you can tell how badly he wants to perfect his routine — for Jenna, for his newfound fanbase, and of course, for his girlfriend, Bachelor in Paradise's Kendall Long, who always beams with pride from the audience, regardless of their scores. That was especially the case when the pair waltzed to "You Are The Reason" by Calum Scott and Leona Lewis on Monday. As Kendall watched him skate across the dance floor to the romantic ballad, tears welled up in her eyes, and it was enough to make every viewer's heart turn to mush.
"I love his work ethic," Johnson says. "It's incredible. And he wants to do things over and over again to make sure he gets it, so that's been so fun. He's working so hard, and I think people can see the improvement. He's getting better and better each week." And she also loves that, although he's not the most experienced, he welcomes any challenge Johnson brings to the table with a nervous smile.
"It's funny because we've been trying to do impressive tricks or lifts or spins, and every time I explain them to him to try to get him to attempt it, just watching his face is magical because he just looks at me like, 'What on Earth are you gonna try to have me do?'" she says. "But my favorite thing is that he attempts it, and he actually does it pretty well."
Johnson says she loves the foxtrot they performed to "New York State of Mind," and the more time she spends with him, the more she realizes how similar they are as people — they even have the same birthday. "I feel like Joe and I are kindred spirits," she says. "It's crazy because we were actually both born on the same day ... so I feel like we have this odd connection where I legit know exactly how he's feeling, what he's thinking, like I just feel like we have this awesome bond. We have a great connection and I think that's what's important in this show ... I think that's what's gonna take us through this competition." Well, that and the dedicated Bachelor Nation fans who will go to the ends of the Earth to see Grocery Store Joe save the last dance.
"It's just been crazy to see social media backing up this guy and us as a partnership. And I love it," Johnson says. "It's been so awesome because, you know, we haven't gotten the highest score of everyone yet, but I feel like we have the most supportive fanbase so far ... Bachelor Nation is no joke. They are for real." Maybe that's why they call it reality TV.