Grocery Store Joe Made A HUGE Career Announcement On The 'BiP' Finale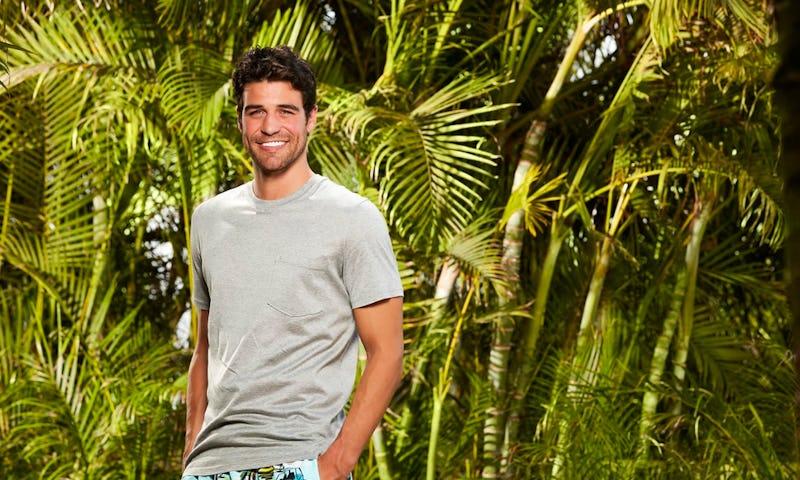 Craig Sjodin/ABC
Long distance dating was an obstacle for Joe Amabile and Kendall Long. But now, he will be in her city, Los Angeles, at least for a little bit since Chris Harrison announced that Grocery Joe will be on Dancing With the Stars. So Bach Nation can collectively rejoice that they will be blessed with even more Grocery Joe content for the foreseeable future. Let's just hope that he will stick around past the first elimination this time around.
During the Bachelor in Paradise Season 5 reunion episode, Chris asked Joe and Kendall, "Do you guys have plans? Thoughts on the future?" Kendall replied, "I think we are just taking it day by day now." Then things got interesting. Chris asked the couple, "Would you guys like to be in the same place at one time?" Joe told him, "Eventually, yeah, of course."
The host with the most worked his magic and said, "What if I could help you guys be together in the same city?" Joe immediately responded in his deadpan, adorable way, "Yeah, sure." That's when Chris dropped this bomb: "I know some people and I pulled some strings. I have procured you a spot on Dancing With the Stars."
Kendall couldn't help yelling, "Oh my god" and "Yes. Do it." She wasn't the only one who felt that way though. Joe has plenty of Bachelor Nation supporters who shared those exact sentiments, as evidenced on Twitter.
Joe couldn't help admitting, "I don't know how to dance." Chris emphasized what this opportunity really means: "We are offering you a spot on Dancing With the Stars next season so you guys can be together in the same city."
Chris asked Joe, "Can you dance at all?" Joe said he could not, but his girl Kendall shared, "He can when he gets a couple drinks in him." That has to be hilarious, even though I'm pretty sure DWTS doesn't let the contestants get boozy before hitting the stage. In any case, people are stoked.
The Comeback Story Is Amazing
There are The Bachelor and The Bachelorette leads who have not had the opportunity to be on Dancing With the Stars, yet Joe went from being sent home during the first night of Becca Kufrin's season of The Bachelorette to the ballroom. That really is quite the glow up.
'Dancing With The Stars' Might Get Some New Viewers
Grocery Joe has a lot of people in his corner. His foray into the ballroom just might convert some Bachelor fans into DWTS viewers. If all of the Bachelor in Paradise viewers voted for him on Dancing With the Stars, he would go pretty far in the competition.
Fans Are Just So Happy For Them
Joe's opportunity to be on Dancing With the Stars gives the viewers what they want: more Joe on television and the great news that he really has found love. It doesn't get much better than this.
Some Bachelor cast members overstay their welcome by going on too many reality TV shows, but Grocery Joe is decidedly not one of those people. The fans could not be any more excited to watch him on Dancing With the Stars.