Chris Harrison Just Gave 'Bachelorette' Fans Hope That "Grocery Store Joe" Will Pop Up Again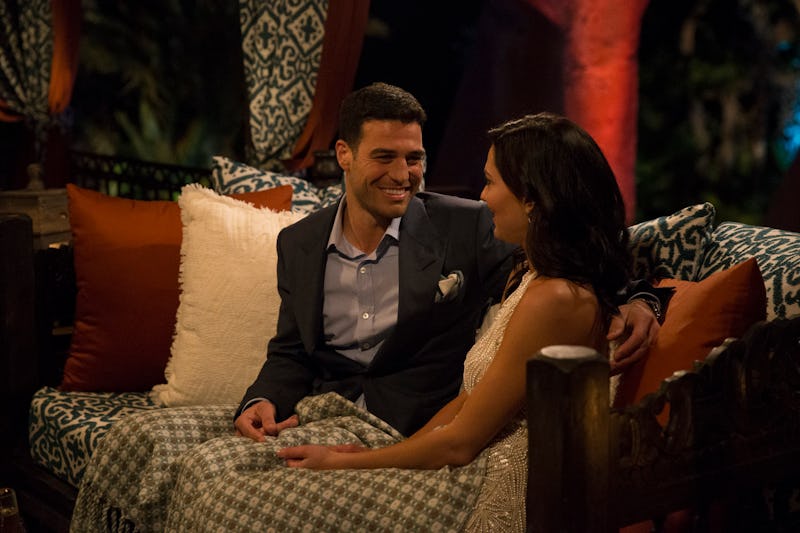 ABC
After fan favorite contestant Joe's elimination on The Bachelorette premiere, viewers were left pretty shocked. But, could the grocery store owner make another Bachelor Nation appearance on the beaches of Mexico? Well, Chris Harrison's tweet about "Grocery Store Joe" from The Bachelorette is giving some hope that the contestant could make an appearance on the upcoming season of Bachelor in Paradise.
Shortly after the season premiere of The Bachelorette aired on May 28, which featured Joe's elimination, Chris tweeted what a lot of fans had to were thinking. He wrote, "I hope they have grocery stores in Paradise!!!" The host followed up that tweet with another response to a Joe fan. The fan said that the eliminated contestant should just be the next Bachelor already. But, Chris said, "Maybe a quick stop in Paradise first #GroceryStoreJoe."
So, could this mean that fans can expect to see Joe on Bachelor in Paradise? Before you gets your hopes up too high, there's been no official mention that he'll be taking to the Paradise beaches. Additionally, executive producer Elan Gale responded, perhaps jokingly, to Chris' tweet by saying that "They don't" have grocery stores in Paradise. Former contestant Kristina Schulman spoke for everyone when she replied that "They need to" and that they should come fully stocked with the grocery store owner in question. She's not wrong!
While many were feeling down about Joe's elimination, Chris' tweet gave them the hope they were looking for (even if an appearance on Paradise hasn't been confirmed). And those fans in the #GroceryStoreJoe hive made sure to tell the host how excited they were about the whole prospect.
Joe became an instant fan favorite during the premiere. As the host extraordinaire even noted on Twitter, all of Bachelor Nation fell in love with the Chicago-based contestant during the course of the episode. He was the one of the hot topics of the show throughout the premiere, with many tweeting that they were into the charming grocer.
So, it came as a surprise to most when Becca ended up sending him home on the very first episode. Even multiple former contestants found themselves feeling down about his elimination.
In fact, Joe was such an instant favorite that many users on Twitter immediately wanted to name him as the next Bachelor. Based on all of these responses, it doesn't seem like anyone in Bachelor Nation would object to that, at all. However, it could be nice if he gets to make a pit stop in paradise first, as Chris' tweets suggested.
If he does happen to make his way down to Mexico, he'll get to meet some familiar faces. Multiple contestants from Arie's season of The Bachelor have already been teased as Paradise contestants. On The Bachelor: Women Tell All special, Chris revealed that Bekah M. will likely make an appearance on the spin-off series.
To announce the news, the host jokingly brought up her wild missing person saga, which saw the contestant mistakingly placed on the missing persons list in Humboldt County, California. (She was later taken off the list after she made contact with the Humboldt County Sheriff's Office). Chris said, "There's a good chance she's going to be missing for about two weeks this summer, because hopefully she'll be in Mexico on Bachelor in Paradise."
Who else might hit the beach this summer? Well, based on Kendall's interview with Vulture in March (which was with Bekah) it's possible that she could be heading to Paradise, as well, since Bekah did say, "We'll probably be on it."
But, there's really no telling whether Bekah, Kendall, or Joe will be on the show until ABC announces an official cast list. Until they do, fans will just have to keep the hope alive that there will be a new grocery store in paradise this summer.