'Bachelorette' Fans Are FURIOUS That Becca Sent This Contestant Home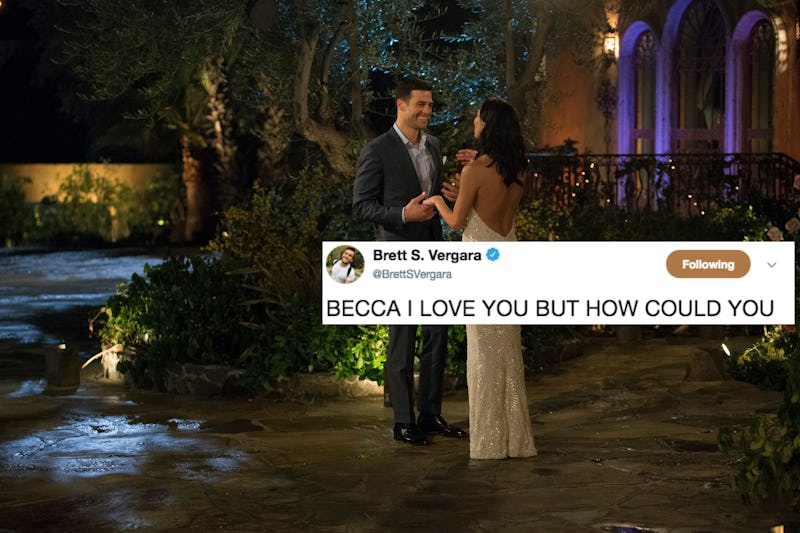 ABC
It's hard when a fan favorite gets sent home on The Bachelorette, but it's even worse when it happens on night one. Although Becca seemed to forge a connection with a few of her men, many fans immediately fell in love with Joe, the grocery store owner from Chicago, who genuinely seemed like a really nice guy. But unfortunately, Becca wasn't feeling the same way. In fact, Becca sent Joe home during The Bachelorette's first rose ceremony, leaving the internet absolutely devastated.
Maybe Joe is different in person, but on screen, he seemed to have that "it" factor that just makes you want to root for him; or maybe it was the grocery discounts he could offer his future partner that made him seem so attractive. Either way, he seemed like a gem, so it's pretty disappointing that he's already history. In Becca's defense, it has to be really hard to sift through over two dozen men, all of whom she just met, and narrow down the pool to who might be best for her based on just one or two conversations. Inevitably, every season, there are going to be guys who could have been real contenders that are sent home on night one, and this time around, it truly seems like Joe is the one that got away.
As soon as he didn't receive a rose, fans instantly turned to Twitter to share their heartbreak... of which there is a lot.
A lot of people, including Bach alum, were very confused by Becca's decision:
Some were simply angry:
And others vowed to fight for justice.
It's easy to understand why so many people were surprised that Joe was sent home. He was just so likable, and he did absolutely nothing to warrant being sent home on night one. He's basically what everyone thinks of when they imagine a man ready for marriage: the kind of guy who owns his own grocery store. That's it, right?
And it's not just his night on The Bachelorette that really made Joe seem like a prince. His Instagram just makes him that much easier to love. First of all, he posted a clip from Seinfeld where Kramer is lamenting a breakup after his elimination aired, which shows he has a great sense of humor. And most of his other posts are centered around his family and friends. And the things he's eating, which is obviously an important topic.
Can we talk about this photo of him and his mom that he shared in honor of Mother's Day this year? Isn't she the cutest? Wouldn't you love to have her as your mother-in-law? Sadly, Becca will never be able to have that experience.
And then, there's this photo of Joe drinking Starbucks, which is reason enough to love him:
As well as other cute pics of him hanging out with friends and drinking martinis, as any fun loving grocery store owner would do.
It's a real bummer that we don't get to see Joe on The Bachelorette this season, but maybe this massive fan response means we'll see him on Bachelor in Paradise this season? ABC, please give us this.
Plus, since Becca cut him loose, that means Joe is probably single and looking, so if you fell in love with him on the show, it may be time to plan a trip to Chicago. The fact that he owns a grocery store sets up its own opportunity for a meet cute. Shop in his store, buy some bananas, and bump into him while he's stocking shelves. It's practically a fairytale just waiting for you, and you'll both have Becca to thank.