Gwen Stefani's Thanksgiving Day Parade Performance Kicked Off Xmas Season Perfectly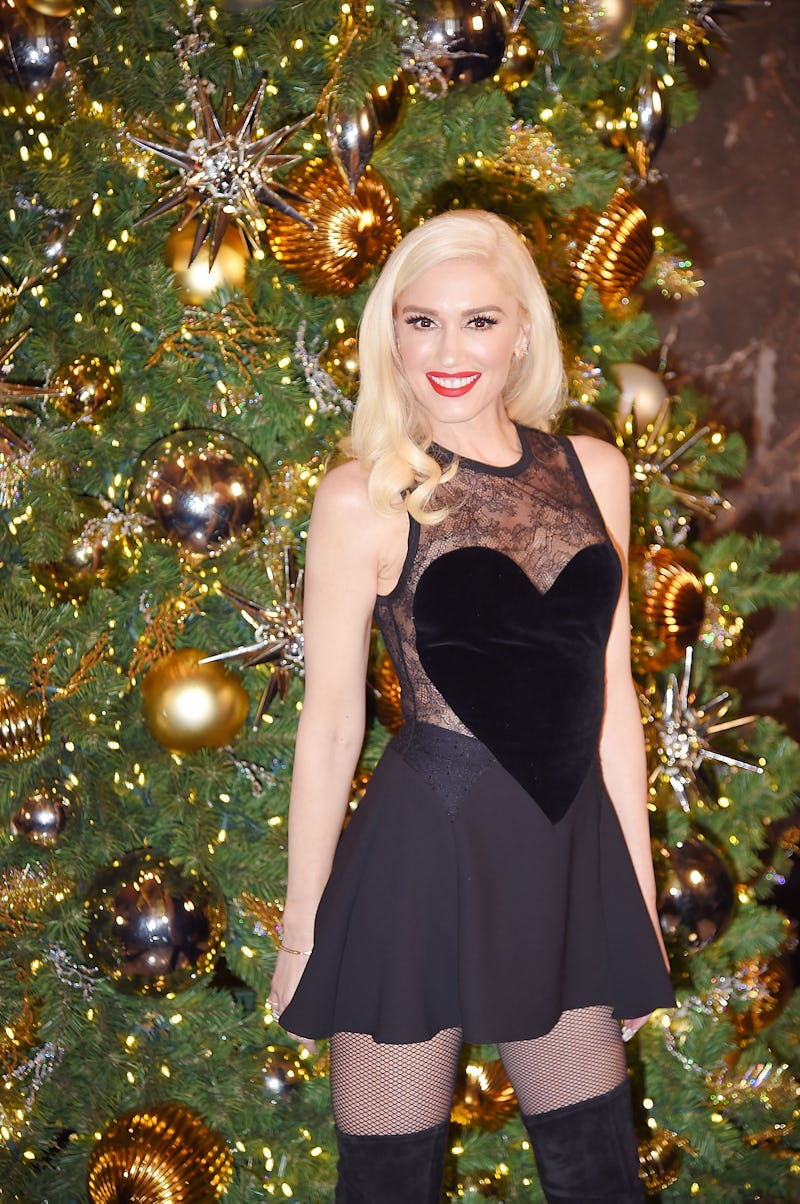 Michael Loccisano/Getty Images Entertainment/Getty Images
Gwen Stefani brought her holiday cheer to the 2017 Macy's Thanksgiving Day Parade, performing "White Christmas" in Central Park. Wearing a festive silver dress, complete with extravagant fringe and all, Gwen Stefani's 2017 Macy's Parade performance was just what fans needed to get into the Holiday spirit. Thanksgiving is a holiday in its own right, but we all know it's also the day that marks the last day it's considered "weird" to listen to Christmas music. Once Thanksgiving is over, it's time to turn on those Christmas albums and start singing about Santa. Luckily, Stefani gave us all a head's start with her rendition of "White Christmas," setting the stage for what will hopefully be a lovely, snowy Christmas season.
Stefani's Macy's Thanksgiving Parade performance also served as a tease for "Gwen Stefani's You Make It Feel Like Christmas" special. Inspired by Stefani's Christmas album, You Make It Feel Like Christmas, on which you can find her rendition of "White Christmas," the singer's first holiday special will air on NBC on Dec. 12. "Gwen Stefani's You Make It Feel Like Christmas" will be full of music off of her album, including "You Make IT Feel Like Christmas," a duet with her boyfriend, the newly crowned People's Sexiest Man Alive, Blake Shelton. Shelton is just one of the many famous faces who will appear alongside Stefani in the special. Other guests include Seth MacFarlane, NE-YO, and Chelsea Handler and Ken Jeong — the special will also have some holiday skits.
It's a bit surprising to hear Stefani sing "White Christmas," especially considering she's a proud Orange County girl — the Christmases she "used to know" were definitely not white in Southern California — but the singer is a huge Christmas music fan. "We love Christmas music," she told Handler in an interview for Netflix's Chelsea. "We start right after Thanksgiving." During her appearance on the show, Stefani admitted that she and her family even do Christmas music sing-alongs. This year, however, Stefani got a jump start on the Christmas music season. What with recording covers of classic Christmas tracks and writing original Christmas music for You Make It Feel Like Christmas, Stefani told Jimmy Fallon on The Tonight Show, "I am literally milking it. Every day is Christmas for me since April. This is my favorite Christmas ever!"
For Stefani, You Make It Feel Like Christmas is a longtime dream come true. "I wanted to do it [a Christmas album] for years, but when do you find the time?" she said in an interview with Billboard. This year, the stars aligned, inspiration struck and Stefani's very first Christmas album was born. In fact, one of the first songs she wrote for the album, "Christmas Eve," came to her while she was out for a spiritual jog on Shelton's ranch in Oklahoma. "I was running and I was just like, 'Maybe I'll just try singing something, maybe something will come.' And the whole chorus to this song 'Christmas Eve' came, and it was like a prayer," Stefani revealed on The Tonight Show.
Stefani's ultimate goal with her Christmas album is to create something that will stay with families year after year. "When you make a Christmas record, you want it to be something that's not going to be dated — you want it to live forever," she told Billboard. Between Christmas covers of classics like "Santa Baby" and "Silent Night" and original tracks "Christmas Eve" and "My Gift Is You," it's more than likely that Stefani's Christmas album will be one fans pick up every year come Christmas time. Who knows — maybe they'll have it playing all year round.