The Funniest Tweets About Blake Shelton, Apparently, Being The Sexiest Man Alive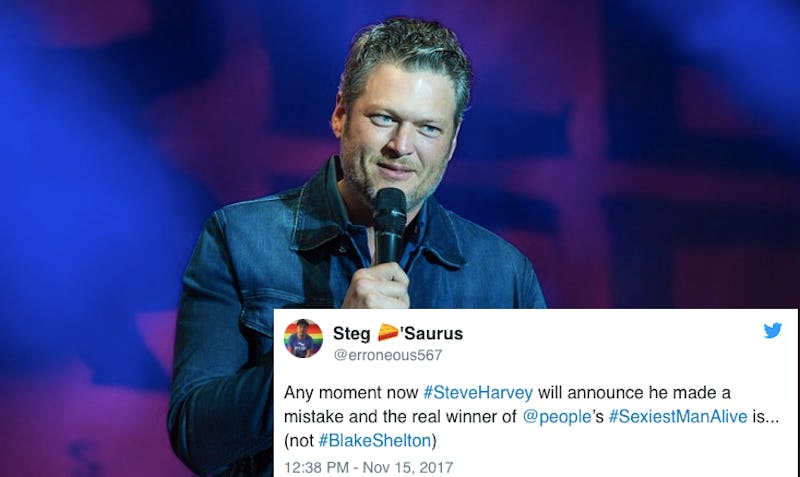 Getty Images/Bustle
On Tuesday evening, it was announced that country singer Blake Shelton is People's Sexiest Man Alive. Rather than the flood of praise that often comes with this title, people across social media began expressing frustration and confusion over the publication's selection. So much so, there are a lot of jokes about Shelton being Sexiest Man Alive all over Twitter that try to make sense of how this happened.
While chatting with People about the recognition, even Shelton admitted he was shocked to receive it. After he first heard the news, The Voice judge said his reaction was: "That y'all must be running out of people. Like, Wow, we're down to somebody who is somewhat symmetrical." It seems Gwen Stefani also had to convince her boyfriend to take on the role. "She goes, 'Listen to me, you're going to regret this for the rest of your life if you don't take this gift and just live in the moment,'" he said.
It's unclear if Shelton is aware of the negativity being sent his way, but if so, it's clearly not bothering him. If you scroll through his Twitter, you'll notice that he is loving the honor and is tweeting up a storm using the hashtag "#donthatemebecauseimbeautiful". He tweeted the following, with the previously mentioned hashtag attached at the end: "I just made a drink.. A sexy drink", "I have the hiccups... And they sound so sexy", and, unfortunately, "I am eating a pickle. A sexy wet pickle...". (My apologies for subjecting you to the last tweet.)
Shelton is obviously on cloud nine right now, but the jokes and theories about how Shelton could possibly be the Sexiest Man Alive continue to roll in.
Death Is Responsible
What about the This Is Us guys, Dev Patel, or Idris Elba?
It's Russia's Fault
This all seems like a hack.
Steve Harvey Is At It Again
Yes, this is still relevant.
The Election 2.0
Seriously, just give someone else the title already.
Or Maybe It Was Gerrymandering
Just a thought.
"The Great Sexy Plague"
RIP to all the other sexy men.
An Android Is Responsible
Blade Runner is so relatable right now.
An Alternate Universe
Is this even real life?
Blame 2017
2018 can't come soon enough.
All jokes aside, there is some controversy surrounding Shelton's recognition. In the past, the Grammy nominee has come under scrutiny for now-deleted tweets considered racially insensitive and insensitive to the LGBTQ community. In August 2016, The Sun shared several screenshots of the tweets in question from five plus years ago. According to The Sun, a March 2011 tweet read, "Wish the d*ckhead in the next room would either shut up or learn some English so I would at least know what he's planning to bomb!!" The outlet also included a screenshot of a January 2011 tweet that read: "Question for my gay followers.... Are Skittles y'all's favorite candy?" In August 2016, The Music Tea also tweeted screenshots of Shelton's many offensive tweets, including disrespectful ones about women.
Shelton ended up apologizing for the tweets via Twitter in August 2016. "Everyone knows comedy has been a major part of my career and it's always been out there for anyone to see." He continued, "That said anyone that knows me also knows I have no tolerance for hate of any kind or form. Can my humor at times be inappropriate and immature? Yes. Hateful? Never. That said I deeply apologize to anybody who may have been offended."
Yes, he said he was sorry, but not only was it not good enough for some, it's a bit troubling that someone with this kind of history would be considered "sexy".
Social media users have made themselves quite clear about how they feel when it comes to Shelton now holding the Sexiest Man Alive title. Granted, there are those who support the decision, but, overall, it's difficult for many to stomach.