Every Member Of The "Fierce Five" Has Now Accused Larry Nassar Of Abuse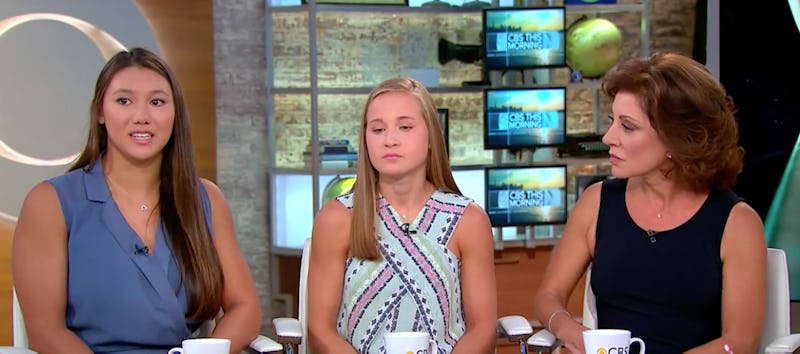 Courtesy of CBS This Morning
Two more Olympic gymnasts came forward with stories about being abused by the U.S. women's national team doctor, Larry Nassar, on Thursday. In an interview with CBS This Morning, Madison Kocian and Kyla Ross said Nassar abused them. Ross sharing her story means that every member of the so-called "Fierce Five" — the U.S. women's gymnastics team that won gold at the 2012 Olympic Games — has now said she was abused by Nassar.
Ross told the CBS This Morning hosts that she was first abused by Nassar when she was 13 years old. She noted that she hasn't been contacted by USA Gymnastics, which is the entity that employed Nassar to treat Olympians like Ross. Kocian also said she hasn't been contacted by USA Gymnastics.
"It's saddening to know a lot of gymnasts have gone through this and [USAG] has not reached out to see how we are doing as people, not as just as athletes but as individuals who grew up in the sport," Ross said on the show.
CBS This Morning read out from a statement from USA Gymnastics stating its "support is unwavering for Kyla, Madison, and all the athletes who courageously came forward to share their experiences."
Nassar is currently serving a prison sentence of up to 175 years. About 300 women, as well as one man, have come forward to accuse him of sexual abuse, Vox reported.
Both Ross and Kocian are now members of the University of California Los Angeles gymnastics team, led by coach Valorie Kondos Field. Kondos Field accompanied the girls on the show.
Kondos Field called the abuse "unfathomable." She noted: "What became so clear through all of this is just — is that anytime you put winning and medals above people, you're gonna open up your organization to a corrosiveness that will just spread like a disease."
Other members of the Fierce Five — Gabby Douglas, McKayla Maroney, Aly Raisman, and Jordyn Wieber — have previously divulged that they were victims of Nassar, who abused his patients under the guise of giving them medical treatments for a variety of injuries, USA Today reported. Kocian's revelation also meant that four out of five members of the "Final Five" — a team that brought home gold at the 2016 Olympics in Rio — have come forward with allegations.
During the interview on CBS This Morning, both Kocian and Ross said they'd felt too intimidated to question Nassar's so-called treatment.
"We were told it was a medical procedure. A lot of us had back injuries or hamstring injuries, and [were told] that this was the only option because he was our team doctor. If we were to speak up, you probably wouldn't have been in that consideration of making that [Olympic] team."
Kocian added: "As an athlete, we should have a voice."
According to USA Today, Ross said that it was her former teammate and current UCLA gymnastics assistant coach Jordyn Wieber who helped her come to terms with the abuse "and realize I was a victim."
"But we don't want to be viewed as victims," she added. "This is something we have to grow through. Now we're just trying to find our voice and help."
And as more and more athletes share their stories of abuse and stand strong together, they're spreading awareness and making those voices heard.