Hailey Baldwin Just Addressed Whether She & Justin Bieber Are Planning To Have Kids Soon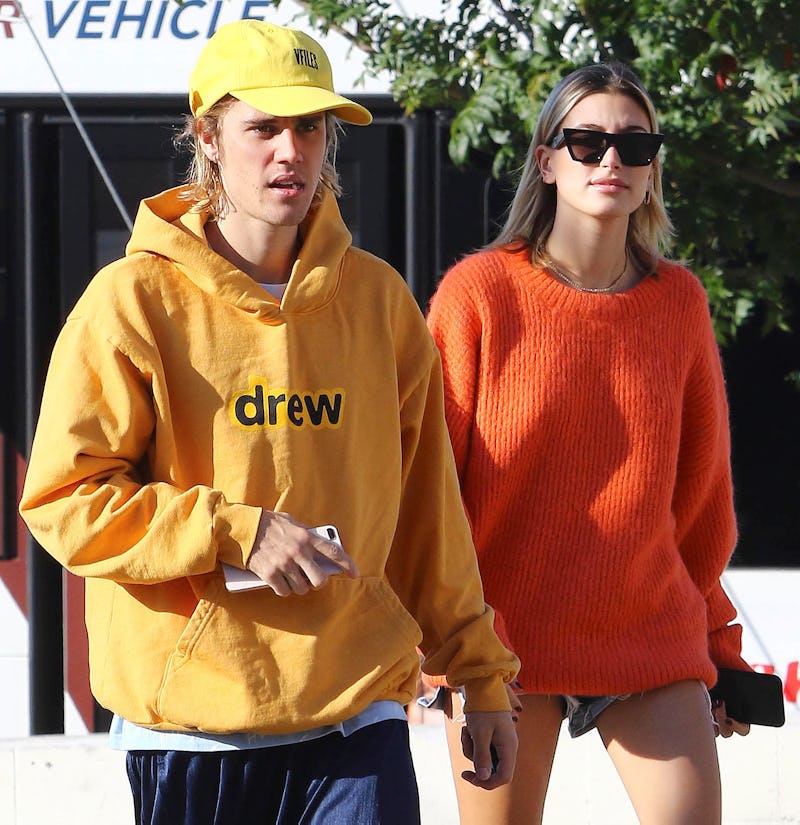 Broadimage/Shutterstock
Hailey Baldwin and Justin Bieber may have gotten hitched faster than anyone was expecting, but that doesn't mean they're ready for the next stage in their relationship just yet. As Cosmopolitan noted, Hailey Baldwin discussed having children Justin Bieber. And her response should put any speculation about the topic to rest.
In an interview with Vogue Arabia, which was published in the December issue of the magazine, Baldwin discussed the possibility of having kids with her now-husband, Bieber. While she does envision having children, don't expect to see a mini-Baldwin or Bieber anytime in the near future. She told the publication, "I love kids and I can't wait to have my own. I would say now that's a closer reality." Lest anyone speculate that this means that she'll have a child right away, she also clarified that she's not in a rush to have a kid "any time soon."
It's no surprise that the topic of babies has come up considering the couple's recent marriage news. Back in September, TMZ reported that Bieber and Baldwin had obtained a marriage license in New York City. According to the Office of the City Clerk of New York, marriage licenses are only valid for 60 days after obtaining one, meaning that the couple got married sometime in that 60-day span after first receiving their document.
While it was widely speculated upon whether they were officially married or not, the "Sorry" singer confirmed the news himself on Nov. 15 with a telling Instagram post. Bieber posted a photo of himself and Baldwin, along with the caption, "My wife is awesome," which pretty much cleared things up regarding their relationship status.
Following this declaration, Baldwin made a major move of her own on social media that cemented her marital status. On Nov. 17, the model switched things up on Instagram when she changed her last name. In a sign that the two are now indeed official, Baldwin changed her Instagram username to @HaileyBieber. (Her IG bio lists her full name as Hailey Rhode Bieber.)
However, at the moment, it seems as though this may have just been change on Instagram, as her handle remains "@haileybaldwin" on Twitter, and there's been no confirmation about whether she has changed her name to "Bieber" legally. Still, it's a pretty telling relationship move nonetheless.
Sources have reported that Bieber and Baldwin have settled into married life quite well. And it appears that they're doing so in a very low-key way. According to Us Weekly, the couple has moved to Bieber's native Canada to establish their home base.
"Hailey and Justin are living in Waterloo, Ontario, full-time now. That's their home base," a source revealed to the publication, "Justin has a huge home up there — 9,000 square feet, 1,000 acres, on a lake. He loves it up there and so does Hailey."
An insider also told Us Weekly that the newlyweds plan to raise their family in Canada. But, again, as Baldwin herself stated, that next step in their relationship won't be happening right away.