Hailey Baldwin Just Debuted A New Instagram Name That May Confirm She's Married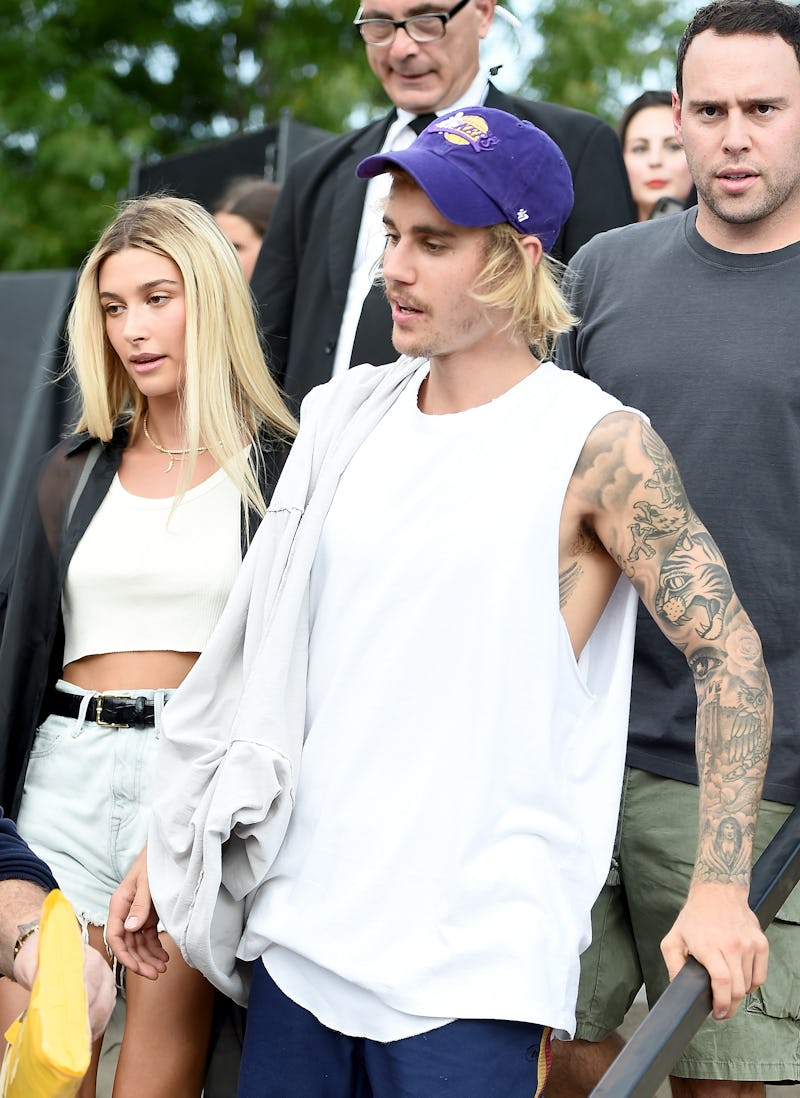 Theo Wargo/Getty Images Entertainment/Getty Images
Hailey Baldwin is officially Hailey Bieber. On Nov. 16, Hailey Baldwin changed her Instagram username to Hailey Bieber, which finally might be confirmation at last that the model and Justin Bieber are officially married. Her old @haileybaldiwn username now displays no photos and her new display name on @haileybieber is "Hailey Rhode Bieber." Underneath that, her IG bio says, "Hailey Rhode - IMG Models Worldwide." It's important to note, though, that her Twitter handle remains @haileybaldwin — but her last post on that social media platform was on Sept. 8.
It's also not known if Hailey Bieber has officially changed her last name outside of social media as well. On Sept. 13, reports circulated that the former Hailey Baldwin and Justin Bieber visited New York City's marriage bureau and obtained a marriage license. These reports spurred much speculation that the duo was getting married soon — or had already tied the knot. The next day, on Sept. 14, People reported that the couple had got married in a small ceremony at the courthouse, but later in the day, Hailey disputed those reports in a now-deleted tweet that said:
"I understand where the speculation is coming from, but I'm not married yet!"
Bustle reached out for comment to both Hailey and Justin Bieber's reps at the time of the marriage reports, but did not receive a response.
Since September, neither Bieber had offered confirmation of their marriage — until now, it seems. On Oct. 18, Hailey Bieber filed a trademark for her soon-to-be married name — or so everyone thought that was the case. On Nov. 15, Justin Bieber posted a photo of himself and Hailey on his Instagram account with the caption, "My wife is awesome." Earlier in the day on Nov. 16, People reported that Hailey Bieber attended the opening of Levi's new Time Square Flagship store in New York City dressed in a Levi trucker jacket with the last name "BIEBER" printed on the back, in bold letters.
While the wife caption and the jacket could have been seen as simply endearing things, Hailey Bieber's name change on Instagram seems a lot more like a formal confirmation that the couple is officially married. But they could also not be married yet and she could also be taking his name professionally in advance. Either way, Hailey Bieber hasn't updated her Instagram since her name change. Her last post was a photo of herself in a Nicole Benisti coat on Nov. 16 and the caption did not reference the name change or her relationship status at all.
Hailey Bieber's name change immediately trended on Twitter as fans reacted in so many different ways. Some fans are super excited for the Hailey Bieber era.
Many Twitter fans can't believe it.
Some are even a bit heartbroken.
At least one fan is looking ahead.
It also seems like a lot of Beliebers are turning to one specific song as a response to this news: Justin Bieber's song "That Should Be Me."
While fans still don't have official confirmation that the couple has tied the knot, it's clear that both Hailey and Justin Bieber are now unified by sharing a last name on social media.