These Middle School Hair Accessories Are Back — And Here's How They're Being Worn Now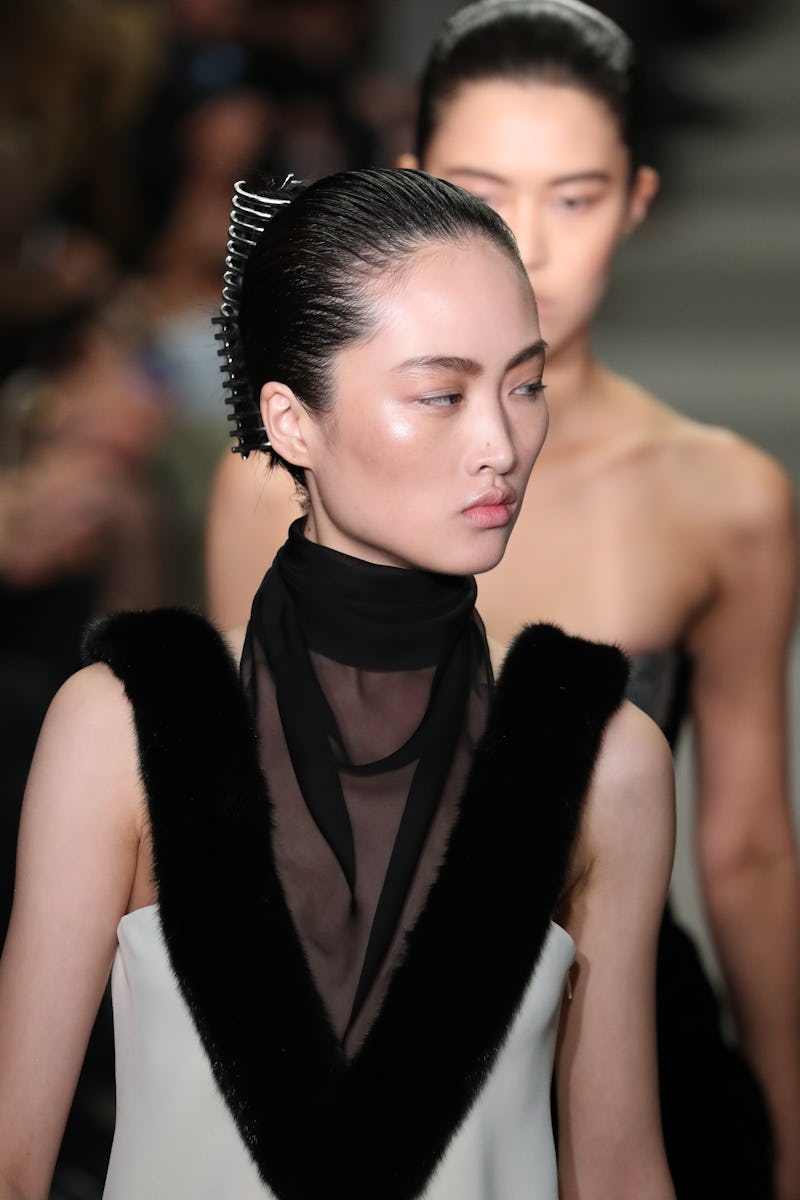 JP Yim/Getty Images Entertainment/Getty Images
The '90s and '00s are always in style, and the decades are dominating NYFW in 2018. Models strutted down the Alexander Wang runway, for example, rocking slicked back updos held in place by claw clips. Gigi and Bella Hadid wore spiked, accordion headbands at Prabal Gurung's showing. The Sisters Hadid were born in 1995 and 1996, respectively. So they are too young to remember when claw clips and spiked headbands experienced their major fashion moments. But they are definitely here for the modern update of those looks.
Additionally, that gym bag and ponytail staple lovingly known as the "scrunchie" has gone luxe. Balenciaga sells a high fashion version for a nearly $200.
It's totally acceptable to feel utter joy over the fact that your favorite middle school hair accessories are making a sartorial comeback. In fact, go right ahead and OD on nostalgia.
Even though the hair helpers are presented in a new context, seeing these familiar pieces provides a sense of comfort in an oft-chaotic world. They remind you of your teenage years and how your personal sense of style has evolved over time.
Ultimately, the claw clips and the accordion headbands are more timeless than you thought. They look fresh and fun on the runway rather than being a retro retread.
No one can argue the functionality of claw clips, accordion headbands, and scrunchies. Their fashionability has been elevated by designers so you can expect them to trickle down IRL.
Claw Clips
Remember how claw clips allowed you to pull your hair up off your neck without resorting to a ponytail, topknot, or messy bun? You simply twisted you follicles and clipped them to the back of your head with this contraption. It was shabby chic for strands.
No matter the size, claw clips could be fastened to purse straps for easy access. Whenever your hair was being disagreeable, it was a claw clip to the rescue.
Scunci 3-Count Claw Clip, $3.93, Walmart
These clips are incredibly inexpensive. Wear them at work, the gym, or at a semi-formal occasion.
Accordion Headbands
The stretchy headband with the comb-like teeth was a funky way to keep hair from falling into your face. The bands also added a little volume and visual flair at the crown.
The elder Hadid swept her hair off her face with one of the bands.
Gigi's little sister also slayed the slicked back look.
Ashley Graham's headband essentially resembled a braid woven into her hair. The accordion headband truly is a versatile accessory.
Scunci Effortless Beauty 3-Count Stretch Hair Comb, $4.91, Walmart
You loved this flexible alternative to traditional, stay put headbands in your youth. Not only did they provide some lift but they didn't snag or pull hair, either.
Scrunchies
Balenciaga Chouchou Bracelet, $195, balenciaga.com
Balenciaga calls its branded, lambskin version a "Chouchou" bracelet. That's actually not inaccurate, since wearing a scrunchy on your wrist like a bracelet was quite common. It was literally close at hand to assist during hair emergencies, such as a gust of wind or a sweaty neck. Anyone else wrap a scrunchie around the gear shift of your first used car?
Balenciaga verbiage and details aside, the Chouchou is still a scrunchie.
Britney Spears paired fluffy pink scrunchies with her pigtails in the infamous "...Baby One More Time" video. Thus, a nation of scrunchie wearers was born.
Velvet Scrunchie Hair Set, $12.99, Urban Outfitters
Scrunchies come in tons of colors and fabrics. This velvet, pastel set won't leave a dent in your strands, which is often the case with the basic and ubiquitous black hair tie.
'90s and '00s hair accessories are hear to stay. Your hair will be tame while reliving those middle school memories.