Halle Berry Has Meme-d Herself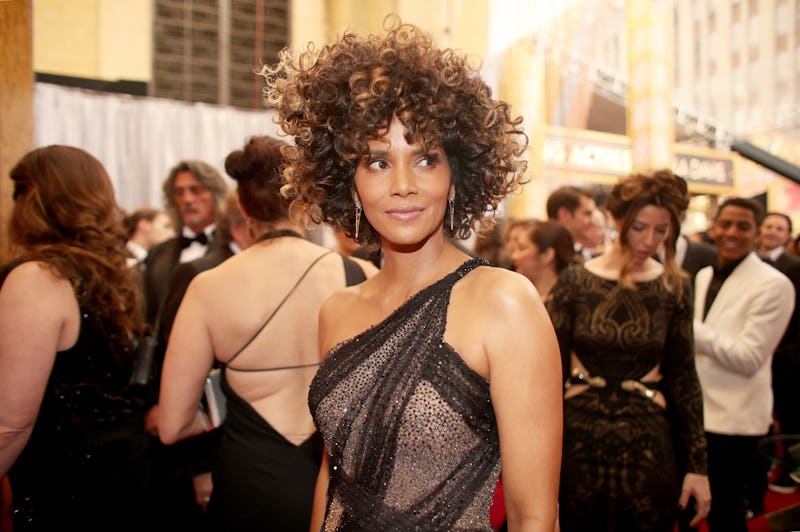 Christopher Polk/Getty Images Entertainment/Getty Images
If you're wondering what Halle Berry has been up to since making her post Oscars DIY music video to "Versace On The Floor," you might be surprised to learn that she's jumped into the meme-making world. Her first effort in her foray into memery is... herself! Berry tweeted a meme she made of herself on Thursday, and it's really not a bad attempt into internet imagery. And it's a meme the name of snacks, proof that Berry is catching on to meme language.
The meme, which Berry posted on both Twitter and Instagram, features a photo of herself in a floaty, sheer lace dress in a sunny field with wavy hair, looking like a model in a Free People catalog. Her arms are outstretched and welcoming with a very serene look on her face, and that's what ties it in to the caption: "Me when someone says 'I'm coming over and I've got snacks.'"
Honestly, a pretty solid effort for someone's very first meme, though I might be distracted by the fact that Halle Berry is 50 years old but seems not to have aged a single day since she played a beautiful Catwoman in the horrible Catwoman film of 2004 (I'll never forget).
And her meme is getting good traction, too: It's been retweeted 11 thousand times and has 28 thousand likes, as of this article being published. A lot of that could be just because it's amazing picture of Halle Berry, but a need for snacks is a pretty universal theme among memes and it's guaranteed to reach all kinds of demographics. Would that we all could be as glowy and ethereal as Halle Berry in a wheat field waiting for someone to come to our rescue with bags of Hot Cheetos in hand.
And there are plenty of great (and gross) reactions: people promising to rush to Berry's open arms with snacks in hand, marveling at how beautiful she is, and, as expected, some people who are just thirsty and weird. All in all, proof of a pretty dang good meme on the first try. Hats of to Halle Berry who's all about that snack life and now, apparently, about that meme life, too.