Halsey & G-Eazy Split After Almost A Year Together & The Announcement Will Break Your Heart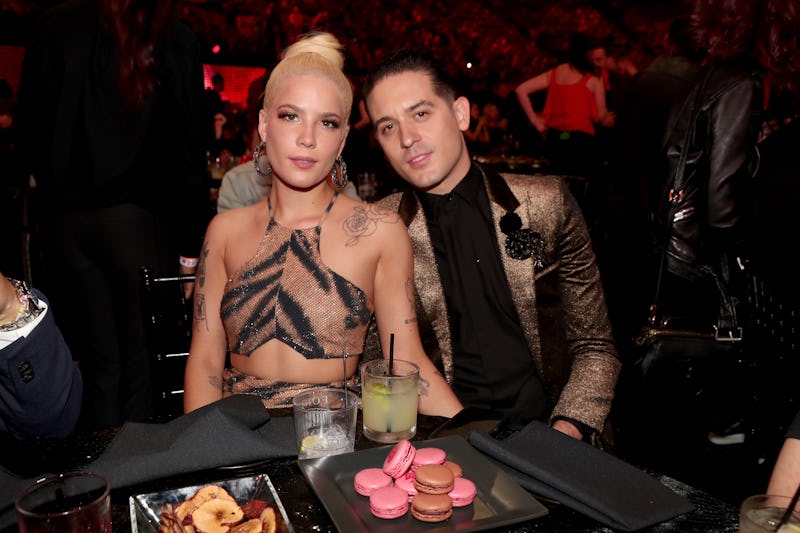 Christopher Polk/Getty Images Entertainment/Getty Images
It feels like just yesterday that Halsey and G-Eazy finally gave fans a definitive answer as to the duration of their very public relationship. But per a new report by TMZ, Halsey and G-Eazy split up, after what seems to be a little more than a year together. As TMZ noted, Halsey announced the news via a message posted to her Instagram story Tuesday, July 3. "I normally keep this kind of thing private but provided our public nature I feel the need to inform my fans," the 23-year-old singer wrote, starting off her breakup announcement post. She continued, writing,
G-Eazy and I are taking some time apart. I'm eager to continue the upcoming passage of time dedicating myself to my art and my career, and the duration of my tour.
Halsey finished the announcement write-up by saying that she wishes her former beau the best. She also preemptively thanked fans "for respecting our privacy at this time," which sounds like it might be Halsey-speak for "kindly leave all questions and comments at the door, thank you." For all those fans who've watched Halsey and G-Eazy's seemingly heaven-sent romance play out over the course of the last year or so (on social media, in the news, and even in some of the year's most popular musical tracks), learning to let go is probably a task easier said than done.
It was roughly six weeks ago during this year's Billboard Music Awards, when Halsey told E! News they'd been dating for "about a year." But perhaps those fans currently struggling to digest the breakup news should take a note from Halsey herself, who — from an outsider's perspective, at least — already seems to be doing her part to kickstart the "letting go" process. The straightforward, cut-and-dry language she used in her breakup announcement seemed to suggest the split's seriousness right off the bat. But a quick scroll through Halsey's Instagram feed reveals that the singer has also purged her IG account of most remnants of hers and G-Eazy's relationship. As fans of the duo are likely well-aware, Halsey's current IG layout is a pretty far cry from what it looked like just a couple of days ago, when the singer's feed was chock-full of snapshots of herself and G-Eazy enjoying what looked like a happy relationship.
Because, for a while there, it really did look like Halsey and G-Eazy were happy together — and very much in love. That's not an assumption; in fact, the two were pretty open about their Bonnie-and-Clyde style love affair, pretty much from the get-go and actually seemed keen on sharing their love with the world. Perhaps the most memorable iteration of that came last December, when Halsey and G-Eazy's joint record, Him & I, first dropped.
After listening to the track and watching the sultry music video that accompanied it (which put Halsey and G-Eazy's relationship center stage), it seemed pretty obvious that the song was supposed to feel like some sort of testament to the musicians' real-life romance. "We got that love/ the crazy kind," Halsey croons through the track's chorus. "I am his, and he is mine/ In the end, it's him and I."
That being said, as far as public displays of affection go, Halsey and G-Eazy's Him & I video certainly wasn't the duo's first time. In fact, as fans will likely have some trouble forgetting, it was after the duo's first live performance of the track last August when rumors that Halsey and G-Eazy might be dating got started in the first place. Their debut Him & I performance doubled as Halsey and G-Eazy's first onstage kiss — a crowd-pleaser move that would later become an ostensible trend for the couple.
Halsey and G-Eazy stayed quiet about the details of their relationship for months after that (though their now-deleted social media activity, coupled with their openly mushy public outings, made it pretty clear that, regardless of how they labeled their romance, the two were certainly an item), until a few weeks after Him & I's release. A few weeks later, on December 21, Paper published an interview with G-Eazy wherein the musician addressed those Halsey dating rumors and offered some non-specific information as to how the two first met. "At a party, I'll leave it at that," the rapper told Paper, though he made no mention of exactly when that party actually happened.
Of course, that was months before Halsey's conversation with E! News, so it seems like fans can now place that first meeting somewhere in the spring of 2017, with the onset of the pair's full-fledged relationship closely following. But regardless of when, how, or why Halsey and G-Eazy actually entered into their relationship — because, at the end of the day, it's really not their responsibility to share those personal details with the world — let's hope that, in its aftermath, both parties are hanging in there.