Here's All The Evidence That Has Fans Convinced Halsey & G-Eazy Are Back Together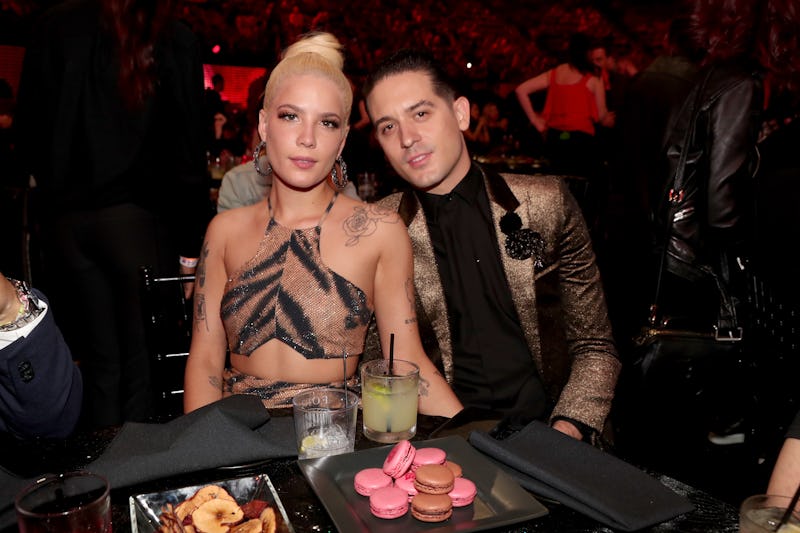 Christopher Polk/Getty Images Entertainment/Getty Images
Halsey swears she's bad at love, but after this past weekend fans might have their doubts. At a Friday night concert in New Jersey, Halsey and her ex-boyfriend G-Eazy shared a kiss that had fans on Twitter wondering if the former couple were giving things another try, as reported by E! Online. But, it wasn't just the kiss that Halsey and G-Eazy shared onstage over the weekend that got fans talking. It was the PDA-filled performance that made it hard to deny there was still chemistry there. Oh, and it was also hard to ignore those very couple-y Labor Day selfies Halsey shared of her and G-Eazy, even if the exes weren't confirming anything. (Bustle reached out to Halsey's rep and G-Eazy's agent for comment, but did not receive an immediate response.)
Halsey's appearance at G-Eazy's show at the PNC Bank Arts Center in which she joined him for their song "Him & I" was a bit of a surprise being that just two months ago the two called it quits after almost a year together. The two never really gave a reason for their breakup, and fans held out hope that they'd reconcile.
So imagine how excited they were to see Halsey on that stage with her ex, who was saying things like "Make some noise for the most beautiful woman on this planet right now." G-Eazy would go on to call her "a queen" before the two ended the song with a passionate kiss that drew cheers from the crowd and seemed to finally confirm the recent rumors of a reunion.
After the 2018 MTV Video Music Awards just two weeks ago, Halsey and G-Eazy were spotted holding hands, which led many to believe the couple were giving it another go. But, after this steamy and rather surprising duet, fans are convinced Halsey and G-Eazy aren't so broken up after all.
"Well if that doesn't settle that idk what will," a fan named @steffigreen11 tweeted, making it clear this performance was all the proof they needed to convince them Halsey and G-Eazy were back together.
Excitement was a common response. "hello i woke up today and g-eazy and halsey are back together lol," fan named @llleahh tweeted. While someone else named @justcandelarius wrote, "I believe in love again."
Now, Halsey and G-Eazy haven't confirmed whether they're officially back together or not, but it seems at the very least they're teasing the possibility that they are working things out.
Halsey took to Instagram on Sunday, Sept. 2, to share some very couple-y selfies with G-Eazy, who on Friday also dropped a diss track about Machine Gun Kelly who was rumored to have dated Halsey after they broke up. In the photos they're both in bathing suits and cuddling up close, with Halsey putting her arm around him. In that same shot, G-Eazy's sticking his tongue out at Halsey who only has eyes for him.
A tongue sticking out was the very fitting emoji Halsey chose for the caption of these two photos, which makes sense knowing G-Eazy's pose. But, perhaps, it's also her admitting that these photos are a bit of a tease for those who just want these two to officially say they're back together.
But, maybe let's just let these two live for now. Hopefully, that'll mean more performances together and even more selfies that will keep fans guessing on the status of Halsey and G-Eazy's relationship.