Halsey's 2017 Grammys Outfit Sleek & Sporty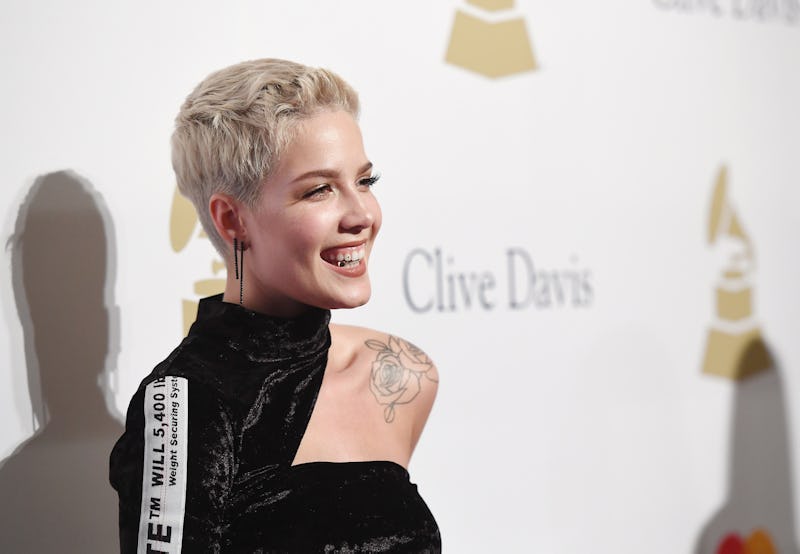 Kevork Djansezian/Getty Images Entertainment/Getty Images
Halsey has had fans' hearts in her hand since her dazzling 2015 debut album Badlands. Though she's not nommed solo this year, she scored a nod for her duet "Closer" with pop duo The Chainsmokers. That means fans got to witness the beauty of Halsey's 2017 Grammys red carpet look.
Halsey's look changes like the weather, especially her hairstyle, but fans can always count on her outfits being as unique as her music. Her 2016 MTV Movie Awards outfit was A Look For The Ages, capital letters totally deserved. She wore two Idan Cohen pieces: a fall/winter 2015 jacket over a spring/summer 2016 bra top, baring her tummy in a look she called "mermaid business casual."
Though Halsey hasn't released a complete new album since Badlands, she whetted fans' appetites in January with her single "Not Afraid Anymore" from the Fifty Shades Darker soundtrack, featuring her gorgeously haunting vocals paired with a mesmerizing beat.
This year, her red carpet walk is thanks to her team-up with The Chainsmokers; their song "Closer" was the first No. 1 hit for both artists. Halsey's red carpet appearance has reminded fans that no matter when her next album is released, it will have been worth the wait.
Check out her 2017 Grammys looks below.
We're loving this cute, sporty look from Saturday night's Grammys party, mostly thanks to that uber-cute cutout neckline, which shows off her beautiful tattoos.
According to Steal Her Style, Halsey is wearing an Off-White ensemble, paired with an Edie Parker clutch, earrings by Graziela Gems, two Effy diamond rings, and Stuart Weitzman sandals.
Continuing her trend of bold skin-showing cutouts, Halsey's Grammys red carpet look was a long open jacket and pant combo in a sleek blue, paired with a killer drop necklace.
Here incredible drop necklace and earrings were both from jewelry designer IPPOLITA.
And her third outfit was another open piece — a creamy white zip-up jacket with golden studs and a frankly amazing spine-length cutout in the back.
No matter what she decides to wear, Halsey certainly never fails to surprise her fans.