Halsey's Attitude About Her Endometriosis Will Make You Obsessed With How Strong She Is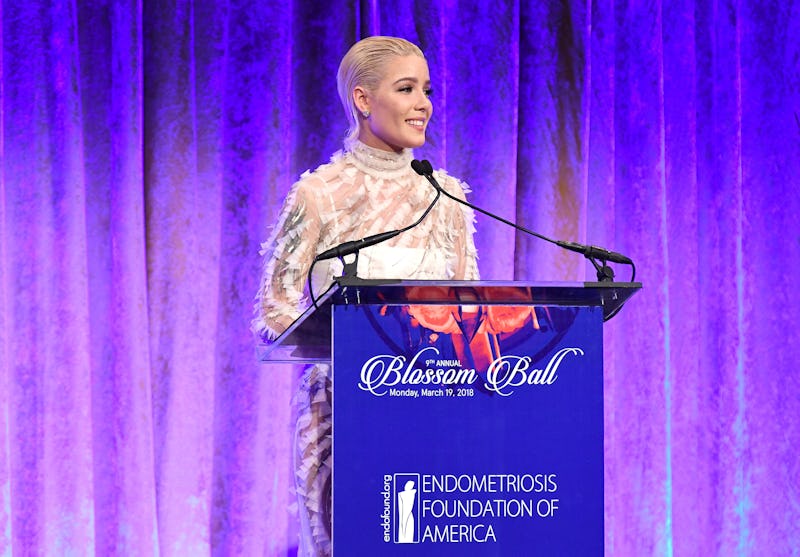 Dimitrios Kambouris/Getty Images Entertainment/Getty Images
After being presented with an award for raising awareness about the disease, Halsey spoke about endometriosis and how she's found strength through her suffering. The Grammy-winning singer was honored by the Endometriosis Foundation of America during its ninth annual Blossom Ball on March 19, and revealed that — as female artist in the male-dominated music industry — having to deal with the disorder's often painful period symptoms while working around men has forced her to become more open about her experience.
"I have male managers in my life," Halsey explained to Us Weekly at the Blossom Ball. "I'm surrounded by men all the time. There were times when I was bleeding through my clothes or I was sick and it got to the point where I had to look at everyone around me and be like, 'You know what? That is something that is a reality for me and you need to suck it up and deal.'"
"I'm not going to let you make me ashamed of this," she reiterated in regards to dealing with the disease symptoms. "We're going to get through this."
According to the Mayo Clinic, the primary symptoms of endometriosis include intense pelvic pain and heavy bleeding during menstruation. The disorder displaces the tissue that lines one's uterus, and forces it to grow outside the uterus instead. The displaced tissue often becomes irritated after being trapped inside the body, which causes the debilitating symptoms Halsey spoke about.
Halsey first opened up about her experience with endometriosis back in 2016, when the now-23-year-old singer penned a heartfelt tweet to fans, Vogue noted. "[If] any of you suffer from endometriosis, please know you're not alone," she wrote. "I know how [excruciatingly] painful it can be and how discouraging the disease can be."
The singer referenced that tweet during her award acceptance speech, according to Vogue, and told attendees,
"I have the privilege of getting to meet a lot of young fans on the road and many of them have told me that without that tweet they wouldn't have taken the opportunity to talk to their doctors and physicians and say 'Hey, something's not right.'"
"A lot of people are taught to believe the pain is normal," she continued. "If you think something is wrong, it probably is. You need to go and demand that someone takes you seriously. Your health is all you have, and especially as a young woman who has reproductive pain, you need to take care of yourself."
According to The American College of Obstetricians and Gynecologists (ACOG), "endometriosis is estimated to affect approximately one in ten women of reproductive age," which translates to approximately 176 million women worldwide. With stats like that, it's no surprise that Halsey isn't the only famous name living with the "invisible illness" (as per the ACOG).
The foundation behind the Blossom Ball was co-created by Dr. Tamer Seckin and Top Chef host, Padma Lakshmi, who suffers from the disorder herself. "Every celebrity brings their own dimension [in raising awareness about the disease]," Tamer told Vogue at the ball. "Padma started it, Lena [Dunham, 2017's Blossom Award recipient] took it in her own voice, and Halsey does the same. I feel very lucky and happy to have them supporting us. We're all in this together."
Other stars with endometriosis include Julianne Hough and Sarah Hyland — both of whom Halsey now calls friends because of their shared experience. "When you're meeting another woman, it's almost like you've been through the same thing together," Halsey told People at the Mar. 19 event.
"It's an immediate bonding experience and you get to look at that peer, that contemporary and think I know what you've been through and you get to really admire them for how strong they are and all the things they've achieved," she continued. "You know they're dealing with illness."
Ultimately, Halsey aims to use her celebrity platform in order to make endometriosis seem more "normal" for the many women who suffer from it. "[I'm] trying to normalize the conversation and say, 'It's okay to talk about reproductive illness, this doesn't make you weak, this makes you strong and you should be proud and vocal," she told People.
Thanks to proud and vocal stars like Halsey, finding strength through the disorder just might end up being a little bit easier.