'Hamilton' Is Up For Yet Another Award, But This One's Unexpected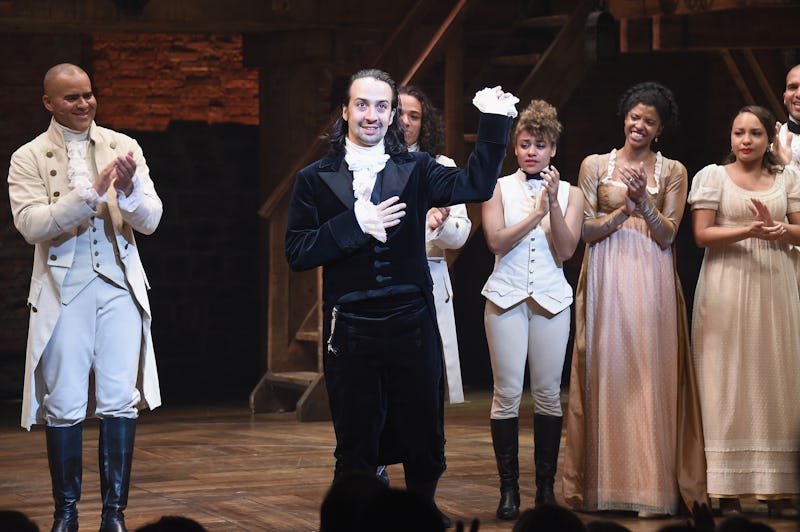 Nicholas Hunt/Getty Images Entertainment/Getty Images
It seems like Hamilton has already won just about every award out there. With 11 Tonys, a Grammy, and the Pulitzer Prize for Drama under its belt, it doesn't seem like Hamilton could add anything else to its already prestigious resume. But on August 27, that all could change. A song from The Hamilton Mixtape has been nominated for an MTV Video Music Award, and the category is perfect for the musical, which set itself apart for its keen combination of history and social justice.
The music video nominated was for the song "Immigrants (We Get The Job Done)", by K'NAAN, Snow Tha Product, Riz MC (aka actor Riz Ahmed), and Residente. Containing a refrain of the famous line from Hamilton, "Immigrants— we get the job done", the song focuses on the experiences of immigrants, who, despite working hard to achieve the much lauded American Dream, are currently facing an administration that has not been shy about demonizing immigrants.
The video has been nominated in a new category: Best Fight Against The System. This category seeks to honor art that contains a social justice message or contributes to activism. At the 2017 MTV Movie and TV Awards, Taraji P. Henson became the first recipient in the same category at that show for her role in Hidden Figures. Now, the category is coming to the VMAs. The other nominees in this category include:
Logic ft. Damian Lemar Hudson – "Black SpiderMan" (Race & LGBTQ) (Def Jam)
Big Sean – "Light" (Race) (Def Jam)
Alessia Cara – "Scars To Your Beautiful" (Body image) (Def Jam)
Taboo ft. Shailene Woodley – "Stand Up / Stand N Rock #NoDAPL" (Environment)
John Legend – "Surefire" (Immigration & Anti-Muslim hate) (Columbia Records)
This new category could not be a more perfect fit for a musical that has done some revolutionary work in the area of social justice. From casting people of color as Founding Fathers, to songs that pointedly celebrate the immigrant experience and decry a legacy of slavery and racism, Hamilton pushes forward a message of equality that was expressed in the Declaration of Independence, but never truly upheld.
"Immigrants" takes up this mantle of social justice, with a particular focus on immigration. The music video is filled with images of immigrants engaged in all different forms of labor, struggling to make a life in America, until border agents eventually arrive to drag them away. Much like immigrants contributed immeasurably to the foundation of America, Hamilton, and "Immigrants" make it clear that today's immigrants are the source of this country's strength, not its weaknesses.
Yet the other nominees in this category demonstrate that Hamilton is far from the only piece of art that is seeking to further a social justice cause. From "Taboo", which is an anthem supporting the fight against the construction of the Dakota Access Pipeline, to songs such as Alessia Cara's "Scars To Your Beautiful", which advocates for positive body image, music is embracing activism in a particularly turbulent political climate. Best Fight Against The System provides a category to celebrate this mission, and will hopefully inspire more artists to join Hamilton and others in creating activist art.